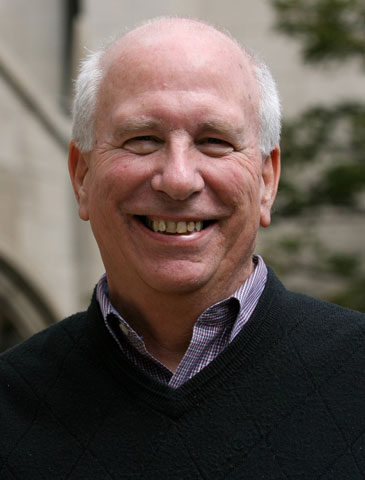 Deacon Tom Lambert (CNS/Catholic New World/Karen Callaway)
Mental health professionals say a tectonic shift is underway in the treatment of mental illness, and faith-based advocates for the mentally ill say the Catholic church is uniquely positioned to aid that shift.

"In the last 15 years we've gone from a medical model to a recovery model, which is so much better," said Deacon Tom Lambert of the Chicago archdiocese's Commission on Mental Illness. "When I talk about recovery, I put it in the context of what Christ did. He healed, and he restored. He healed people, but he also restored them to their rightful place in the community."

"The recovery process involves therapists, psychiatrists, medications, socialization and attentiveness to spirituality," Lambert told NCR. "When you combine all of that, you're dealing with a whole person."

In other words, the focus shifts from the disease to the person living with it.
This represents a kind of sea change taking place within the issue of mental health, Lambert said, one that invites participation from the church at the national and local level, and puts American Catholicism in a unique position to make an important societal difference.

The recovery-model revolution comes on the heels of a decades long mental health consumer movement and the advent of new scientific research.

Dr. Larry Davidson, director of Yale University's Program for Recovery and Community Health, said the recovery movement is becoming mainstream with respect to policy.

"The United States is one of probably 20 countries now that have policies that say mental health services should promote recovery," he said.

Most recently, the Excellence in Mental Health Act of 2014 promoted recovery model thinking, Davidson said. "If you read that document," which lays out parameters for certified behavioral mental health clinics, "it's all about the provision of recovery-oriented, person-centered, strength-based care."

Before that, the U.S. Department of Veterans Affairs, one of the country's largest mental health care providers, adopted recovery model practices, he said, including an in-patient recovery manual, and the hiring of more than 1,000 "peer support technicians," or people in recovery from serious mental illnesses working as clinical team members.

Indeed, the hiring of tens of thousands of other peer support technicians nationwide proves a significant change, Davidson said.

But recovery model change has not yet reached the everyday "practice of mental health professionals," he said. "Psychiatrists don't really do much different; psychologists don't really do much different; social workers, nurses don't do much different. It needs to be operationalized better."

However, a recently published $25 million government-funded study on the treatment of schizophrenia is beginning to create significant change in states across the country.

The study, titled "Recovery After an Initial Schizophrenia Episode" (RAISE), found that care that included elements of job training, educational support and positive family relationships was more effective than standard care alone -- especially when administered right after a schizophrenic "first episode."

So far, more than 30 U.S. states have signaled that they will employ the kind of practices validated in the study using block grant money to develop early intervention mental health programs, said the National Institute of Mental Health's Robert Heinssen, who oversaw the research.

Where Catholicism fits

Lambert, whose daughter has a mental illness, wants to bring church leadership and churchgoers up to speed on these findings.

"It's a huge issue," he said. "Statistically, it's one in four people in any given year have a mental illness and it's one in 22 that have a serious and persistent mental illness."

In the mid-1990s, Lambert helped found the Chicago archdiocese's Commission on Mental Illness, which is volunteer-run, and dedicated to educating local parishes.

In the early 2000s, he approached the National Catholic Partnership on Disability, based in Washington, D.C., and helped found the National Catholic Network on Mental Illness.

Asked where the church stands today on mental illness, Lambert more or less shrugged. He mentioned letters written by individual American bishops (one in particular titled "A Church That Heals," written by Bishop Michael Bransfield of Wheeling-Charleston, W.Va.). He brought up statements written by Popes John Paul II and Benedict XVI, and noted that the Vatican holds an annual psychiatric conference in Rome.

But overall, he said, the church lacks a clear, coordinated strategy.

"This is justice issue," he said. "We don't do the proper health care for mental illness in the United States, and so people run into many, many systems of disjointed health care -- you might be able to get good psychiatric care at a hospital, but then when you go back into the community, what happens? There's a disconnect."

Given the advent of recovery-model thinking, local parishes have a great deal of support to offer, he said.

"Right now, based on my experience, the people in the pews don't differ much from general society's view of mental illness. They don't have the facts. ... Too often the only thing they hear about mental illness are those headlines and horror stories."

Church on the move

Jan Benton, executive director of the National Catholic Partnership on Disability, said that Lambert "is forever reminding us, we don't need to recreate what [other mental health professionals] are already doing well."

"What we do, and what we need to focus on, is the spiritual aspect. That's the part of healing, of recovery, that we can help with."

Benton said the American church has a long history of ministering to people with disabilities, and mentioned her and Lambert's participation in the recent production of an American Psychiatric Association booklet, "Mental Health: A Guide for Faith Leaders."
She added that the National Catholic Partnership on Disability put out a Catholic-focused supplemental brochure titled "A Pastoral Response to Mental Illness," which she would like to see in every diocese in the country.

Nevertheless, the church has a long way to go "to fight that stigma, and to be communities of support," she said.

Miami Archbishop Thomas Wenski, chair of the U.S. bishops' Domestic Justice and Human Development Committee, agrees.

"It's a big battle all across America," he said, one that intersects with other social justice concerns.

It involves prison sentencing reform, he said, "because our jails and our criminal justice system have become the default mental health treatment system."

"Homeless people have mental health issues," he added, "which is one of the reasons why they're homeless."

In addition, "we can't discount the relationship between addiction and mental illness, because a lot of times people that are addicted are addicted because they're self-medicating, or they're medicating in inappropriate ways."

"Nationally, as a church, this affects us all," Wenski said. "I think each Catholic parish would have its own story of trying to minister to people in the parish or people who come to their doors with mental illness. And a lot of people are doing things, so you can't say nothing's being done. The church is doing a lot. But certainly we could do a whole lot more, because obviously too many people who have a mental illness don't get the help they need, and obviously we have to try to change that."

Wenski said his committee is looking into convening "various stakeholders," including the Catholic Health Association, Catholic Medical Association, Catholic Charities, Catholic Partnership on Disability, "in order to find out what we're doing already and how we can improve."

The parish role

Some say that religious communities could greatly aid the process of recovery for the religiously inclined by offering a sense of belonging and spiritual comfort, as well as pathways to appropriate clinical care.

"Spirituality plays a major role in recovery," said Davidson, though for years it was "taboo in the mental health system."

"The most important thing that a parish and a priest ... can do," he said, "is to offer the person a sense of belonging and self-worth."

"Obviously, the person needs care from a clinic," said Dr. Delbert Robinson, a psychiatrist in Glen Oaks, N.Y., who served as a member of the RAISE study's executive committee. "But from an individual parish, I think there are certain things that could be very beneficial. ... Having a supportive feeling from the parish and helping people understand and get into treatment, it can make an enormous difference."

"Not having, 'Oh, that person was in a psychiatric hospital,' and everybody moves away," he said, "but more of an inclusive attitude. ... It makes a huge difference for the patient; it makes a huge difference for the parent."

Lambert expounded on Catholicism's role.

"We believe that you are created with dignity and in God's image," he said. "Everybody has dignity. Everybody has value, no matter what their station in life, or whether or not they have an illness."

"I've met many, many people who've dealt with this illness, have spirituality, and have so much to offer in terms of what their relationship with God is," he said.

But many more deal with "guilt." Some think the illness "comes from God," he said, "and what I try to tell them is that God does not give illness. God is love. So illness is part of humanity."

"When you address both of those issues, you have a wonderful piece to the recovery process."

Asked if recovery-model thinking reflects Catholic values, Wenski said: "Catholicism is about us being social creatures. We are not monads. We are not meant to live alone," as many people with mental illness do. "We need to live in community, and we need to live in family."

In family and community, he said, "you are accepted because you are a child of God."

[Vinnie Rotondaro is NCR national correspondent. His email address is vrotondaro@ncronline.org.]
A version of this story appeared in the Nov 20-Dec 3, 2015 print issue under the headline: The recovery-model revolution.