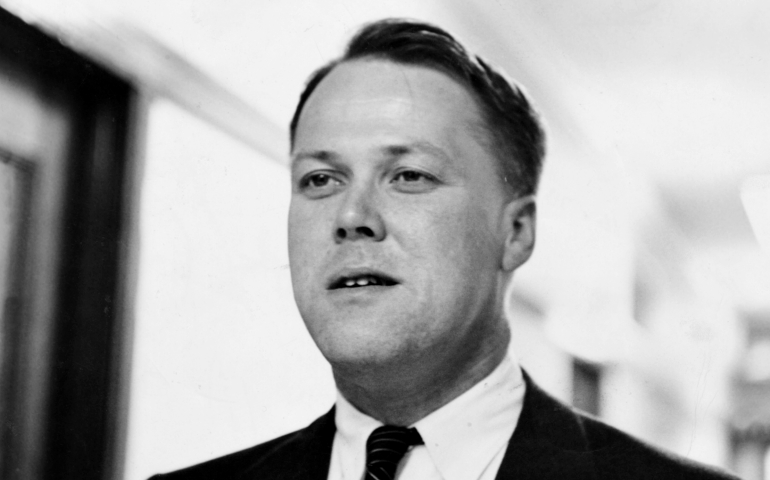 John Noonan Jr. in the 1960s (NCR file photo)
The opening sentence of The New York Times' obituary of Judge John Noonan provides an excellent illustration of what a topic sentence should be. "John T. Noonan Jr., a federal judge and polymath who defied ideological pigeonholing on profound issues like assisted suicide, the death penalty, civil liberties and illegal immigration" died on April 17 at age 90.
As a judge on the 9th Circuit Court of Appeals for 30 years, Noonan wrote 10,080 opinions. As a polymath, his primary area of academic interest was history, but his subjects included jurisprudence, philosophy, theology and canon law. Few people have ever achieved such academic prominence in so many different fields.
My relationship with Noonan came from his interest in and contributions to moral theology, especially in the beginning with regard to the question of contraception, which was such a burning issue in Catholicism in the mid and late 1960s.
Noonan had graduated from Harvard University summa cum laude at age 19 in 1946. He then studied at Cambridge and spent time in Rome and the rest of Europe, often taking in the Catholic culture of these areas. This experience confirmed his feeling that Catholicism was the largest intellectual force in his life, but that he had never really studied Catholicism and knew very little about it.
He then went to the Catholic University of America in Washington, D.C., to study Catholic thought, taking tutorials from some members of the theology faculty and enrolling in the graduate program in philosophy. Two of his theological tutors, Fr. Edmund Benard and Paulist Fr. Eugene Burke, introduced him to the long 1948 paper by Jesuit Fr. John Courtney Murray arguing that the Catholic Church should accept religious freedom despite the constant and longstanding teaching of the hierarchical magisterium against such a position, bolstered by the almost unanimous position of contemporary Catholic theologians and canonists.
Noonan frequently argued with Benard and Burke, who supported Murray on this issue. In practice, however, all agreed that in a pluralistic society such as the United States, the Catholic Church could accept the reality of religious freedom.
In his doctoral dissertation at Catholic University on usury, he was totally engaged in this important issue of the development of moral teaching on the issue of usury (a loan) over an 800-year period. This story was one of basic principles, response to changing circumstances, fine legal lines, and close legal reasoning — the work of human beings adopting a moral rule to changing circumstances. This study helped to distinguish a variable rule from underlying values, thus explaining how change occurred. After his study at Catholic University, he went back to Harvard for his law degree.
An important aspect in his historical study of usury was the familiarity he acquired with the major figures in Catholic moral theological tradition. It prepared him for much of his future work in moral theology, especially in his subsequent work on contraception.
Noonan's working on a historical study of contraception became known and he was appointed as a historical consultant to the papal commission on birth control. At its fourth session in 1964, he gave a two-hour summary of his work.
In 1965, the Belknap Press of Harvard University Press published his 651-page Contraception: A History of Its Treatment by Catholic Theologians and Canonists. From this in-depth study, Noonan concluded that the Catholic teaching insisted on five important values — procreation, education, life, personality and love. "About these realities a wall had been built; the wall could be removed when it became a prison rather than a bulwark." As a careful historian, Noonan came to a conclusion that was quite modest.
There was, however, no doubt where Noonan himself stood on the issue. After the issuance of the encyclical Humanae Vitae in 1968, I was the leader and spokesperson for the group of originally 87 Catholic scholars who concluded in a public statement that one could be a good Roman Catholic and still disagree in theory and in practice with the noninfallible teaching regarding contraception. Later that day, after releasing the statement, I talked to all the American lay members of the papal birth control commission, who all agreed to support the statement in light of their own competencies.
Noonan also agreed to fly down to Washington early the next morning to participate in a press conference supporting the legitimacy of such dissent. In an article a few months later reflecting on the changes in the teaching on usury in light of the discussion over Humanae Vitae, Noonan concluded that acts of papal authority isolated from theological support and contrary to the conviction of Christians familiar with the practices condemned could not prevail.
Noonan also published large tomes dealing in great historical depth with changes and developments in the areas of marriage, slavery and religious freedom.
With regard to marriage, monogamy without divorce is a Gospel expectation found in Matthew 19:3-9. However, the apostle Paul made a limited exception with the so-called Pauline privilege. In 1924, Pope Pius XI dissolved the marriage between an Anglican and an unbaptized person who wanted to marry a Catholic. As a result of such canonical practice, the only truly indissoluble marriage is the consummated marriage properly entered into between two baptized persons. Thus, despite the Gospel teaching, the vast majority of marriages in the world today are dissoluble.
The teaching of the Second Vatican Council on religious freedom involves a flat rejection of what the popes had previously taught. Vatican II's teaching that slavery is intrinsically evil was the first categorical condemnation by the church of an institution with which it had lived and that it had permitted for 19 centuries. Noonan succinctly summarizes the conclusions of his extensive historical research as follows: "What was forbidden became lawful (the cases of usury and marriage); what was permissible became unlawful (the case of slavery); and what was required became forbidden (the persecution of heretics)."
Noonan, in looking back on these changes and developments, notes that the process of change requires a complex constellation of forces. There is no readily available grid for determining how change occurs. Noonan agrees with Vatican II that change comes from the contemplation of believers, the experience of spiritual realities, and the preaching of the church. He wants to avoid the extremes of maintaining that no change can and should occur in what the church has consistently taught in the past on moral issues and the modernist approach that doctrine is only the projection of human needs. The great commandments of love of God and of neighbor, the great principles of justice and charity, continue to govern all development.
Noonan himself strongly argued against change and development in the teaching on the existence of truly individual human life from the moment of conception. Fetal life is an almost absolute value that cannot be changed. Yes, there can be and are conflict situations involving the life of the fetus and other human lives, but defense of the life of the fetus is a true value and not simply a rule that can be changed in light of other values. In addition to his defense of fetal life as an almost absolute value throughout history, Noonan also has written and lectured extensively on the need for laws to protect that right.
The Catholic theological tradition will always owe a deep debt of gratitude to his prodigious historical scholarship, penetrating analysis and judicial insight. Noonan, the ever-probing scholar, can be compared to the householder in Matthew's Gospel who from his storeroom brings forth things old and new.
[Fr. Charles E. Curran is the Elizabeth Scurlock University Professor of Human Values at Southern Methodist University.]