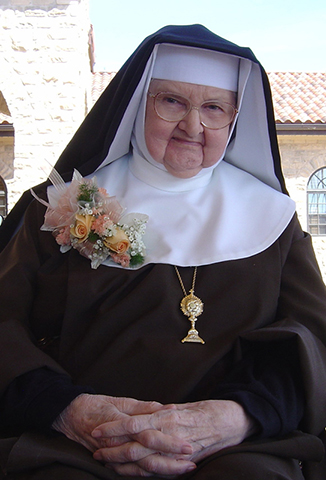 Mother Angelica, the nun who founded the Eternal Word Television Network, died on Easter Sunday in 2016. (Photo courtesy of Our Lady of the Angels Monastery)
Mother Angelica, the conservative nun who founded the Eternal Word Television Network, died on Easter Sunday, March 27, 15 years after a debilitating stroke on Christmas Eve. She was 92.
Although she was only able to communicate with a squeeze of her hand for many years, she retained a devoted admirers nationwide who followed the Catholic cable channel she started in 1981. She personified EWTN, Chairman and Chief Executive Officer Michael P. Warsaw said in a news release Sunday, according to The Associated Press.
"In the face of sickness and long-suffering trials, Mother's example of joy and prayerful perseverance exemplified the Franciscan spirit she held so dear. We thank God for Mother Angelica and for the gift of her extraordinary life," Warsaw said.
Born Rita Rizzo in Canton, Ohio, in 1923, Mother Mary Angelica of the Annunciation -- as she came to be known -- entered the Poor Clares, a branch of the Franciscan order, in 1944. She went on to found a monastery in Irondale, Ala., in 1962 and in the 1990s started the Shrine of the Most Blessed Sacrament, where she resided in her last years, about an hour north in Hanceville.
She began her broadcasting career with commercial television spots, created in the monastery garage. When those were pre-empted, she launched EWTN. It became a beacon of conservative orthodoxy thanks in large part to the regular -- and distinctive -- on-air presence of Mother Angelica herself.
Wearing a black-and-white habit and a sweet but steely smile, Mother Angelica would not hesitate to scold church leaders who she felt were too lax in their teachings or practices. She promoted traditional devotions and rites and claimed to have experienced mystical visions herself.
"While it will take some time to think more deeply about Mother Angelica's journey, story, accomplishments, controversy and influence, suffice it to say now that she, a woman, was able to do something that the U.S. Bishops were never able to do," said Sr. Rose Pacatte, a member of the Daughters of St. Paul and director of the Pauline Center for Media Studies in Los Angeles. "And that is, with lay collaboration, create first a Catholic television network and now a media empire with world-wide reach and recognition."*
In 2001, Mother Angelica suffered a series of strokes that began limiting her appearances, and a massive hemorrhage on Christmas Eve that year left her largely incapacitated. "Mother Angelica Live" classic broadcasts remain popular on the air and on the Internet.
Under the direction of a lay board, EWTN continued to grow, and today it claims to be "the largest religious media network in the world," broadcasting 24/7 in multiple languages to more than 258 million television households in 145 countries and territories. EWTN also has a popular website and since 2011 has operated the National Catholic Register newspaper. It merged with the Catholic News Agency in 2014 and formed EWTN Publishing Inc. in 2015.
"She was fearless in ways that I think were sometimes unfortunate and polarizing, but she got it done and from what we know, for no other reason than to use modern media to reach people with God's Word," said Pacatte, who also contributes to NCR. "One must give credit where credit is due. It will be interesting to see how Mother Angelica's vision will carry forth into the future."
A Mass will be celebrated at 11:00 a.m. April 1 at the Shrine of the Most Blessed Sacrament in Hanceville. Interment will follow in the shrine's Crypt Chapel.
*Updated at 2:15 p.m.