A version of this story appeared in the Sept 23-Oct. 6, 2016 print issue under the headline: Catholic Worker walks out the Gospels in secular San Francisco.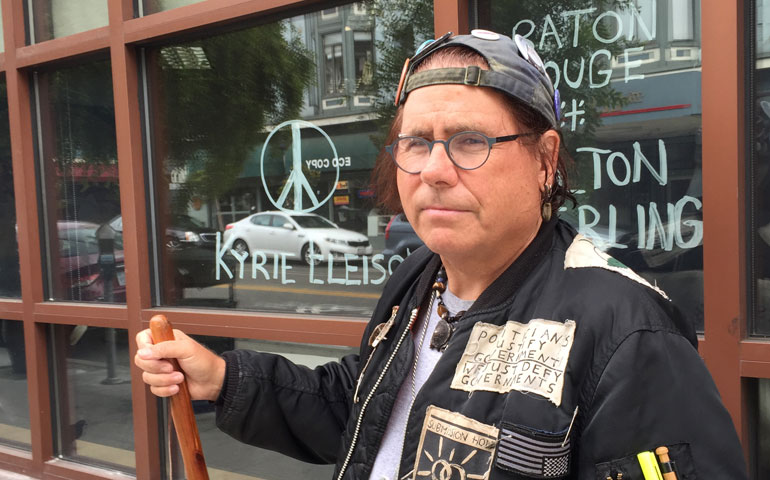 The Rev. River Sims on a San Francisco sidewalk
San Francisco — September 24, 2016
San Francisco's Temenos Catholic Worker house, the ministry founded by the Rev. River Sims, takes the Worker mission to the city's front lines.
Sims was ordained a priest in the Evangelical Anglican Church in America in 1995 and later consecrated bishop of the denomination's Society of Franciscan Workers in 2007. Support for Temenos -- Greek for "protected or sacred area" -- comes from its Workers, volunteers, donations, and churches in the area, namely St. Luke's Episcopal.
Temenos' ministry works without institutional funding by reaching past San Francisco's high-tech, moneyed facade, deep down into its cracks. At first glance, the Worker house's location reflects a gentrified neighborhood. Broad daylight belies intersections that are teeming with drugs, prostitution and human trafficking after dark.
Accordingly, Temenos' services include harm reduction, HIV and hepatitis prevention, and crisis intervention -- measures sometimes considered controversial, or even condoning of illicit, illegal and immoral activities. The needle exchange program, "Points for Jesus," is a case in point.
When questioned on this, Sims replies that Jesus' command to Peter is "Feed my sheep."
He then quotes Christian writer Madeleine L'Engle: "Whenever there's a crisis, if you can get people to eating normally, things get better."
Offering up these pieces of inspiration, he explains that he's actually able to proclaim the Gospel by way of food, a clean needle, a fresh pair of socks, or a listening ear.
Sims is firm in the fact that he is first a priest and that Temenos' services are secondary, but he also insists that harm prevention does not equate to the sanctioning of sin.
"Harm reduction is compassionate because it meets people where they are, on their terms, instead of confronting them from a moral high ground," he said.