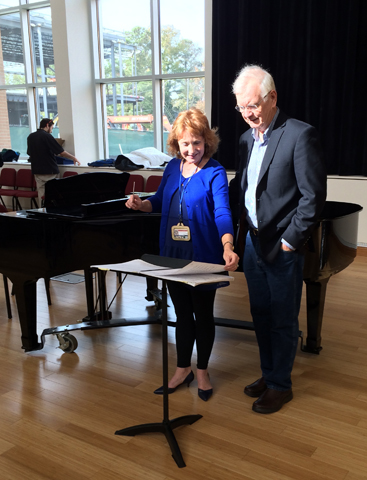 Nancy Klein and Rich Moriarty (Courtesy of Rich Moriarty)
When composer Rich Moriarty, 69, was inspired four years ago to write music for a liturgy to celebrate women in the church, he had a particular role in mind: women as priests in the Catholic church.
Part of his dream will be realized in a special concert of two works by the former chief of pathology, who swapped a career in medicine for music a decade ago, earning both bachelors and masters degrees in composition at Old Dominion University in Norfolk, Va.
"Adsum! A Mass Celebrating Women in the Church" premieres Sunday, Nov. 22 at Christ and St. Luke's Episcopal Church in Norfolk, Va. The nine movement English-Latin liturgy will be performed by the ODU Concert Choir, conducted by Nancy Klein, director of the university's choral department, and Schola Cantorum of Virginia, under artistic director Agnes Mobley-Wynne, who will co-conduct.
The concert features acclaimed American mezzo-soprano, Robynne Redmon, who has appeared in leading roles at The Metropolitan Opera, Lyric Opera of Chicago and San Francisco Opera as well as throughout Europe. The concert also includes a performance of "We That Wait" poems written by women during the Civil War, set to music written by Moriarty.
The organ and choral production is an achievement for Moriarty, who has studied under award-winning composer Richard Danielpour. But Moriarty has another aim: to get "Adsum!" to the attention of other conductors to have it performed by a full orchestra.
His true goal is even larger. He wants to see it performed at a Mass where women are ordained in the Catholic church. In the rite of priestly ordination, "adsum" -- 'I am present' -- is the response by ordination candidates as their names are called by the bishop.
"My passion is that the ordination of women should occur," he said in an NCR interview.
During one of his sessions in 2011 with his mentor, Danielpour, the idea for the liturgy took form. Danielpour had suggested Moriarty at that stage of his career write a libretto, a religious work. Moriarty said he reacted badly to the idea.
"I said what I'd really like to do is write a Mass for the ordination of women. And no sooner was it out of my mouth, when he looked at me and I looked at him and I said I guess I should do it," Moriarty recalled.
Moriarty had been involved in Voice of the Faithful, a laity group formed in 2002 in the wake of the sexual abuse scandals to support victims of abuse, priests with integrity and shape structural change in the church. Through the organization, he met Peggie L. Thorpe, one of its founders.
They bonded over their shared passion for real reform within the church, including a greater role for women. They both grew frustrated with the pace of change and reluctance of the group to take on a substantive examination of the role of women, including ordination.
"It was such a hot button that they didn't even want to touch it," Moriarty said. "For a reform-minded organization we were way too conservative," he said. "I was very discouraged. We had the momentum and support from the public and I was just not happy we were being so cautious."
Thorp, who was the founding editor of the VOTF's publication and went on to earn a master's degree in theology from Boston College, said the focus of the organization's efforts on financial accountability forcing change in the church didn't go far enough. For women in the church, "my argument then and forever is that there is no table, there will never be a seat so we might as well go for broke," she said.
Moriarty turned to Thorp to write the text for "Adsum!" Thorp says she didn't feel constrained by church teachings and drew on texts such as the Gospel of Thomas and Gospel of Mary, writings by Julian of Norwich, as well as traditional prayers such as the Magnificat.
The work weaves in traditional Latin parts of the Mass, such as the Kyrie, with English, in nine parts. "Coupling of the Mass with the ordination of women is a very bold thing," she said. "There's a lot of marrying of the old and true with the new and vibrant without violating sensibilities in my view."
The "Adsum" is sung by women, the consecration is a duet of men and women's voices and the last movement is a joyous celebration.
Musically, Klein and Mobley-Wynne say the piece challenges their students and performers while presenting an important contribution to music that they wanted to be part of. They knew Moriarty as a student at ODU and followed his continued study with Danielpour.
The music is complex, even difficult in places, Wynne said.
"It seems to reflect the challenge of including women in worship as priests, as equal partners, in all aspects of the church, and how difficult a cultural or paradigm shift it is," she said. "The tempo shifts not only reflect his complexity of writing musically but it reflects the complexity and challenge of the subject matter as well. It's a thrill to be involved with it."
Klein had already helped arrange a three-day graduate workshop to produce a piano and choral performance in 2012 so Moriarty could hear it and make adjustments. Twenty students took the workshop for credit and 60 singers just wanted to be part of it. Danielpour attended the Saturday portion of the workshop.
Moriarty incorporated the changes until it got to a format that was publishable. Originally written for orchestra, it was transcribed to organ accompaniment. Klein started teaching it to her choir in August and removed an eighth note in a particular measure and asked Moriarty for his feedback.
"It's a birthing process," Klein said of the amount of effort involved. She has told her students that they have a rare experience to premier music that has never been performed before.
"It's easy to re-create Mozart -- you can listen to six or seven different versions, you have commentaries," she said. "But when you're pioneering a brand new work you have nothing but what you have in front of you so it's a great experience for them educationally."
For Moriarty, the performance of "Adsum!" is a step in the direction he started out more than a decade ago in his involvement with Voice of the Faithful. He still believes that the ordination of women will be a possibility, seeing "a glimmer of hope with Francis," he said. "I know it's not going to happen right now but when it does happen, we'll have a Mass up and ready."
[Gail DeGeorge is a freelance writer living in Washington, D.C.]
---
EVENT INFORMATION:
WHAT: Women-War-Worship: Old Dominion University Department of Music presents two premier works by Richard Moriarty: Adsum! A Mass Celebrating Women in the Church and
We That Wait: Women's Poems from the Civil War Era
Featuring mezzo-soprano Robynne Redmon; ODU Concert Choirand Schola Cantorum of Virginia; conducted by Nancy Klein; Agnes Mobley-Wynn, co-conductor
WHEN: Sunday, Nov. 22, 2015 – 7 p.m.
WHERE: Christ and St. Luke's Episcopal Church, 560 West Olney Road, Norfolk, Virginia
DETAILS: Free admission and open to the public: Free will offering accepted