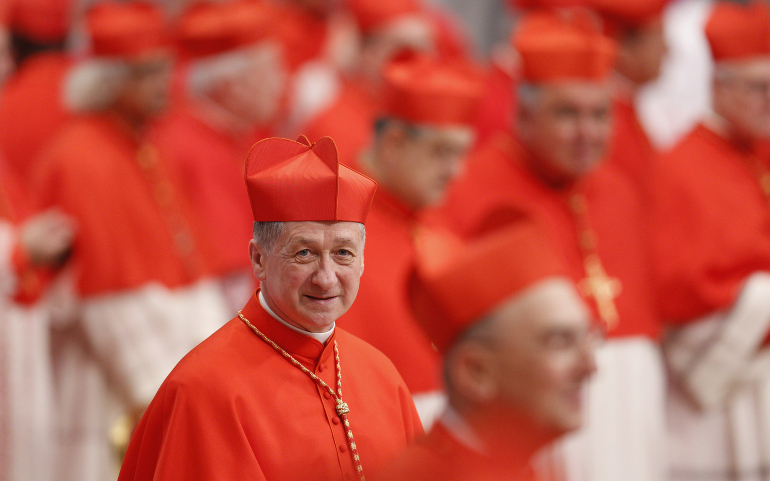 New Cardinal Blase J. Cupich of Chicago attends a consistory led by Pope Francis in St. Peter's Basilica at the Vatican Nov. 19. The pope created 17 new cardinals. (CNS photo/Paul Haring)
Vatican City — November 19, 2016
Pope Francis has warned the world's Catholic cardinals against a "virus of polarization and animosity" that he says has seeped into the church, telling the church's highest prelates on Saturday that such attitudes are "contrary to the richness and universality" of the faith community.
Speaking during a formal ceremony in St. Peter's Basilica marking the creation of 17 new cardinals, the pontiff told the prelates that we live in an era in which people try to solve "grave global problems and issues" by excluding others or separating groups of people from one another.
"Without our realizing it, this way of thinking becomes part of the way we live and act," said the pope. "Everything and everyone then begins to savor of animosity. Little by little, our differences turn into symptoms of hostility, threats and violence."
"How many situations of uncertainty and suffering are sown by this growing animosity between peoples, between us!" Francis exclaimed. "Yes, between us, within our communities, our priests, our meetings."
"The virus of polarization and animosity permeates our way of thinking, feeling and acting," the pope continued. "We are not immune from this and we need to take care lest such attitudes find a place in our hearts, because this would be contrary to the richness and universality of the church, which is tangibly evident in the College of Cardinals."
Francis was speaking Saturday in a homily in St. Peter's Basilica during what is formally known as a consistory, a high ceremony marking the creation of new cardinals by the pope.
The pope's warning against polarization in the church comes the same week four semi-retired cardinals publicly questioned his most recent teachings on family life, issuing an open letter to the pontiff challenging him to respond to their concerns following the publication of his apostolic exhortation Amoris Laetitia.
Cardinals, sometimes known as the "princes of the church" and for their red vestments, are usually senior Catholic prelates who serve either as archbishops in the world's largest dioceses or in the Vatican's central bureaucracy. Their principal role is to gather in secret conclave after the death or resignation of a pope to elect his successor.
While historically cardinals have come from certain larger cities known for their Catholic populations or global importance, Francis has sought to diversify representation in the group -- choosing men from places long underrepresented or even not represented in the College of Cardinals.
During Saturday's ceremony, Francis again diversified representation in the College -- adding 17 prelates from 11 different countries, with eleven also coming from places never before included in the elite group.
The pontiff also created three new American cardinals: Chicago Archbishop Blase Cupich, Newark, N.J. Archbishop Joseph Tobin, and Bishop Kevin Farrell, previously the bishop of Dallas and now the head of the Vatican's new Dicastery for Laity, Family and Life.
In NCR interviews shortly after announcement of their appointments as cardinals, Tobin said his wish is that the church would become "a sacrament of mercy" in our world and Farrell said he considers the pontiff's apostolic exhortation on family life inspired by the Holy Spirit.
The pope was reflecting in his homily Saturday on a reading from Luke's Gospel, in which Jesus gives what is commonly referred to as the "Sermon on the Plain." Coming down from a mountaintop, Jesus tells his disciples to "love your enemies, do good to those who hate you, bless those who curse you, pray for those who mistreat you."
Francis said Jesus gave those four commands "as a way of molding the Apostles' vocation through real, everyday situations."
"They are four actions that will shape, embody and make tangible the path of discipleship," said the pontiff. "We could say that they represent four stages of a mystagogy of mercy: love, do good, bless and pray."
Jesus' command to love your enemies, the pope said, "is the source of our joy, the power of our mission and our preaching of the Good News."
"My enemy is someone I must love," said Francis. "In God's heart there are no enemies. God only has sons and daughters. We are the ones who raise walls, build barriers and label people. God has sons and daughters, precisely so that no one will be turned away."
The ceremony marking the creation of the cardinals Saturday saw each of the prelates being named formally receive their cardinals' ring and red hat, known as a biretta, from Francis before St. Peter's high altar.
Each cardinal was then named an honorary leader of a parish church in Rome, from which is traced the cardinal's role in helping elect the pope. From those posts the cardinals are considered the clergy of the city, who then elect their bishop, the pope.
The ceremony opened Saturday with an address from new Cardinal Mario Zenari, who addressed the pope at the beginning of the ceremony on behalf of all of the new cardinals. Zenzari is the apostolic nuncio to Syria.
"Holy Father, some of us come from places where many, millions, are the 'unfortunate ones' -- children and adults left to die or left half-dead in the streets of their villages … because of savage violence and bloody, inhuman, unsolvable violence," Zenari told the pontiff.
"In you, Successor of Peter, we see … the untiring work for the cessation of violence and war in various parts of the world, for reconciliation and peace, for welcoming of refugees," he said.
Francis announced his choices of new cardinals in October, choosing prelates from a diverse range of places. Eleven come from places that have never had a cardinal, including new cardinal electors: Dieudonne Nzapalainga of Bangui, Central African Republic; Patrick D'Rozario of Dhaka, Bangladesh; Baltazar Porras Cardozo of Merida, Venezuela; and, Carlos Aguiar Retes of Tlalnepantla de Baz, Mexico.
Of Francis' 17 choices, four come from Europe, three from the U.S., three from Latin America, two from Africa, two from wider Asia, two from island nations, and one currently represents the church in the Middle East.
Four of the cardinals named by Francis are over 80, the age at which cardinals can no longer vote in conclaves to elect a pontiff
Sixteen of the 17 new cardinals were present for Saturday's ceremony: One of those over 80 -- former Mohale's Hoek, Lesotho Bishop Sebastian Koto Khoarai -- has not been able to travel to Rome because of his advanced age. The new cardinal is 87.
There are now 121 cardinals under the age of 80 able to vote in a papal conclave. The number will fall to 120 on Nov. 28, when Senegalese Cardinal Théodore-Adrien Sarr turns 80.
On that day, Francis will have named 44 of 120 cardinals able to vote in a papal conclave. Popes Benedict XVI and John Paul II will have named 55 and 21, respectively.
At the end of Saturday's ceremony, Francis and the new cardinals were to visit Benedict at the Vatican monastery where he lives. The current pontiff and the 16 prelates were expected to load onto two mini-buses together for the trip.
[Joshua J. McElwee is NCR Vatican correspondent. His email address is jmcelwee@ncronline.org. Follow him on Twitter: @joshjmac.]