A version of this story appeared in the Jan 12-25, 2018 print issue under the headline: Death penalty in 2017.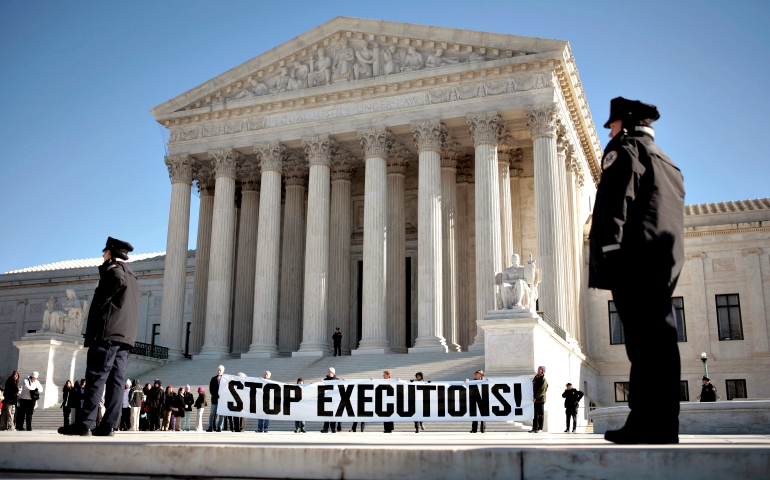 Protesters calling for an end to the death penalty unfurl a banner in late March 2017 outside the U.S. Supreme Court in Washington. (CNS/Reuters/Jason Reed)
For death penalty abolitionists, 2017 offered a series of surprises, beginning with the results of the 2016 November elections.
California, Nebraska and Oklahoma all had referendums to abolish the death penalty during the election. In each of the states, residents defeated the measures.
Those defeats provided anti-death-penalty advocates with a "wake-up call," according to Karen Clifton, executive director of Catholic Mobilizing Network. Clifton told NCR that she felt the passing of the referendums would have been a "natural trajectory," reflecting early poll results.
Despite the referendum setbacks for advocates, the elections also presented a new crop of elected officials:
Jefferson County, Alabama, elected Lynneice Washington as district attorney — the state's first black woman to fill that role — who ran on a platform that included reforming the death penalty.
Orlando, Florida, elected Aramis Ayala as chief prosecutor in 2016. In March 2017, Ayala drew national attention when she announced that she would no longer seek the death penalty, drawing the ire of and an executive order from Gov. Rick Scott.
Larry Krasner was voted in as Philadelphia's district attorney in 2017 while running on a similar platform to District Attorney Washington.
Some researchers see this as part of a larger trend. Brandon Garrett, professor at the University of Virginia's School of Law and author of End of Its Rope: How Killing the Death Penalty Can Revive Criminal Justice, told NCR that this trend could contribute to "steeper declines in some of those counties that used to be at the forefront of death sentencing."