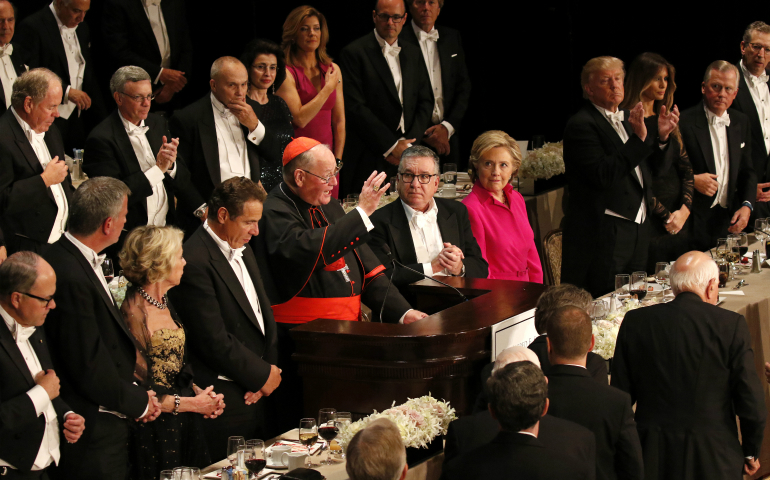 New York Cardinal Timothy M. Dolan imparts a blessing during the 71st annual Alfred E. Smith Memorial Foundation Dinner at the Waldorf Astoria hotel in New York City Oct. 20. (CNS photo/Gregory A. Shemitz)
San Diego — November 7, 2016
An insert and article in a San Diego parish's bulletin saying Catholics were going to hell if they voted for Hillary Clinton and claiming Clinton was influenced by Satan are inappropriate and do not reflect Catholic teaching or diocesan policies, said a spokesman for the San Diego Diocese.
The Oct. 16 bulletin from the Immaculate Conception Catholic Church included an insert in both English and Spanish saying it was a "mortal sin to vote Democrat" in this election, saying Democrats violated major principles on church teaching that Republicans didn't on abortion, same-sex marriage, euthanasia, human cloning and embryonic stem-cell research.
The Oct. 30 bulletin included an article, "Voting Catholic," which made it seem that Clinton is influenced by Satan, saying her plan was to "draw us away from God's teachings regarding the sanctity of life to those of the world and its prince."
Diocesan spokesman Kevin Eckery told The San Diego Union-Tribune Nov. 2 that the bulletin's insert and article were inappropriate and voters should use their conscience to determine which candidates to support. He noted that the insert had not been authorized by the parish.
"It's not a mortal sin to vote for Democrats, number one. And number two, the church doesn't take positions on this, and we're not going to," he added.
These bulletin writings go against IRS regulations that prohibit nonprofit organizations such as churches from backing or opposing political campaigns as a condition of their tax-free status.
San Diego Bishop Robert W. McElroy, in a Nov. 1 speech at the Center for Catholic Thought and Culture at the University of San Diego, said the Catholic Church has long held that "both the church and society are best served when bishops refrain from publicly endorsing or favoring, either directly or indirectly, specific candidates in partisan election."
He said this tradition of neutrality isn't just because of the tax status of the church or a desire to avoid divisiveness within Catholic communities but instead stems from the idea that the "sanctification of the world falls primarily to lay women and men. And it is a core teaching of Catholic moral theology that it is deeply within the conscience of the individual believer that key moral decisions must be made."
The bishop, who has a doctorate in political science from Stanford University, said that in the process of "discerning which candidate will best advance the common good, the prudential decision of each citizen remains paramount. Thus while bishops must teach on principles of moral judgment, and outline key elements of the common good which are at stake in a particular historical moment, they should refrain from favoring particular candidates."