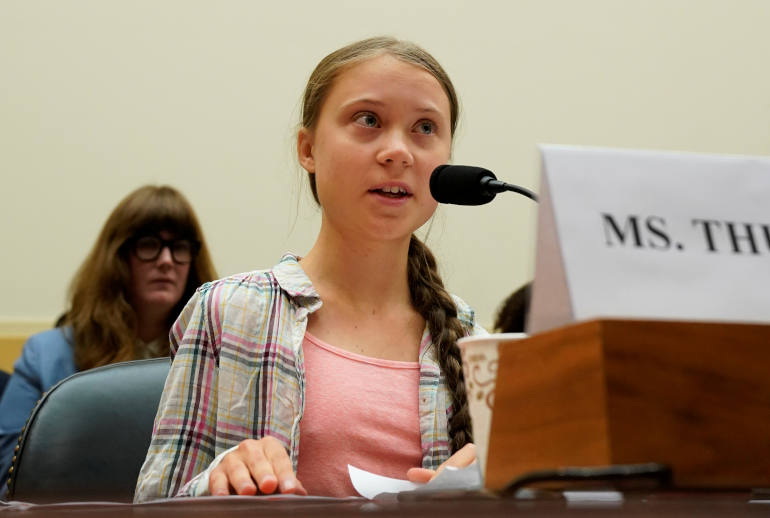 Swedish climate activist Greta Thunberg, 16, testifies at before U.S. representatives at a hearing on "Voices Leading the Next Generation on the Global Climate Crisis" in Washington Sept.18, 2019. (CNS photo/Kevin Lamarque, Reuters)
Editor's Note: EarthBeat Weekly is your weekly newsletter about faith and climate change. Below is the Dec. 13 edition. To receive EarthBeat Weekly in your inbox, sign up here.
There was a lot of attention paid to Greta Thunberg this week.
And rightfully so.
On Wednesday, Time magazine named the Swedish teen climate activist its Person of the Year.
That same day, in Madrid, she addressed world leaders and diplomats at the COP 25 United Nations climate summit.
And a day later, the president of the United States of America took to trolling the 16 year old on Twitter, which came two days after Brazilian president Jair Bolsonaro called her a "brat." (In both cases, Thunberg responded by making the verbal barbs part of her Twitter bio.)
If given the choice, I'd guess Thunberg hoped what most people paid the most attention was her speech at COP 25. But not just the buzzy parts.
Thunberg said while she's learned from her year and a half in the global spotlight that beginning a speech with something personal or emotional can help grab attention, she'd avoid that this time. "Because then those phrases are all that people focus on."
"They don't remember the facts, the very reason why I say those things in the first place," she said. "We no longer have time to leave out the science. For about a year, I have been constantly talking about our rapidly declining carbon budgets, over and over again. But since that is still being ignored, I will just keep repeating it."
We hear you, Greta.
And in that spirit, we are highlighting here the science portions of Thunberg's speech:
"In chapter 2, on page 108, in the SR 1.5 IPCC report that came out last year, it says that if we are to have a 67% chance of limiting the global temperature rise to below 1.5 degrees Celsius, we had on Jan. 1, 2018, 420 gigatons of CO2 left to emit in that budget." Here's the U.N. Intergovernmental Panel on Climate Change report she is citing.
"And of course, that number is much lower today, as we emit about 42 gigatons of CO2 every year, including land use. With today's emissions levels, that remaining budget will be gone within about 8 years." That point is visually illustrated by the Carbon Clock created by Germany's Mercator Research Institute on Global Commons and Climate Change. Thunberg went on to say that the numbers are "the current best available science," and they didn't address equity in terms of richer, more emitting countries carrying a larger share of carbon reduction efforts — a point made repeatedly by the Vatican and Catholic organizations.
"The approximate 67% chance budget is the one with the highest odds given by the IPCC. And now we have less than 340 gigatons of CO2 left to emit in that budget to share fairly. And why is it so important to stay below 1.5 degrees? Because even at 1 degree, people are dying from the climate crisis. Because that is what the united science calls for to avoid destabilizing the climate, so that we have the best possible chance to avoid setting off irreversible chain reactions, such as melting glaciers, polar ice and thawing arctic permafrost. Every fraction of a degree matters." The IPCC 1.5 report found that average global temperature rise of 2 C, compared to 1.5 C, would expose 420 million more people to severe heatwaves and 10 million more to risks brought by rising seas, while nearly wiping out all the world's coral reef and expanding Arctic summers without sea ice to once per decade, compared to once a century. The planet has already warmed 1 C since the late 1800s, and is on pace to reach 3 C by the end of the century. An analysis by the Washington Post this year found about 20% of the planet has already warmed by 1.5 C.
"So there it is again," Thunberg said. "This is my message. This is what I want you to focus on."
She added: "So please tell me, how do you react to these numbers without feeling at least some level of panic? How do you respond to the fact that basically nothing is being done about this without feeling the slightest bit of anger? And how do you communicate this without sounding alarmist? I would really like to know."
Watch Thunberg's full address to COP 25 here.
And read the Time Person of the Year article on Thunberg, along with their explanation of the pick.
---
A look at what's new on EarthBeat this week:
---
Other climate-related news from this week:
---
Closing beat:
With Christmas fast approaching, the season for many is a time of abundant cheer, good will … and wrapping paper.
How do you attempt to limit excess waste during the holidays? Maybe you reuse packaging and wrapping paper. Or perhaps shop local to reduce your gifts' carbon footprints. Let us know your strategies by emailing me at the address below.
Thanks for reading.
Brian Roewe
NCR staff writer
broewe@ncronline.org