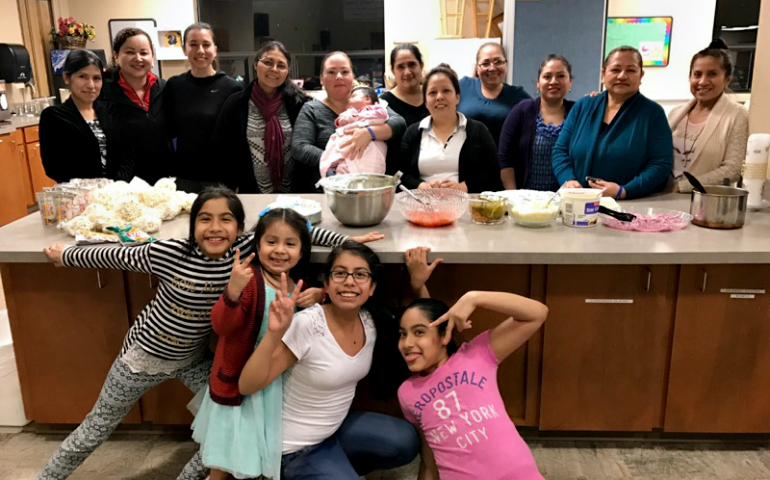 Sacred Heart Parish's Encuentro group, including Rocio Campos (fourth from left in the back), poses for a photo before serving the homeless in Lacey, Washington. (Provided photo)
Kansas City, Mo. — May 12, 2017
The grassroots of the V Encuentro are budding throughout the country, as local encuentros have either just begun or just wrapped up in parishes engaged in the process.
The V Encuentro (endorsed by Pope Francis) is a four-year conversation intended to respond to the growing Hispanic presence in Catholic churches throughout the United States. Ending on a national stage in Dallas in fall of 2018, it begins with parishes getting together through June of this year.
The encuentros ("gatherings") at the parish level are done in two parts:
First, parishes host five sessions, each about an hour long and held weekly, biweekly, however. Those sessions are meant to foster conversation and reflections, with the option of using the V Encuentro guidebook as a resource.
The sessions then end with a final parish encuentro that may last about eight hours, in which selected participants who attended the five sessions gather to piece together the conversations, organizing the feedback and proposing practical responses that will later be represented at the diocesan encuentro. Guidelines for how the daylong event should be facilitated can be found here.
In a predominantly Hispanic neighborhood in Kansas City, Missouri, Fr. Paul Turner said he and those at St. Anthony Parish are "learning as we go," with the sessions up till now mainly consisting of group reflections and meditations rather than constructive conversations.
"I'm going into it with a spirit of openness, because I need to learn, too, and this is a way that I can listen to what's coming forward from our community," he said.
Though St. Anthony's immigrant community includes a number of African countries, the Hispanic community is large enough to fill two of the four weekend Masses, both of which are in Spanish. Hispanic adults at this parish, Turner said, tend to have fewer English language skills.
"I'm optimistic things will come forward that will give voice to who we are, and a better vision of who we are, what we need, and what we can contribute."
"It affirms for me the strength of faith in the Hispanic community and the way that they support their church," he said. "I think part of their identity as individuals, as families and as immigrants is the unity they feel with the Catholic Church and with a particular parish or several parishes where other immigrants worship."
Though the V Encuentro is organized on a steady timeline, gatherings within parishes are encouraged to keep the dialogue and meetings going, long after the official process has been concluded.
For Rocio Campos in Lacey, Washington, interest among V Encuentro participants did not end with the five sessions at her parish, Sacred Heart, where she is a volunteer coordinator for all matters related to the Hispanic community.
The parish, located near the city of Olympia, is near-majority Latino, though Filipinos, Samoans, Chamorro and Anglos are also prominent shares of the congregation.
While Mass is celebrated in three languages, once-monthly Spanish Masses are now every weekend to accommodate the area's rapidly growing Hispanic population (many of whom do not speak English).
"I didn't even know what Encuentro was about, but when we started looking for those people out there — [those] who feel excluded, or like they have nothing to give to the parish or church, who feel so behind — we would try to incorporate them and make them feel welcome," Campos said.
She noted that talks through the V Encuentro emphasized individual talents, but "some people don't know their talents."
With that in mind, Campos plans to continue the process in a way that would explore each individual's gifts (the group was roughly more than 20), and examine what they should approach and apply to the parish.
In partnership with a local shelter, Campos took the group beyond the meetings, having them cook dinner and breakfast for hundreds of homeless people who sleep at the church. She also thought to have her daughter, who is in beauty school, primp and cut their hair.
Eventually Sacred Heart's Encuentro group took to the hospitals, with her daughter cutting hair of those who had been hospitalized for long stretches; the group, meanwhile, visited, prayed, and brought a guitar to sing with the sick.
"The encuentros really opened the people's eyes, and they see the necessity of humanity out there," she said. "I don't want these people hanging when they want more, and they really want more; they push me, already asking me when are we feeding the homeless again or going to hospitals."
Ideally, young leaders within the community will be identified in the local encuentros, and empowered to continue building upon the community feel. In this area, Campos said she is struggling to find enthusiastic leaders to inherit the torch.
But in Providence, Rhode Island, Fr. Jorge Carmona succeeded in committing 12 leaders to spearhead the V Encuentro for his Holy Ghost Parish — a downtown church that inconsistently draws families from different parts of the city, making it a challenge to build upon a sense of community.
"The V Encuentro was an important chance to organize ourselves as a community, to summon people to form the parish," he said, noting that about 150 people attended the final, daylong parish encuentro. "We became united through this."
The parish recently became majority-Latino, the bulk of which comes from Guatemala and Mexico, and who are largely undocumented, poor and illiterate.
Most of the families, Carmona said, have young children, and through the Encuentro process have expressed concerns about the future of the Hispanic community as it relates to the church.
The adolescents, he said, "are close to the families, but after they go to Mass with their families and are older, they stop. So we need to implement processes to keep this second generation."
"I've been insistent that we continue this, that it's not just an event that passes and that's that," he said, adding that the 12 leaders are committed to leading the community, which has been divided into four groups that "will continue as mini parish communities."
Though his parish wrapped up the official V Encuentro process, Carmona said he asked participants to hold on to the materials so that they can revisit the conversations next Lent.
Turner, in Kansas City, said he looks forward to seeing how the localized conversations are represented on the national stage.
"I'm just eager for this parish to have a voice in the national conversation, so when the V National Encuentro happens next year, it will include some of the reflections and ideas that come from the people of St. Anthony."
[Soli Salgado is a staff writer for Global Sisters Report. Follow her on Twitter @soli_salgado.]
A version of this story appeared in the June 2-15, 2017 print issue.