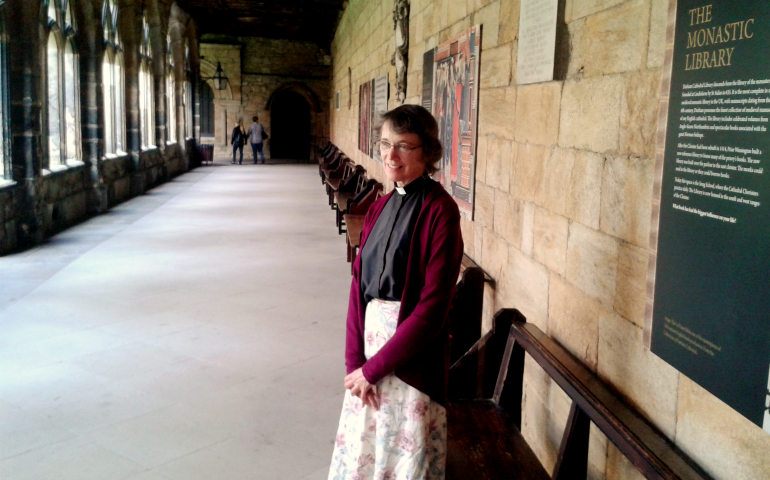 The Rev. Rosalind Brown of Durham Cathedral (Jonathan Luxmoore)
Durham, England — November 18, 2016
On a wide promontory above the River Wear, which cuts through this bustling university town, a vast cathedral, ringed by medieval battlements, rises into the cloudy sky.
When the cathedral was founded in 1093 as part of Durham's Benedictine monastery, its prince-bishops wielded absolute power, and helped repel Scottish and Danish marauders at the behest of England's Norman rulers. A millennium later, it's still serving as a bastion of the Christian faith and a magnet for local life and culture.
"Whatever might be said, Britain is still a Christian country, and cathedrals like ours, which survived the Reformation, are still a focus for vibrant communities," explained cathedral librarian the Rev. Rosalind Brown, who chairs Durham's World Heritage Site committee. "They're a part of the church which is growing today rather than diminishing — proof that the Christian faith can still flourish and increase if properly encouraged."
Durham Cathedral is just one of England's great cathedrals. But it's larger than St. Peter's Basilica in Rome, contains an ancient bishop's throne higher than the pope's, and was once England's greatest pilgrim destination.
Its centerpiece, set below towering pillars, is the grave of the seventh-century St. Cuthbert, whose remains were brought here by Saxon monks fleeing raids by the Vikings. But it also houses the tomb of "father of English history," St. Bede the Venerable (672-735), as well as a state-of-the-art museum and exhibition center attracting 600,000 visitors annually.
As with other cathedrals belonging to the established Anglican Church of England, its dean and chapter co-operate closely with local authorities, and see their role as supporting all faith communities. Catholic, Methodist and Baptist chaplains regularly lead prayers here, while Muslim and Hindu religious leaders also attend main events.
"Though it's an Anglican building, there's a sense it transcends denominational identities and is owned by everyone," Brown, who was ordained in the U.S., told NCR. "Our volunteers come from all churches and we welcome people from every background. Many just come to see the cathedral and end up having some unexpected encounter with God."
Besides its 42 Anglican cathedrals, England is also home to 19 Catholic cathedrals, all built after the once-suppressed Catholic church was legalized under an 1829 parliamentary act. These include Victorian monuments such as London's Byzantine-style Westminster Cathedral, founded in the 1890s by Cardinal Herbert Vaughan, and Arundel Cathedral, built in the 19th century by England's premier Catholic family, that of the duke of Norfolk, and dedicated to his Catholic martyr-ancestor, St. Philip Howard (1557-95).
Cathedrals have also taken on roles neglected by local government, hosting concerts, lectures and civic events.
Simon Jenkins, author of a new study, thinks the historic significance of cathedrals as monuments to faith, art, architecture and imagination can't be exaggerated. He says his favorites include Canterbury, "a history book in stone," where St. Thomas Becket was martyred in 1170, as well as Wells, "a Te Deum of sculptured praise," and Lincoln, once the world's tallest building after the pyramids.
But Jenkins thinks the anonymity of cathedrals, combined with their visual magnificence and high standards of worship, has also proved a major draw: They're places where visitors can simply "drink in the atmosphere" without being pushed into joining and committing.
'Embracing people from all faith traditions'
Since they act as patrons for all religions, furthermore, not just for Christianity, they're likely to be increasingly active as ecumenical and interfaith forums — at a time when local parishes are struggling and many churches have had to close.
In one survey by Britain's ComRes agency, half of all respondents agreed that cathedrals now "reach out to the general public, not just those part of the Church of England," and are "welcoming to people of all faiths and those who have no faith."
But surprisingly, recent data have shown a 20 percent increase in attendance over a decade at England's cathedrals, which now together contribute 220 million pounds ($280 million) to the national economy.
"These are living churches, served by devout Christians," said the Rev. Peter Moger, precentor at York Minster, 60 miles south of Durham. "But I think cathedrals can also offer a soft, nonthreatening place for people discovering or rediscovering the faith, who don't want to be made to sign up to a particular way of seeing the world."
York, then called Eboracum, was where Constantine the Great was proclaimed Roman Emperor in A.D. 306, going on to make Christianity a tolerated religion throughout the Roman world. The first wooden church was built here in the seventh century for the coronation of King Edwin of Northumbria. And today's massive cathedral, built between 1220 and 1472, is now the principal see of Church of England's northern province.
Like Durham's cathedral, York Minster is filled daily with visitors, helped by an extensive crypt museum showing traces of Christian observances dating back two millennia to Roman rule. And like its northern neighbor, it enjoys close ties with Catholics and other denominations, whose clergy take turns to read prayers from its main pulpit.
Local Methodists have held ordinations in York's cathedral, while the Catholic bishop of Middlesbrough recently celebrated the first Catholic Mass at its high altar since the Reformation. Catholics have donated an underground altar in honor of the 12th-century St. William of York, while the Catholic abbot of Ampleforth, a nearby Benedictine center, sits on the cathedral's governing council.
"There's a growing sense cathedrals like ours can't be inward-looking now — they have to serve an ecumenical function by embracing people from all faith traditions," Moger told NCR. "Many people, believers or not, engage with our worship life by lighting candles and leaving prayer requests. We have to respond by making God's truth accessible and visible to everyone of our generation."
The key to Christianity's future
Places like this are expensive. England's historic cathedrals get no state funding, and very little central church support. With a paid staff of 250, York's costs 7 million pounds ($9.5 million) annually just to stay open.
Yet religious experts think cathedrals could provide the key to Christianity's future in secularized countries like Britain.
In the recent ComRes survey, a large majority of respondents agreed cathedrals were places for everyone, while more than two-thirds of non-religious people said they provided "beacons of Christian faith" for disparate elements of society.
Could similar trends be at work elsewhere?
Survey data from around Europe have long suggested religiousness isn't so much declining as changing — and that mainstream churches need to understand the challenges in order to respond. Catholic archdioceses from Brussels to Vienna have had to merge struggling parishes into larger pastoral centers, giving larger churches an increasing role, like England's cathedrals, in reaching out to the wider society.
Throughout Europe, models and practices of church life have also had to be adapted to changing conditions, necessitating new forms of pastoral care and social engagement. In Britain itself, two-thirds of the 60 million-strong population still identified as Christian in a 2011 census, while a British Social Attitudes poll in 2015 suggested those declaring "no religion" had leveled off at around half and have now begun to fall, after rising since the 1980s.
Even in today's secularized conditions, the country can point to a global Christian outreach in aid, education and mission, as well as to continuing achievements in liturgy, music, theology and preaching. It's also home to dozens of denominations — including Orthodox, Lutheran and Reformed — some represented on a substantial scale, and still enjoys vibrant Christian traditions and a rich network of Christian folk customs.
In such circumstances, England's cathedrals look set to play a key role, mirroring developments in church life elsewhere in Europe.
"When people lived in humble huts and cottages, the splendor and vastness of these cathedrals must have been truly awe-inspiring — but even today, when tall, extravagant buildings are the norm, they still offer a foretaste of heaven," explained Moger, the York precentor. "With these very special beacons of Christianity, we have the resources to help the faith grow. And while we draw people in, we also need to send people out to share these resources more widely."
'Christianity still undergirds our national life'
Back in Durham, against a vista of northern hills, the cathedral's three towers glint gold over narrow cobbled streets and a cluster of university colleges named after onetime bishops. In the dark interior, a giant late-15th-century clock still chimes the hours after narrowly escaping being used as firewood during the English Civil War.
Behind the high altar, a screen built in thanksgiving for victory over Scottish armies contains 107 empty plinths whose alabaster statues were secretly buried during King Henry VIII's 1539 dissolution of England's monasteries.
When the nearby shrine was ransacked during the Reformation, the body of St. Cuthbert was found to be miraculously intact after six centuries. And in 2017, the saint's ornate Saxon coffin and cross will be placed on display in the cathedral museum, attracting new interest in a World Heritage site that's still an indelible part of local life and culture.
Brown, whose cathedral library contains books from the sixth and seventh centuries, as well as three medieval copies of England's 1215 Magna Carta, says she routinely hears stories of people who've discovered the faith while visiting the cathedral, just as they've done for centuries.
She's proud of its strong ecumenical and interfaith links, and says her mission as a woman priest has never been an issue for the Catholics who come here.
"Although we're a multicultural, multifaith society, places like this show how Christianity still undergirds our national life," Brown told NCR. "Some people come with religious expectations, others with none — but many are surprised to find themselves thinking of God and feeling his presence here. That makes us part of a tradition that's still very much alive and well."
[Jonathan Luxmoore's two-volume study of communist-era martyrs, The God of the Gulag, is published by Gracewing in Britain.]