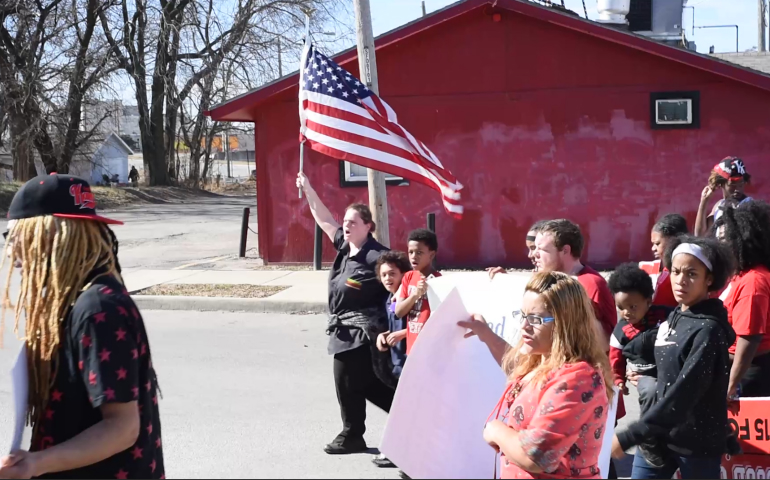 Workers rally Feb. 16 in Kansas City, Mo., to celebrate the withdrawal of Andrew Puzder's nomination for secretary of labor. (NCR photo/George Goss)
Kansas City, Mo. — February 17, 2017
"Low pay! No way! Andy Puzder went away!"
At least 100 fast-food workers yelled this slogan while they rallied Feb. 16 in front of the Hardee's on Independence Ave. in Kansas City, Mo., to celebrate the withdrawal of CKE Restaurants CEO Andrew Puzder's nomination for secretary of labor.
The rally was hosted by Stand Up KC, a group of fast-food and retail workers that is fighting for good wages and union rights. The group is Kansas City's official local chapter of Fight for $15, an international movement consisting of low-wage workers who strive to increase the universal minimum wage to $15 an hour and to gain the right to unionize.
Other Fight for $15 victory rallies took place around the country as well, including Chicago and Los Angeles, though it is unclear exactly how many were held, total.
Democrats criticized Puzder for his business record, including opposition to raising the minimum wage. Previous accusations of domestic abuse have also recently resurfaced since then president-elect Donald Trump nominated Puzder for the Secretary of Labor role on Dec. 8.
"Not only was this a victory for fast-food workers, but this was a victory for all workers," said Bridget Hughes, a Burger King employee who currently makes $9 an hour. Her husband's wage is the same working as a cashier, but even with their combined incomes, they struggle to take care of their four children and make ends meet, said Hughes, who joined Stand Up KC two years ago.

(NCR video by George Goss)
As of Jan. 1, Missouri's minimum wage is $7.70 an hour.
This is "a victory for labor; a victory for workers sending out the message that a secretary of labor ought to be for labor and he's not the secretary of corporations. … We all stand together here today and we should be proud of this victory," said Rabbi Douglas Alpert of Congregation Kol Ami, at the rally. "But tomorrow, we'll get back at it because the fight goes on and we're not near where we need to be yet."
The rally was hosted in front of Hardee's because CKE Restaurants owns Hardee's and Carl's Jr.
Several employees told NCR they had to go back to work after the rally, which lasted about 45 minutes.
In addition to the victory rallies, Feb. 16 was declared the "Day Without Immigrants," a boycott and strike combination where several business closed to observe the contributions immigrants have made in the United States.
The Hardee's on Independence Ave. is located by five Mexican restaurants within a 0.3 mile radius. All of those business were closed to observe the "Day Without Immigrants."
[Shireen Korkzan is a Bertelsen intern. Her email address is skorkzan@ncronline.org. George Goss is on temporary assignment with NCR.]