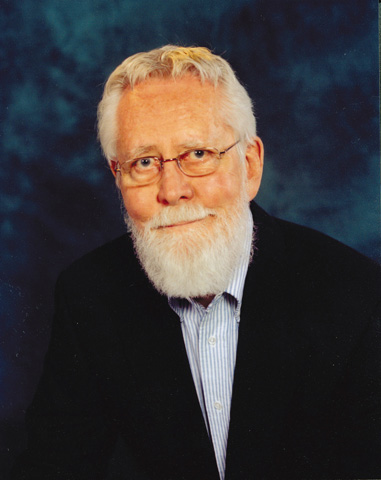 Fr. Edward Hays
Fr. Edward Hays, author of more than 30 books and a priest of the Kansas City, Kan., archdiocese, died April 3 at St. Luke's Hospice Care in Kansas City, Mo., after a fall at his home. He was 85.
Hays' last posting on his blog is a March 23 reflection on Good Friday. In the blog, he charges the readers to replace the image of Jesus nailed to the cross with that of a door.
"A door symbolizes passing from one state to another. Doors open to the mysterious and are an invitation to dare to voyage into the beyond. Death is integral to ongoing evolution and its doorway to new life," he wrote. "Easter celebrates that death releases us from our human limitations to experience the freedom of the unlimited, unrestrained boundless new existence with an entirely innovative relationship to Life and the entire star staggering cosmos."
"I propose new final words of the dying Jesus! His last words were the very same as those of Elizabeth Kubler Ross. She was a Swiss-American psychiatrist and famous pioneer in her work on death and dying," he continued. "When asked where she was going when she died she said, 'I'm going out dancing among the galaxies.' "
Benedictine Abbot Gregory Polan of Conception Abbey in Conception, Mo., told NCR "the distinguishing characteristic of Fr. Ed Hays is he was always creative in the way he was able to express the gospel and his faith."
One of those creative ways was using a construction sign -- "Beware, men working" -- as the basis of a reflection on "what he hoped was happening here at the seminary and what would continue for these men into the priesthood," according to Polan. "I remember it from over 20 years ago when I was rector."
---
Related: Fr. Ed Hays taught us to live, not just say, prayers​
---
Hays, who always wore a smile according to Polan, was born in Lincoln, Neb. He studied at Conception Abbey from 1950 to 1958, completing both his undergraduate work and theological studies. Polan told NCR that Hays had a very difficult time with Latin during seminary, so he received help from the monks at Conception Abbey.
"Because of that Conception always had a very warm place in his heart," Polan said.
Fr. William Fitzgerald, of Scottsdale, Ariz., and Hays were classmates from 1950 to 1954 at Conception Seminary and roommates in 1953. An author of 14 books, Fitzgerald told NCR that Hays was an inspiration and model.
"I think he had a very positive influence on Catholic spirituality," said Fitzgerald. "So much of Catholic spirituality prior to Vatican II was Augustinian in nature -- the emphasis on sin and living in a vale of tears. The song 'Amazing Grace' that 'saves a wretch like me' that was not Ed Hays' spirituality. His spirituality was uplifting, positive and centered on beauty."
Fitzgerald said "he was a blithe spirit, an uplifting person who brought inspiration and encouragement to people's lives that they could walk a path of beauty. He walked a beauty path."
Hays was ordained a priest in the Kansas City, Kan., archdiocese in 1958. He spent 13 years in parish ministry, then at age 39, he went on an extended prayer pilgrimage to Israel and India.
Upon his return, Hays founded Shantivanam, now called Christ's Peace House of Prayer, Shantivanam, on 120 acres outside Leavenworth, Kan. The house is an 11-room retreat facility operated by the Kansas City, Kan., archdiocese, where retreatants are taught meditation in different traditions. Hays wrote Prayers for the Domestic Church: A Handbook for Worship in the Home while at Shantivanam.
Vince Eimer, the current director of Christ's Peace House of Prayer, worked with Hays between 1991 and 1995. Eimer told NCR that Hays was very creative.
"When he began the place there was a lumber yard that someone had ordered a lot of odd shaped windows and decided they didn't want them," Eimer said. "The person at the lumber yard asked Fr. Ed if he would have any use for these and he said he would come up with something. On the south side of what became the main building, he used those windows to be the south side walls. Instead of a wall, it's these glass windows so you can see outside and see the seasons change."
Eimer said there were two clear aspects of Hays' mind, a very creative side and a very logical side. He described Hays' personality as very engaging and warm.
"He was a great listener and very insightful," said Eimer. "He could see through the words to the heart of the matter very quickly, but he didn't have a big ego. Generosity and kindness was at the forefront."
Those listening skills were put to use when Hays was the director of Christ's Peace House of Prayer. Eimer told NCR that Hays was a peacemaker if there were conflicts arising among the staff and was "great about collegiality. He wasn't a dictator. He looked more for consensus than dictating how things should go."
In 1996, Hays began work as a prison chaplain at the Kansas State Penitentiary.
Hays was an artist and illustrated most of his book covers. Some of his books include Prayers for a Planetary Pilgrim: A Personal Manual for Prayer and Ritual, Prayers for the Domestic Church: A Handbook for Worship in the Home, Holy Fools & Mad Hatters: A Handbook for Hobbyhorse Holiness, and Feathers on the Wind: Reflections for the Lighthearted Soul.
[Elizabeth A. Elliott is an NCR Bertelsen intern. Her email address is eelliott@ncronline.org.]