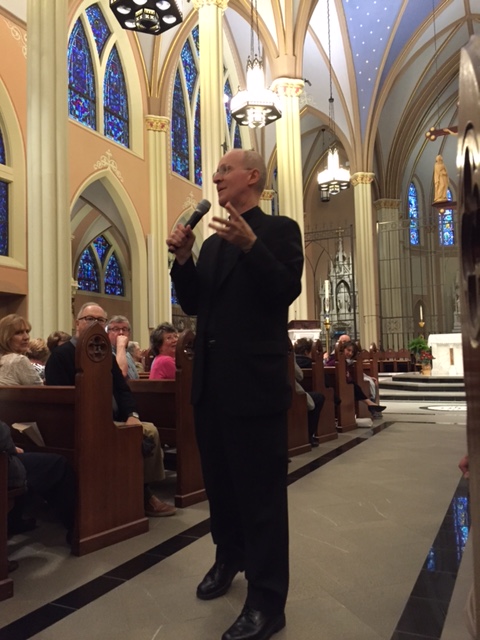 Jesuit Fr. James Martin speaks about his latest book at St. John's Parish at Creighton University, May 13. (NCR photo/Elizabeth A. Elliott)
Jesuit Fr. James Martin, editor-at-large at America, gave a presentation May 13 at Creighton University in Omaha about his most recent book Seven Last Words: An Invitation to a Deeper Friendship with Jesus (HarperOne, 2016). He was also the commencement speaker at Creighton University's 2016 graduation ceremony May 14. Martin spoke with NCR after the May 13 presentation.
NCR: What do you think about the news about women deacons?
Martin: It was pretty clear that [Pope Francis] wanted the discussion reopened. I think having women deacons is really a recovery of a historical reality and it's also something that points towards the future in terms of enabling women to have more participation in the liturgical life of the church and therefore more participation in leadership. Because preaching is a form of leadership and celebrating the sacraments is a form of leadership. I think it's fantastic.
How do you respond to the resistance to this discussion of women deacons?
There are probably a number of reasons for the resistance. One is theological resistance -- people think it's not justified theologically and that it's too close to priestly ordination. Second, I think it's fear of change. It's something new and different and people tend to fear change. Third, I think unfortunately there's some misogyny.
The first time I heard a woman give a reflection at a retreat it was on the Annunciation and I remember thinking how impoverished the church is for not being able to hear women's perspectives on the Scripture. Not only about women's issues and women in the Bible, but everything. It really struck me and I've never forgotten that.
Being too close to priestly ordination, would they have to change the ordination procedure?
The irony is that when Phoebe was a deacon she wasn't ordained a deacon in the way that deacons are ordained today, but priests weren't ordained priests the way they are ordained today. So, I find the arguments against ordaining women to the diaconate not compelling. The arguments for are very compelling, including historical arguments.
If it was totally off the table, the pope would say that. He didn't say that. He said we needed to study it more. Interestingly, there was an overreaction to the initial announcement where people said he approved it and then there was an overreaction to [Jesuit] Fr. [Federico] Lombardi's announcement where he said [Pope Francis] wasn't approving it, but the overreaction to Fr. Lombardi's announcement was to say oh, it's clearly totally off the table now, which it is not.
[Pope Francis] is open. When a group of women asks a question, he's open. He really does believe in the actions of the Holy Spirit among the people of God. That's one reason why he tried to encourage bishops to do surveys before the synod. If he believes in the work of the Holy Spirit in the people of God, he certainly believes in the work of the Holy Spirit in women religious. They're asking these questions. He trusts in the Spirit.
You have over 400,000 likes on your public Facebook page. What are people looking to you for?
Because I work at America Media, we're kind of a clearinghouse for news and video and stories that people might not normally see, so we're fortunate to get them first. It's great to be able to share those things with people.
Second, I think people appreciate Ignatian spirituality. I try to be honest about my own struggles and things that I like and don't like. I try to invite people to look at things I find interesting. I like to create a space where people can discuss things. I think a lot of people feel that they don't have a voice in the church so I think they're happy that they can discuss things in a forum that's open and charitable.
For the millennials and the ones not in church do you feel like a virtual parish priest for them?
I see it as a ministry, and Jesuits are taught to meet people where they are. I think social media is a private way for people to explore their spirituality. In decades past you would go to a book, [and now] people will go to a Facebook page or Twitter account or an Instagram account, and it's a quiet way for them to explore things. I know a lot of people come up and talk to me and say, 'I read your Facebook page but never comment.' So I know there are people that are just taking it in.
It's a ministry. It's going where people are, and people are on social media so why not go out there in the same way Jesus went out to people? It shouldn't be beneath us. There's no medium that's beneath us. They're all ways that we can meet people. It's also a way to show people other parts of the Catholic church.
Do you feel a responsibility or burden being so followed?
Yes, I know I don't speak officially for the church or the Society of Jesus or America magazine, but I know that what I post or say reflects on the church or the Society of Jesus or America magazine. So I'm always very careful. It's mostly the Gospel, so if the Gospel offends people then so be it.
I also try to reach out especially to people who feel like they are on the margins, so LGBT Catholics, divorced and remarried Catholics, women that might feel marginalized. Jesus went out to the margins and Jesuits are supposed to go out to the margins.
In 2009 you wrote a story about gay Catholics. Have things improved for them since 2009 or since Pope Francis?
Things have improved for gay Catholics since Pope Francis said his five most famous words -- 'Who am I to judge?' It's hard to overstate the impact of that. He had the meeting when he was in the United States with his former student and the student's partner. In Amoris Laetitia he says, "before all else" we have to treat LGBT people with respect. So, I think his tone and his manner and his approach have really made LGBT people feel more welcome.
Frankly, you just have to ask them that. It's not some abstract thing. They tell me, 'We love this guy, I feel more welcome.' It's fantastic. Why wouldn't we want people to feel more welcome? I think the church still needs to go out more to them.
How do you think they can do that?
First, by listening to their experience. Usually LGBT people are preached at instead of listened to. Second, by going out [of] their way to make them feel welcome. Third, by including them in leadership positions as anybody else would be, as Eucharistic ministers and lectors and things like that. But the first thing is listening to them. What is their experience?
What do you think the church needs to do to encourage more lay participation?
I think one of the great unfulfilled promises of Vatican II was lay participation in decision making at high levels of the church. The avenues through which they can express their opinion and be heard and have influence on decisions are still vague. We saw that after the sex abuse crisis. How can they effect change? There aren't these avenues for lay people to feel like they have a voice.
I think synods are a great way to start. Putting lay people in leadership roles in the church is essential. Chancellor is a good start. In the Vatican, what about lay people running dicasteries? The Pontifical Council on the Family -- why can't that be run by a married man or married woman? Cardinal [Pietro] Parolin said a woman could be secretary of state. There are certain things that do not require ordination. I think lay people need to have an avenue where their voices can be heard that's institutionalized.
Can you give a response to the recent guidance letter from the Obama administration about transgender students' civil rights under Title XI in public schools?
I don't know a whole lot about that issue, but I would say that I don't understand the problem with letting transgender people use bathrooms that they feel comfortable in. Personally, I think it's overblown and that people's responses are really strange. I don't know that much about transgender people but that's all the more reason for us to try and treat them with dignity.
I thought the comment from Attorney General Lynch was beautiful, that we are with you, we're going to try to help you. Just as the church needs to treat gay and lesbians with "respect, compassion and sensitivity," which is in the catechism, it should be the same with transgender people. And letting them use the bathroom seems a fairly simple thing to do.
If Jesus were in a boat talking to us, what would he say?
The movement for Jesus is always from the outside in. He's always going to the margins, he's looking at people who are excluded and he's calling them in. For Jesus it's community first, then conversion.
For John the Baptist it was conversion first then community. That's something of a simplification, but for Jesus it's the welcome that leads to conversion, and I think we see that in Pope Francis. People feel welcome and therefore they start to think about how to conform their lives to Christ's commands.
This story has been updated to clarify language.
[Elizabeth A. Elliott is an NCR Bertelsen intern.]