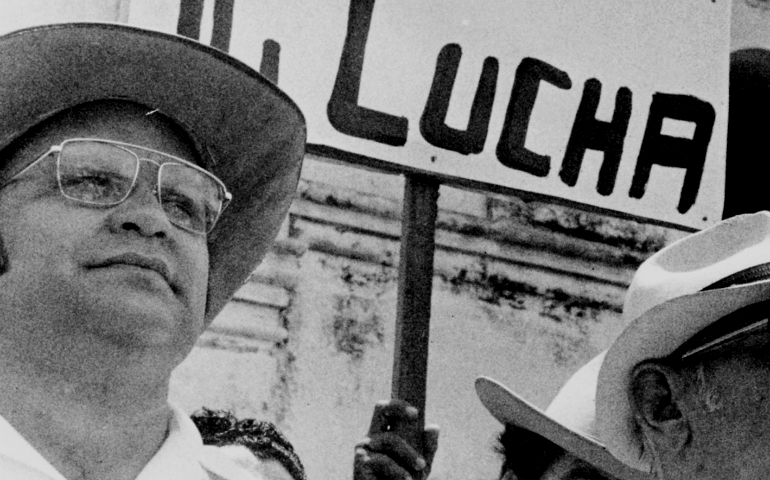 Maryknoll Fr. Miguel D'Escoto Brockmann joins a demonstration against the Somoza regime in Nicaragua in 1978. (NCR photo/June Carolyn Erlick)
Miguel D'Escoto Brockmann, the Maryknoll priest who was suspended from the priesthood in 1985 because he was serving in the Nicaraguan government, has died. He was 84. D'Escoto died June 8 in Nicaragua, according to an announcement from the headquarters of the Maryknoll Fathers and Brothers. The Vatican reinstated D'Escoto to active ministry in 2014.
The Associated Press reported that D'Escoto had suffered a stroke several months earlier, but his death came "unexpectedly" June 8.
Nicaragua's first lady and vice president, Rosario Murillo, told the media of the priest's death, expressing the government's "deep sorrow and pain" over his passing.
He "came to accompany us in fulfilling the aspirations and the dreams of our people," Murillo said.
In the 1970s, D'Escoto supported the socialist Sandinista National Liberation Front in its effort to overthrow the government of Anastasio Somoza. When the Sandinistas came to power in 1979, D'Escoto was named foreign minister in the administration of Murillo's husband, President Daniel Ortega Saavedra, a position he would hold until 1990, when the Sandinistas lost political power.
Four priests served in Ortega's government, supporting the Sandinista revolution: D'Escoto; Trappist Fr. Ernesto Cardenal, the Sandinista minister of culture; his brother Jesuit Fr. Fernando Cardenal, minister of education; and Fr. Edgard Parrales, a diocesan priest and Managua's representative to the Organization of American States. After repeated attempts by the Vatican and the priests' religious orders to convince them to resign their positions in the Sandinista government, the Vatican suspended them in 1985.
The conflict between these priests and the Vatican became an iconic image of the pontificate of Pope John Paul II after a photograph was taken of the pope with raised, shaking finger admonishing the bearded and beret-clad Ernesto Cardenal as he knelt to greet the pontiff at Managua's airport in March 1983.
Luckily, D'Escoto told NCR in a 2009 interview, he was attending a ministerial meeting in India at the time of John Paul's visit to Nicaragua. "Otherwise, I'm sure the pope would have scolded me too with his finger," he said.
D'Escoto, who also worked briefly as a civil engineer and a publisher, defended his decision to continue in statecraft, pointing to his extensive education at a time when a majority of Nicaraguans did not have the chance for formal education.
Yet he also downplayed his state job, telling Jesuit-run America magazine in 1985 that he found no difference between being a doorman or being a foreign minister. "It's service," he said, adding that the well-trained privileged few can be a bridge of understanding between their nation and others. He called this task "very noble and also, in a sense, priestly work."
D'Escoto was born in Hollywood, California, in 1933, to Nicaraguan parents, one a diplomat. They returned to Nicaragua, but, at age 14, D'Escoto began attending schools in Scranton, Pennsylvania, and Glen Ellyn, Illinois, before entering the novitiate of the Catholic Foreign Mission Society of America, commonly called Maryknoll, in 1956. He received degrees in theology from the Maryknoll Seminary and in education from New York State University and studied comparative journalism and political economics at Columbia University. He was ordained a priest in 1961.
In 1970, D'Escoto founded the Maryknoll publishing house, Orbis Books, and became known as "the revered father" of Orbis. The current publisher, Robert Ellsberg, who met D'Escoto on and off over the last 30 years, remembers D'Escoto returning from trips to Latin America with a suitcase full of manuscripts.
Through D'Escoto's efforts, the writings of liberation theologians like Jon Sobrino, Gustavo Gutiérrez, Leonardo Boff and Sergio Torres came to be known and amplified in the West.
Ellsberg called D'Escoto a "prophet" who was able to discern early on that churches in the Third World had a voice of their own. Prior to his publishing voices from the Global South, there had only been one theology in the church — that of Rome, Ellsberg said.
"He had his ear open to what was happening in Latin America. ... He knew people at the margins who were hearing the Gospel in a fresh way," and he created a channel by which their theology and other contextual theologies could evangelize Christians in the West, Ellsberg added.
The publisher saw in D'Escoto "a deeply devoted follower of Jesus Christ," who put his priestly life and vocation at the service of the poor, even when it cost him dearly. "He was a revolutionary on behalf of the poor when his nation was attacked by the most powerful country in the world."
UN tenure
In June 2008, D'Escoto was elected president of the 63rd United Nations General Assembly by acclimation and came to preside over 192 member nations for a year. Already 76 and afflicted with Meniere's disease, the priest said he was "astonished" by his selection, as he'd never campaigned for the post and was not a politician.
"I began to pray in order to discern what our Lord wants me to do," he told NCR during a lengthy interview at his U.N. office in New York in 2009.
His primary goal was to convene a meeting on the worldwide recession that was the result of the 2008 global financial crisis. He wanted to know what would be its effect on development, especially for small nations.
Moreover, he sought to encourage "a profound democratization" of the world body. D'Escoto noted that there'd always been "states that have been accustomed to calling the shots, to treating the rest of the world community as marginal or unimportant. But the problems we face are no longer binational, not even regional," he told NCR. "They're global and all states must be included in solving them."
Specifically, the priest sought to keep converging crises — global food security, the energy crisis, the water crisis, climate change and the threats to peace and security from violence and war — in front of General Assembly delegates throughout his year's tenure. He spent much of that year traveling and meeting with diplomats on behalf of peacemaking and the planet's health.
Still, he did not forget the sadness he felt when he learned of Rome's suspension of his priestly role more than three decades earlier. The subject re-emerged during the NCR interview as D'Escoto's U.N. office held many religious objects, icons and paintings — on view for all to see.
"I know only sin can separate me from God," he said. "My work and my responsibilities at the U.N. and in my country are motivated by what it means to be a priest, what it means to be a disciple, an apostle of peace and a follower of Jesus Christ. All I can say is when I was suspended I wept and I wept."
His lamentation turned to tears of joy in 2014 when, after he petitioned Pope Francis to have his suspension lifted, the Latin American pontiff did just that.
"I think it helped that the reconciliation happened with a Latin American pope. Latinos understand these matters better," said Fr. Ernie Lukaschek, who served for decades as a Maryknoll missioner in Chile and met D'Escoto "on and off when he was in Chile" and at Maryknoll during Lukaschek's seminary days.
Many see in Francis' gesture of mercy a signal that the theology of liberation espoused by D'Escoto and other Latin American clergy was not a Marxist-motivated ideology so much as it was an interpretation of Catholic social teaching in the context of Latin American life in the second half of the 20th century.
They point to Latin America's martyrs — El Salvador Archbishop Oscar Romero; the four religious women raped and murdered in that same war-torn land; the six Jesuits, their cook and her daughter assassinated as well in El Salvador; along with other killings of religious land reformers and social justice advocates in Brazil, Colombia, Guatemala and across Central and South America.
As a lifelong crusader for the impoverished, displaced and marginalized peoples of Latin America and the world, D'Escoto often raised his voice against American militarism, against capitalism's exploitation of Mother Earth, against nuclear weapons, against trade and finance accords that he saw disadvantaging citizens and favoring the neo-oligarchs of a new world order.
A holy man with poetic sensibilities, his worldview is contained in his oft-quoted prayer written in 1984:
To love life is to risk it,
to live it fully
means being ready always
to lose it.
giving it over entirely to solidarity.
While D'Escoto's funeral arrangements are still pending, Maryknoll Fr. Tom Tiscornia offered a Mass for him June 11 at a U.N. displaced persons camp in South Sudan, the world's newest nation, where war and famine are constants.
The priest had good memories of D'Escoto from his seminary days at Maryknoll, New York, in the early 1970s. "I think he would have loved [the setting of the Mass] and found it so fitting, as I am sure refugees and displaced people were important to him," Tiscornia said in an email from Wau, South Sudan.
[Patricia Lefevere is a longtime contributor to NCR. Read her 2009 interview with D'Escoto at the United Nations here.]
A version of this story appeared in the June 30-July 13, 2017 print issue under the headline: Fr. Miguel D'Escoto put a priestly life at the service of the poor.