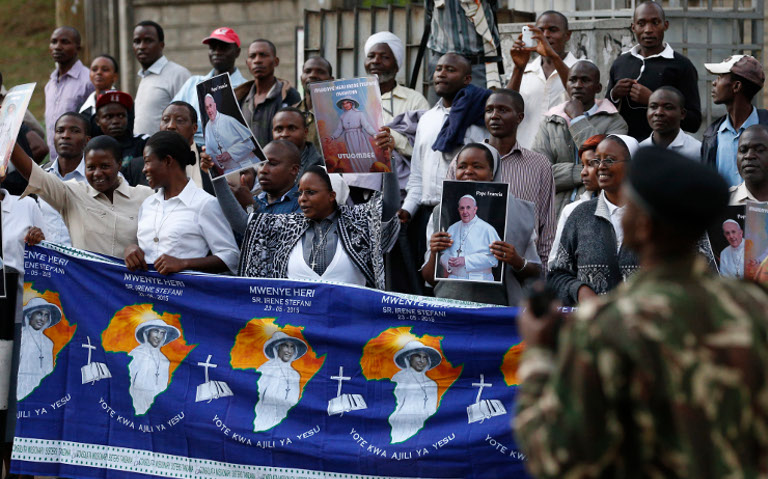 People along a street cheer Pope Francis' arrival in Nairobi, Kenya, Nov. 25. (CNS/Paul Haring)
NAIROBI, Kenya — November 26, 2015
Pope Francis has strongly called on Africa's religious leaders to instill democratic values in the adherents of their diverse spiritual traditions, launching the first full day of a three-nation tour of the continent with a plea to fight radicalization of young people and work together for peace.
The pontiff also told Kenya's Catholic community they must be "building blocks" of a society where people can live amongst each other in "harmony and mutual respect."
In two addresses Thursday morning -- one a speech at an inter-religious and ecumenical meeting marked by wide diversity of traditions, the other a homily at an outdoor Mass attended by tens of thousands in pouring rain -- the pope forcefully emphasized the need to build plural societies that respect differences.
The theme is likely to be repeated throughout Francis' Nov. 25-30 trip, which is seeing him visit Kenya before heading to Uganda and the Central African Republic.
Addressing the need for his message at the first meeting Thursday, the pope mentioned several recent religiously motivated violent attacks in Kenya, including an April hostage-taking by an Al-Qaeda offshoot at Garissa University College that saw the killing of 148 people.
"The God whom we seek to serve is a God of peace!" said the pontiff, speaking to representatives of African traditional religions, Christian denominations, Muslims, Hindus, Sikhs, Jews, and Buddhists at Kenya's apostolic nunciature. "His holy name must never be used to justify hatred and violence!"
The pope said that an increasingly interdependent world shows "ever more clearly the need for interreligious understanding, friendship and collaboration in defending the God-given dignity of individuals and peoples."
"Religions play an essential role in forming consciences, instilling in the young the profound spiritual values of our respective traditions and training good citizens, capable of infusing civil society with honesty, integrity and a world view which values the human person over power and material gain," he said.
Then, speaking of a need to raise young people in respect of diverse religious traditions, Francis said: "All too often, young people are being radicalized in the name of religion to sow discord and fear, and to tear at the very fabric of our societies."
"How important it is that we be seen as prophets of peace and peacemakers who invite others to live in peace, harmony and mutual respect!" exhorted the pope.
Kenya is a widely Christian country, with official figures saying some 82 percent of the population identifies as Christian, but it also has significant presence of other faiths. About 11 percent of the population is officially recognized as Muslim, although Muslim communities say that number should be nearer to 30 or 35 percent.
In his homily later in the morning to crowds celebrating Mass at the University of Nairobi, Francis seemed to tie together his call for respect and inter-religious work in pluralistic societies with Jesus' missionary mandate.
Reflecting on the Jesus' exhortation in Matthew's Gospel to "go and make disciples of all nations," the pontiff said that Jesus asks Christians "to be missionary disciples, men and women who radiate the truth, beauty and life-changing power of the Gospel."
"Men and women who are channels of God's grace, who enable his mercy, kindness and truth to become the building blocks of a house that stands firm," the pope continued. "A house that is a home, where brothers and sisters at last live in harmony and mutual respect."
Francis also used that homily to call for respect and support for family life, saying: "The health of any society depends on the health of its families."
"For their sake, and for the good of society, our faith in God's word calls us to support families in their mission in society, to accept children as a blessing for our world, and to defend the dignity of each man and woman, for all of us are brothers and sisters in the one human family," said the pontiff.
"In obedience to God's word, we are also called to resist practices that foster arrogance in men, hurt or demean women, ignore the elderly, and threaten the life of the innocent unborn," he said.
"We are called to respect and encourage one another, and to reach out to all those in need," said Francis.
"Christian families have this special mission: to radiate God's love, and to spread the life-giving waters of his Spirit," he continued. "This is especially important today, for we are seeing the growth of new deserts created by a culture of selfishness and indifference to others."
Thursday's Mass with Francis garnered wide attention in Nairobi as the pope's most public encounter with people during his two days in Kenya.
Crowds packed the university campus and the city's nearby Central Park to take part in the celebration, camping out despite pouring rain and heading towards the area with umbrellas and rain jackets in tow through dirt roads that had become mud roads.
The Mass was also marked with use of prayers in several languages, including Swahili, and festive dancing around the altar at the end of the distribution of Communion.
Many of the country's state officials were in attendance, including president Uhuru Kenyatta, who Francis met upon landing in the country from Rome Wednesday afternoon.
At the earlier inter-religious and ecumenical encounter, the pontiff was greeted by the leader of Kenya's Anglican church as well as the head of the Supreme Council of Kenya Muslims.
The Muslim leader, Abdulghafur H. S. El –Busaidy, spoke bluntly about problems in Africa and the wider world and widely praised the pope for his focus on environmental issues.
"The world is at a crossroads as power is increasingly assuming centrality in the society," Busaidy told Francis. "As religious leaders, we have a duty to promote justice, rightfulness, love, truthfulness, faithfulness and hopefulness."
"It would be a tragedy of very vast proportion for the good people of the world to stand aloof and watch the world hurtle down to oblivion, " he said, calling on the various religions to "stand up and in unison clasp hands together in all the things that are essential for our collective progress as one humanity."
Busaidy also quoted the renowned Swiss Catholic priest and theologian Hans Küng, saying: "No peace among the nations without peace among the religions."
Francis is visiting Kenya through mid-day Friday, when he will leave for Uganda before heading to the Central African Republic on Sunday. Later on Thursday he is to meet with Kenyan priests, religious, and seminarians before giving what is expected to be a major speech to United Nations offices in Nairobi.
[Joshua J. McElwee is NCR Vatican correspondent. His email address is jmcelwee@ncronline.org. Follow him on Twitter: @joshjmac.]