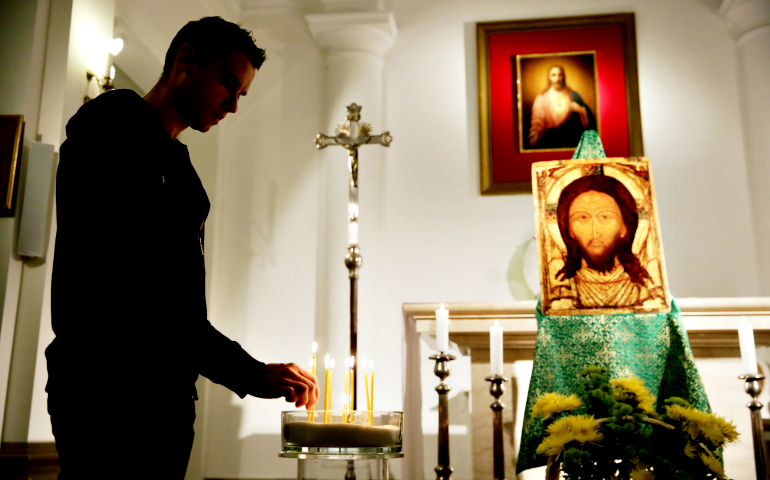 A man lights a candle during a prayer for peace in late October at a church in Warsaw, Poland. (CNS/EPA/Tomasz Gzell)
Vatican City — December 12, 2016
Pope Francis has called on Christians around the globe to embrace Jesus' teachings on nonviolence, saying in his yearly World Day of Peace message that while many countries are experiencing conflict that "violence is not the cure for our broken world."
Restating his frequent expression that we are seeing today "a horrifying world war fought piecemeal," the pontiff says in the message, released Monday, that violence only begets violence.
"Countering violence with violence leads at best to forced migrations and enormous suffering," writes Francis. "Vast amounts of resources are diverted to military ends and away from the everyday needs of young people, families experiencing hardship, the elderly, the infirm and the great majority of people in our world."
The pontiff also reminds Christians that while Jesus also lived in violent times, he "unfailingly preached God's unconditional love, which welcomes and forgives." Noting that at his own arrest before his crucifixion, Jesus told Peter to put away his sword, Francis states: "Jesus marked out the path of nonviolence."
"He walked that path to the very end, to the cross, whereby he became our peace and put an end to hostility," writes the pope. "To be true followers of Jesus today also includes embracing his teaching about nonviolence."
Francis' message for the World Day of Peace, which is dated Dec. 8, will be officially sent out Jan. 1, the Catholic feast day for the Solemnity of Mary, Mother of God. Pope Paul VI first dedicated that feast to world peace in 1967, and each feast since 1968 has seen release of a papal message.
For the 50th celebration of the World Day of Peace this year, Francis dedicated his message to the use of nonviolent strategies to counter violence, giving it the title: "Nonviolence: a Style of Politics for Peace."
Cardinal Peter Turkson, the head of the Pontifical Council for Justice and Peace, said at a press conference releasing the message that Francis decided to focus on nonviolence following a first-of-its-kind Vatican conference in April that reexamined the church's teaching of the just war theory.
Turkson told reporters that while many of the church's teachings are called "utopian" or "unrealistic" by detractors that the use of nonviolence "is not a utopian idea."
"It is something that can happen and maybe even is the only solution to all the experiences of violence," said the cardinal. "It can be difficult but it is a feasible path."
Citing Jesus' exhortation for Peter to lay down his arms, Turkson said Jesus "was a great model of non-violence."
"We are his followers," said the cardinal. "So why can we not consider Christian non-violence a feasible path for all of us?"
At the beginning of the peace message, Francis asks God to help people "cultivate nonviolence in our most personal thoughts and values" so that nonviolence "may … become the hallmark of our decisions, our relationships and our actions, and indeed of political life in all its forms."
Later, the pontiff praises specific examples of those in history who have used nonviolence for political change, citing the work of Mother Teresa, Mahatma Gandhi, Martin Luther King, Jr., and Liberian activist Leymah Gbowee, whose work building a women's peace movement helped end the Second Liberian Civil War in 2003.
"Nonviolence is sometimes taken to mean surrender, lack of involvement and passivity, but this is not the case," writes Francis. "The decisive and consistent practice of nonviolence has produced impressive results."
Francis also repeats the Catholic church's frequent plea for global nuclear weapons disarmament and abolition.
"An ethics of fraternity and peaceful coexistence between individuals and among peoples cannot be based on the logic of fear, violence and closed-mindedness, but on responsibility, respect and sincere dialogue," writes the pope. "Hence, I plead for disarmament and for the prohibition and abolition of nuclear weapons: nuclear deterrence and the threat of mutual assured destruction are incapable of grounding such an ethics."
At the end of the message, the pontiff states that Jesus offered his followers a "manual" for peace-building in his Sermon of the Mount when he offered eight blessings, known as the beatitudes, that he said would come upon those who, among other things, were poor in spirit or acted as peacemakers.
"This is also a program and a challenge for political and religious leaders, the heads of international institutions, and business and media executives: to apply the Beatitudes in the exercise of their respective responsibilities," writes Francis. "It is a challenge to build up society, communities and businesses by acting as peacemakers. It is to show mercy by refusing to discard people, harm the environment, or seek to win at any cost."
"To act in this way means to choose solidarity as a way of making history and building friendship in society," writes the pontiff. "Active nonviolence is a way of showing that unity is truly more powerful and more fruitful than conflict. Everything in the world is inter-connected. Certainly differences can cause frictions. But let us face them constructively and non-violently."
The Vatican's April conference on just war theory was co-organized by the pontifical council and the global peace group Pax Christi International. Following the meeting, Pax Christi and other groups created a new Catholic Nonviolence Initiative to focus on promoting the practice of nonviolence in church teaching.
In a statement following release of the peace message Monday, the initiative said it was "heartened by and deeply grateful for" the pope's call to political and religious leaders.
"The Holy Father's message for 2017 deeply resonates with us as the work Pax Christi International and its member groups has been dedicated for years to finding creative and peaceful solutions to violent conflict," said Marie Dennis, Pax Christi International co-president.
[Joshua J. McElwee is NCR Vatican correspondent. His email address is jmcelwee@ncronline.org. Follow him on Twitter: @joshjmac.]