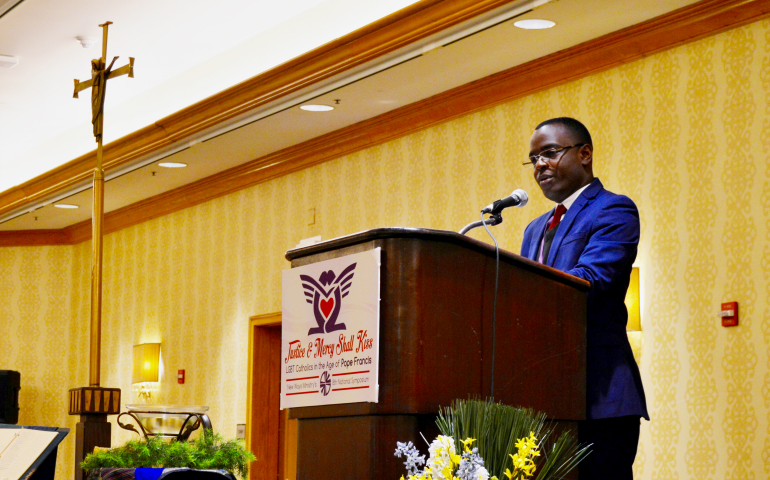 Frank Mugisha speaks at News Ways Ministry's national symposium in Chicago April 30. (Robert Shine)
Frank Mugisha still thinks twice before going down certain streets, into malls or nightclubs in his native Kampala, Uganda. Mugisha lives as an openly gay man in a country whose Parliament tried in 2009 to introduce a bill seeking the death penalty for homosexual acts. The bill has cost some Ugandans their life and has made many live in fear, not show up for work, and hide from family and friends, Mugisha told the closing plenary of New Ways Ministry's national symposium here April 30.
In 2009, at age 30, Mugisha led a massive march against the Anti-Homosexuality Act that would have instituted incarceration for consensual homosexual acts and criminalized the medical treatment of gays with HIV/AIDS. After failing to pass the bill, Uganda's Parliament made a second effort to criminalize homosexuality in December 2013.
When it passed, carrying sentences of up to life in prison, Mugisha challenged the law with the aid of lawyers from the Robert F. Kennedy Human Rights organization. He received an award from that organization in 2011 on behalf of his human rights efforts for LGBT persons.
---
Related: New Ways Ministry sees 'hope and frustration' for LGBT Catholics​ (May 5, 2017)
---
Despite the dangers, the young Ugandan had had some experience in community organizing against homophobia, starting at university in 2004 when he founded Icebreakers Uganda, a support group for gays who are out or in the process of coming out to family and friends. By 2013, he was the executive director of Sexual Minorities Uganda, an umbrella group whose members fight homophobia.
Nine months after Mugisha began to challenge the second anti-homosexuality law, a judge rescinded it. During that same year, Mugisha's name was proposed for a Nobel Peace Prize.
Despite that victory, Mugisha told his audience to be aware that homophobia and transphobia can happen anywhere. He pointed to examples in Tanzania, Rwanda and Nigeria, and said Ugandan gays worry that a new bias law is in the works in their nation.
Mugisha, 37, came out to his brother at age 14. Raised in a Catholic family, he spoke of the enormous influence the church has in his country — 44 percent of Ugandans are Catholic — where one of the government leaders is a former priest and where an archbishop recently published a book condemning homosexuality and argued that "transgendered persons can be changed," said Mugisha.
---
Related: Bishop John Stowe leads prayer at LGBT Catholic gathering (May 4, 2017)
---
When Pope Francis visited Uganda in November 2015, Mugisha tried to get a message to him via his personal assistant.
"I know that the Holy Father got that message," he said, adding that the Catholic Church "was very careful" during the visit. He told his audience to read the end of the pope's homily delivered at a Mass said at the shrine of the Ugandan martyrs.
"It was so beautiful," he told NCR. "It asked for love for everyone."
Mugisha urged his listeners to support other human rights fighters throughout the world and to use social media wisely. He alerted Twitter before his arrest and jailing at a gay pride event in Kampala last August.
He felt the response helped him get released from jail in a few hours rather than a few days.
[Patricia Lefevere is a longtime NCR contributor.]