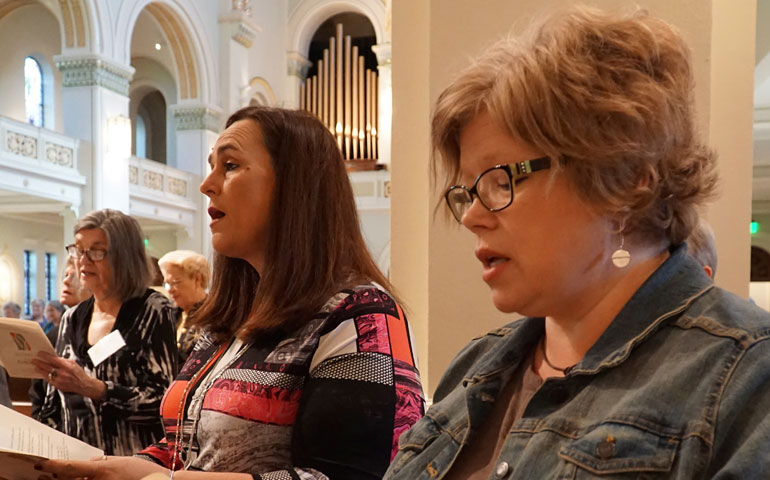 Jonna O'Bryan, foreground, and Carrie Williamson of St. Patrick Church in Louisville, Ky., sing Oct. 9 during the closing liturgy of the "Women of the Church" conference in Ferdinand, Ind. (CNS/The Record/Marnie McAllister)
As a young reporter at the Chicago archdiocesan newspaper in the 1990s, I covered a lot of women's conferences. These parochial, diocesan, regional and national gatherings were where I was first exposed to feminist theology, discovered that nuns were some of the coolest women in the church, and heard from speakers calling for expanded roles for women in the church -- including ordination.
I also met other women who, like me, felt hurt by a church that did not fully accept us and appreciate what we could bring. That "sisterhood" was crucial in my decision to remain connected to Catholicism.
Eventually, however, those types of conferences dwindled, and then stopped. The pendulum of post-Vatican II openness had swung back to a more traditionalist Catholicism, especially among the hierarchy and newer clergy. Parishes and dioceses shied away from sponsoring anything that might be seen as "feminist."
Of course, progressive Catholic women continued to meet, most obviously at conferences sponsored by Call to Action, the Women's Ordination Conference, FutureChurch and other organizations. Women religious had the Leadership Conference of Women Religious; and academic women still shared their work in feminist, womanist, mujerista and other theologies at academic gatherings.
But for everyday women in the pew -- and for the huge numbers of women who work in parishes and dioceses -- those invigorating, progressive women's conferences were gone. In their place were women's conferences of another type.
These more recent women's conferences -- usually begun after 2000 -- emphasize women's femininity or "feminine genius," à la Pope John Paul II's theology of the body, and feature conservative Catholic speakers, including bishops, EWTN personalities, and nuns from traditionalist orders. In Philadelphia, the annual women's conference is co-hosted by the archdiocese and ENDOW (Educating on the Nature and Dignity of Women), an organization that promotes "the Catholic understanding of authentic femininity," according to its website.
Some of these conferences attract hundreds of attendees, and of course they have every right to gather. But the young Catholic women I know would not feel at home at that type of event, and I found myself lamenting the loss of more progressive women's gatherings where they would.
Until now. In early October, a group of nearly 400 women made the trek to southern Indiana for a women's conference that gave me a friendly feeling of déjà vu. "Women of the Church: A Catholic Leadership Conference," hosted by the Sisters of St. Benedict of Ferdinand, Ind., in partnership with St. Meinrad Seminary and School of Theology, did not encourage women's "special feminine genius," but rather focused on all Christians' common baptismal call to be disciples.
Although I did not hear specific references to women's ordination to the priesthood, the possibility of women deacons and women's preaching were openly discussed. During a moderated conversation with two local bishops, Archbishop Joseph Tobin of Indianapolis and Bishop Charles Thompson of Evansville, Ind., both responded positively to the possibility of women deacons. (Tobin was named a cardinal less than 24 hours after that conversation.)
Attendees at the three-day gathering included academics, women religious, women employed by parishes and dioceses, women discerning a call to ministry and, yes, younger "millennial" women wondering where they fit in a more open, but still patriarchal church.
Laura Taylor, a 26-year-old doctoral student at the University of Notre Dame, admitted that "there's a huge distance" between younger women and the hierarchy, but she welcomed attempts -- like the conference -- for dialogue. The gathering gave her hope by "bringing issue to the fore," she said. "The conversation is happening."
Speakers held up strong female role models from the church's history and urged women to be the "more incisive female presence" Pope Francis called for in his 2013 apostolic exhortation Evangelii Gaudium ("The Joy of the Gospel"). Many already are.
That papal statement actually was the inspiration for the conference, according to organizers Benedictine Sr. Jeana Visel and Kimberly Baker, both of St. Meinrad Seminary and School of Theology. Their goal of the event was not to advocate or take an ideological stance, but rather to encourage women's leadership by offering tools and resources.
By not equating leadership with ordination, the organizers focused instead on missionary discipleship, "something everyone can get involved in," said Visel. "It's just living a good Catholic life in a way that draws others to it, and not being afraid to say Jesus is the reason we do things."
Keynote speaker Kathleen Sprows Cummings, director of the Cushwa Center for the Study of American Catholicism at the University of Notre Dame, also noted that Francis' emphasis on missionary discipleship has opened a window, despite the closed door to ordination. "He has effectively jumpstarted a conversation that has been stalled for too long," she told the conference attendees. "By not talking about women's ordination, we haven't talked about much else."
I agree. The "Women of the Church" conference was refreshing -- and not just because of the "Nuntoberfest" beer at the brewery on the monastery grounds. It was the openness to hearing all women's dreams, challenges and calls to be disciples and leaders in the work of the church.
Maybe someday we'll even be able to talk about ordination again.
[Heidi Schlumpf teaches communications at Aurora University in the Chicago suburbs.]
A version of this story appeared in the Nov 4-17, 2016 print issue under the headline: A friendly feeling of déja` vu for women.