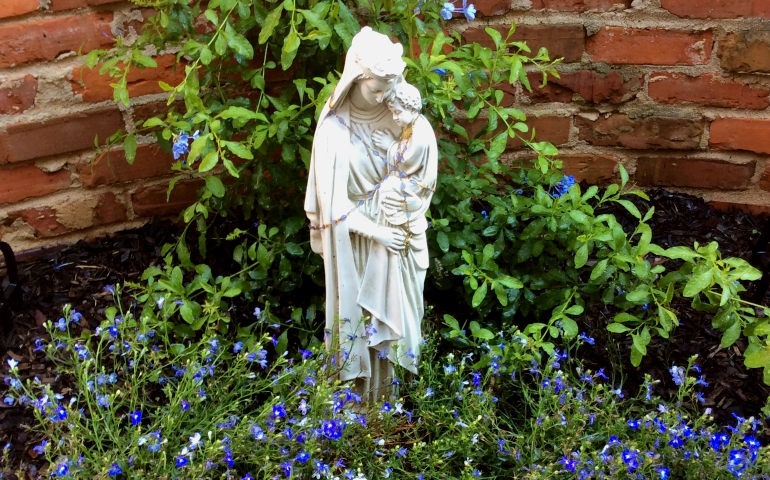 A statue of the Virgin Mary in Mary Ferrara's garden (Provided photo)
Every morning, Mary Ferrara sits on her patio outside her condo in the north lake area of Atlanta to pray. Her patio overlooks her organic vegetable and flower garden, which includes statues of the Virgin Mary and St. Francis of Assisi, patron saint of animals and the environment.
Ferrara doesn't have a particular prayer routine, but she usually starts with the sign of the cross, followed by the Our Father, three Hail Marys and the "Sub tuum praesidium" ("Under thy protection") prayer.
"Lately I've started adding the prayer to Mary, Untier of Knots and the prayer to Our Lady of Perpetual Health to my ritual," Ferrara said. "I also do minute meditations for the day or other Mary devotions."
Ferrara moved to Georgia from New York nearly three years ago and joined Our Lady of the Assumption Catholic Church in the Atlanta suburb of Brookhaven. Ferrara didn't have a garden in her co-op apartment in New York, but she was inspired to start her own Mary garden after learning more about the Virgin Mary from the Marist priests who run Our Lady of the Assumption. Now, the Virgin Mary plays an important role in Ferrara's life.
"If you had asked me several years ago if I would ever put a statue of Mary in my garden ... I never dreamed that I would be making such a big fuss over Mary," Ferrara said. The Marist priests "made Mary real for me in my life, and it has really made a difference."
A traditional Mary garden is planted with flowers and herbs associated with the Virgin Mary, such as marigolds (known in medieval times as "Mary's Gold"), roses (which have multiple symbols, including Mary's purity and her love for Jesus) and irises (symbolizing Mary as the bride in Song of Songs). According to the International Marian Research Institute at the University of Dayton in Ohio, dozens of flowers and herbs are associated with Mary.
"I refer to [my garden] as my sanctuary hermitage monastic, my way of being a religious as a non-religious," Ferrara said. "[My garden] is my chapel. This is where I come home to work my life with God, and I have Mary as reminder that the simplicity of prayer — to me — is a quiet little way of living as part of the creation of God and being part of his creative process in the world."
Ferrara said she has been gradually adding to her garden every year. An upcoming project includes making an eco-graffiti of the Auspice Maria symbol out of Irish moss and placing it over her Virgin Mary statue. Auspice Maria is Latin for "Under the Protection of Mary," and is monogramed using an intertwined A and M. Next year, Ferrara said she plans on creating a compost pile on her property.
NCR asked readers to share their prayer gardens on Facebook, and most respondents' gardens had statues of St. Francis of Assisi, which wasn't a surprise to Margaret Rose Realy of Pleasant Lake, Michigan. Realy, a Benedictine oblate and contemplative lay hermit, is an advanced master gardener and certified greenhouse grower. She is also the author of three books on prayer gardens, including A Catholic Gardener's Spiritual Almanac, published in 2015.
"You can have a garden dedicated to any particular saint that touches your heart or draws you closer to God, and St. Francis is a familiar and well-beloved figure," said Realy, coordinator emeritus of the St. Francis Retreat Center Garden Society in DeWitt, Michigan. "You can also have an archangel garden or a rosary garden, etc., but Mary gardens are the most common prayer garden created."
According to Realy, the three most popular types of prayer gardens among Catholics are Mary gardens, followed by rosary gardens — gardens typically designed with stepping stones to depict rosary beads — and gardens dedicated to St. Francis of Assisi. Gardens dedicated to St. Joseph are also popular.
Elaine Nichols has always considered herself a "retreat person" who recognized a need in her life to "get away" and spend time with God. Like Ferrara, Nichols prefers to pray in the mornings. Shortly after starting her new teaching job 17 years ago, she created a prayer garden in the backyard of her home in Dracut, Massachusetts.
"I needed quiet time and a space to get away at the end of the day, in the summertime or in the mornings," she said.
Nichols said a Franciscan spiritual director suggested she "take things to St. Francis."
"What better way than to have a statue and put it in the garden?" Nichols said.
Her garden is shaped like a U with benches on each side. Rose of Sharon bushes, irises and other flowers currently grow along the U. In between two boxwoods on the bottom of the U stands her statue of St. Francis of Assisi. Sometimes, friends will visit so they can sit on the benches to pray and discuss Scripture together.
"I think the peace prayer attributed to St. Francis helps me," she said. "I like to go through that verse and meditate."
Ferrara said her garden has a statue of St. Francis of Assisi not only because her father was named Francis, but because he serves as a reminder to do everything possible to protect the environment.
St. Francis "is very important to me because of everything going on in the world right now, and with the planet … with the falling apart of the Paris agreement, and with Pope Francis coming out with Laudato Si'. ... We need people like Francis in the world to remind us that we are all interconnected," Ferrara said.
"We have to start realizing that we have a responsibility to the planet, and that goes right back to Genesis where Adam and Eve were given charge to tend the Garden [of Eden]. Everything we do impacts the planet, and in turn, everything the planet does impacts us."
[Shireen Korkzan is an NCR Bertelsen intern. Her email address is skorkzan@ncronline.org.]
A version of this story appeared in the Oct 20-Nov 2, 2017 print issue.