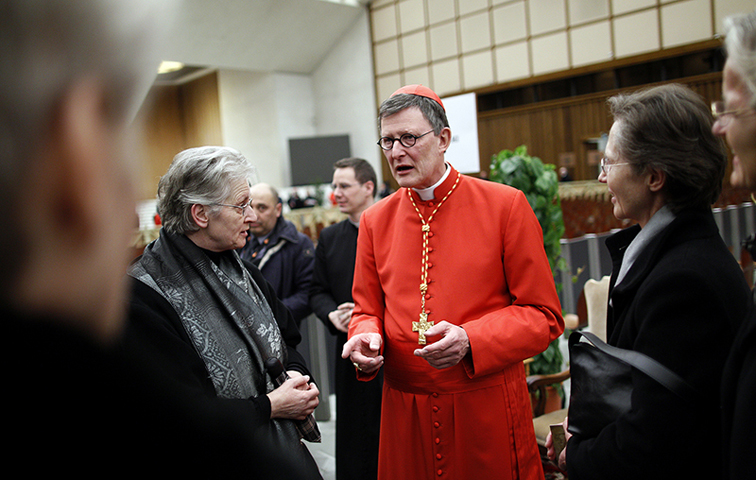 Cardinal Rainer Maria Woelki of Germany receives guests in the Paul VI Hall at the Vatican on Feb. 18, 2012. (Reuters/Tony Gentile)
A German Catholic leader's defense of religious freedom has triggered a backlash after anti-Muslim statements by far-right politicians in the country.
Editor-in-Chief Ingo Brueggenjuergen of the Catholic broadcaster Dom Radio, which ran the interview with Archbishop Rainer Maria Woelki of Cologne earlier this week, said in a commentary April 27 that some critics are claiming the cardinal is out to destroy the Catholic Church.
"These self-appointed saviors of the Christian West who are looking for an absolute antichrist should take a look in the mirror," he said. The editor added that in his views, Woelki was "in good company" with Pope Francis and his immediate predecessors who talked about Muslims as brothers in faith.
In an online video earlier this week, Woelki tarred the far-right Alternative for Germany party as fearmongers.
"Anyone who denigrates Muslims as the AfD leadership does should realize prayer rooms and mosques are equally protected by our constitution as our churches and chapels," he said, according to a translation of his remarks.
"Whoever says 'yes' to church towers must also say 'yes' to minarets," he added. "Never again must people in this country be marginalized or persecuted for their race, ethnicity or religion."
Earlier this month the AfD's deputy leader, Beatrix von Storch, described Islam as a "political ideology" and vowed to press on with calls to ban burqas and minarets.
The Catholic archbishop's comments follow AfD making ground in local elections on a platform that took aim at refugees and migrants entering Germany. The party's leader in Brandenburg, Alexander Gauland, has said the country is in danger from "Islamization."
"Islam is not a religion like Catholic or Protestant Christianity, but rather intellectually always associated with the takeover of the state," he was quoted by Reuters as saying.
Support for AfD has grown amid the influx of over 1 million immigrants to Germany last year. The party has so far won seats in eight regional assemblies.
Meanwhile, mainstream politicians are worried about right-wing attacks on migrants. German police near Dresden recently arrested five people they suspect of forming a far-right militant group and preparing attacks using explosives on asylum seekers.
(This story includes material from Reuters)