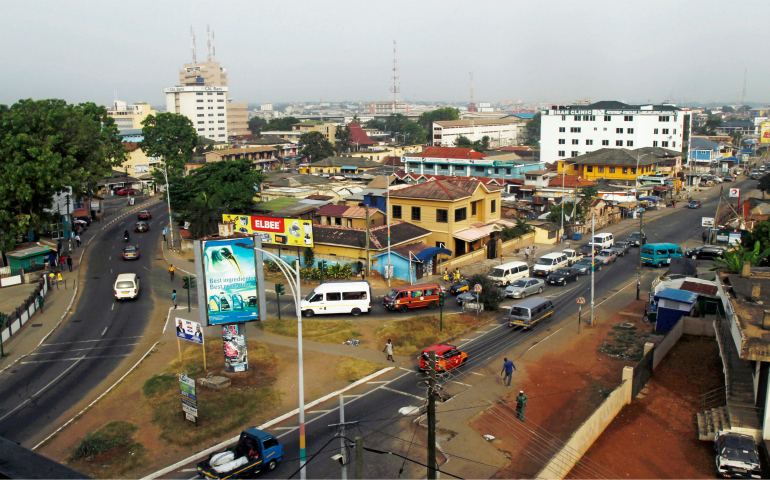 Cars and people travel through a business area in 2016 in Accra, Ghana. In preparation for Ghana's 60th anniversary celebration March 6, members of the Ghana Bishops' Conference have called on Ghanaians to continue to make the nation truly the "Star of Africa," a symbol of hope for Africa's total liberation. (CNS photo/Luc Gnago, Reuters)
Accra, Ghana — February 23, 2017
In preparation for Ghana's 60th anniversary celebration March 6, members of the nation's bishops called on Ghanaians to continue to make the nation truly the "Star of Africa," a symbol of hope for Africa's total liberation.
The bishops also announced Ghana would hold a national eucharistic congress Aug. 7-13.
"God has been good to us in these six decades. Let us continue to thank God for our heritage and ask for his forgiveness where we have failed, one and all, in our various vocations and professions to contribute to making Ghana what God is calling us to," the bishops said. Ghana became independent from Great Britain March 6, 1957.
In a pastoral letter to Ghanaians issued Feb. 23, the bishops called on Ghanaians to work hard, be honest and just in all they do, and to do away with all forms of corruption and immorality. The bishops said avoiding these vices was the only way for Ghanaians to "enjoy God's abundant blessings and favors on our homeland."
If truly, God's laws have been our "protection and shield," then Ghanaians must eschew all those vices that have engulfed society, such as armed robbery, the illegal use and sale of narcotics, bribery and corruption, they said.
The bishops said even though Ghana might not have achieved all of its expectations and goals as it marks 60 years, it had made significant progress.
"Even though our democratic forward-march has suffered some political challenges and derailment in the past, God has spared us the worst, namely civil strife, wars," they said.