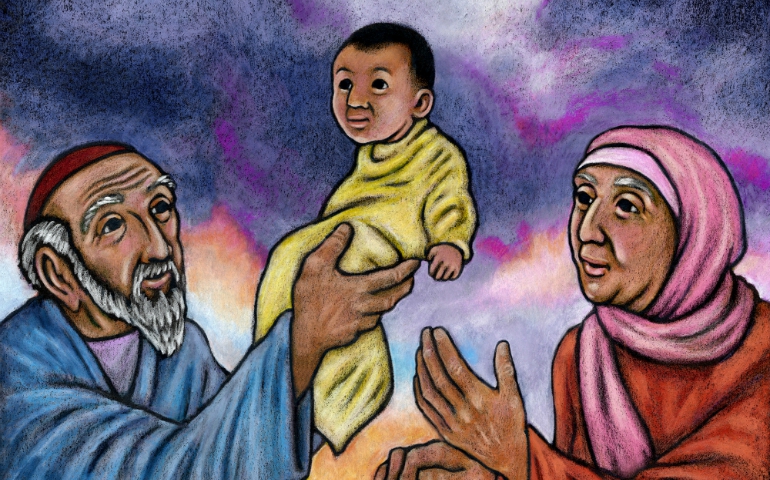 "Simeon and Anna" by Julie Lonneman
In this season, we sing the word Emmanuel time and again: "O, come, O come, Emmanuel / And ransom captive Israel / That mourns in lowly exile here / Until the Son of God appear. / Rejoice! Rejoice! Emmanuel / Shall come to you, O Israel." What a beautiful melody which stirs the human heart! What a beautiful word — Emmanuel — which stirs the human spirit!
Emmanuel, from the Hebrew, עִמָּ֫נוּאֵ֫ל, means "God with us." And God is with us! What good news! During this season, we celebrate a moment in time and space which is like no other — the birth of a child, the birth of God incarnate, Jesus Christ. God is with us! And there is even more good news — God was, is and forever will be with us! If this is indeed what we believe, what we celebrate this season, how do we truly give birth and life to this message, this good news, in our lives?
God creates. God incarnates. God saves. God draws us above and beyond toward Godself, and it is in this season we celebrate the culmination of all God's acts, most particularly, the birth of a child — Emmanuel.
Who is Emmanuel, and in particular, who is the Christ?