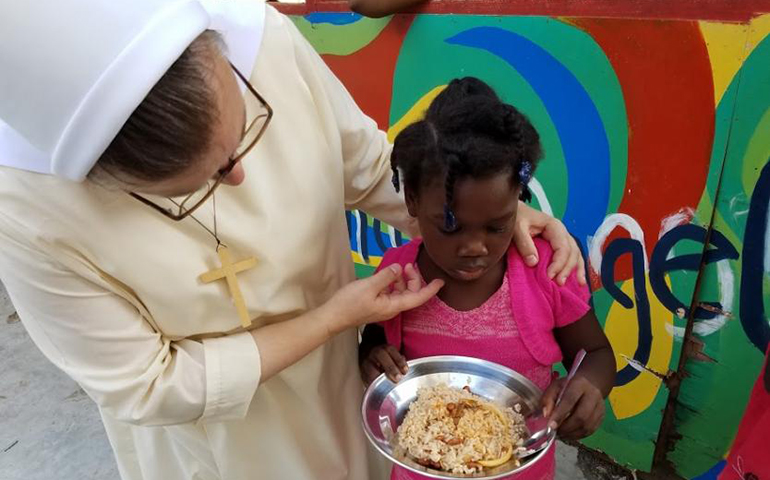 Felician Srs. Mary Inga Borko, left, and Marilyn Marie Minter, not shown, serve meals as part of a community-based after-school program for about 60 children in Jacmel. (GSR/Chris Herlinger)
Port-au-Prince, Haiti — November 19, 2016
Brazilian Sr. Renata Lópes spoke quietly, almost shyly, when reflecting on the conditions at Wharf Jeremile, a community located near Port-au-Prince's port area.
But her words carried weight — and worry.
"There are many, many problems here: lack of good water, lack of electricity, and hunger," said the sister who works with a group of Brazilian women and men religious known as Misión Belem.
Crime is endemic in the area — so much so that even United Nations peacekeeping forces are wary of coming to this low-lying zone of small shacks, unpaved roads and trash-cluttered canals. "But the hunger problem is probably the most difficult."
Why hunger specifically? "Because most of the people don't work, and if they don't work, there aren't enough meals in a day," she said. "They can't manage the situation with their families."
Sr. Merci-Christ Sylméon, a Haitian member of the Sisters of Providence, agrees. "Why is Haiti so poor? Because people don't have jobs, they don't work."
The answer may seem obvious — no work, no food. And yet it reveals a fundamental truth about Haiti, the poorest country in the Americas: endemic poverty has made the country chronically hungry. Nearly two-thirds of Haitians live in poverty, according to the United Nations' World Food Program, and nearly a quarter of the country lives in extreme poverty, which the U.N. defines as living on less than U.S. $1.25 a day.
That makes getting food on the table a huge struggle in Haiti: more than 50 percent of Haitians are undernourished, according to The State of Food Insecurity in the World 2015 report, authored by the WFP and other U.N. agencies.