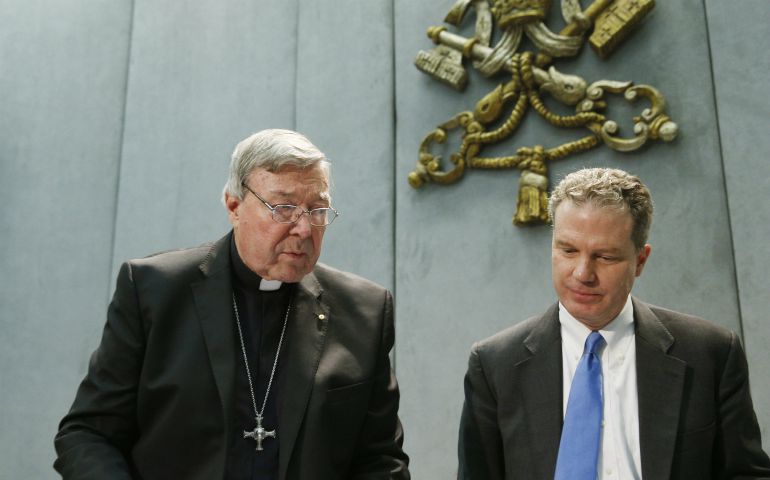 Australian Cardinal George Pell, left, leaves after delivering a statement in the Vatican press office June 29, with Greg Burke, Vatican spokesman, about sexual abuse charges against the cardinal. (CNS/Paul Haring)
Melbourne, Australia — July 24, 2017
Cardinal George Pell, who this week will become the highest ranked church official ever to face sex abuse charges in court, may be the most polarizing religious leader in Australia's brief history.
The former Archbishop of Sydney will appear in the Melbourne Magistrate's Court on July 26 to answer yet-unspecified charges of historical sexual abuse involving multiple complainants, which he resolutely denies.
The complaints apparently long predate his present Vatican role as prefect of the Secretariat for the Economy, often but misleadingly referred to as number three in the Vatican hierarchy behind the pope and secretary of state.
It is a staggering fall from grace for the combative cardinal. Even if he is utterly exonerated, mutterings from Rome suggest the 76-year-old will not return to his secretariat post. His credibility seems destroyed — largely self-inflicted in a series of appearances before official inquiries into how the church handled child sexual abuse. Increasingly he revealed himself — and confessed to being — a man who put the institutional church first, second and third. He also revealed a man deeply deficient in compassion and empathy. Of this, more below.
No Australian prelate has been so admired and so excoriated: He is adored by his followers for his fearlessly strident support for a highly conservative orthodoxy and old-fashioned authoritarianism and loathed by his critics for his relentless determination, often perceived as brutal.
Australian religious leaders tend to avoid the public eye, generally exercising whatever political influence they have behind the scenes. There are no equivalents to Martin Luther King Jr. or Billy Graham in this strongly secular land, where historian Manning Clark once called religion "a shy hope in the heart."
Australia's federal Parliament has considerably more active Christians per capita than the population in general, where fewer than two in 10 go to church as often as once a month, but unlike in the U.S., "God talk" by Australian politicians would incur suspicion and opprobrium.
None of this ever deterred Pell. As archbishop of Melbourne, then Sydney, he relished his battles inside and outside the church, expecting and giving no quarter as he fought on multiple fronts. He cultivated his public profile with a regular column in a Murdoch newspaper, Sydney's Daily Telegraph, appearances on flagship current affairs programs, and frequent contributions to social and theological issues like abortion, abuse and education funding. Probably the only religious leader most Australians could name, he was usually the first voice sought by the media.
Always driven to win
From his youth, George Pell's talent and drive were obvious. He grew up in the small Victorian town of Ballarat, some 70 miles from Melbourne, later to be notorious as the center of a destructive group of pedophiles. Pell was a gifted and ambitious student, whose attitude to life and the church mirrored his behavior on the football field, where he used his size and strength to crash through the opposition. He was good enough to be offered a contract as a professional football player, opting instead for the seminary. Journalist Louise Milligan in her 2017 book Cardinal: The Rise and Fall of George Pell, quotes a seminarian contemporary of Pell's, Michael Leahy: "Once he set out in pursuit of a cause — whether it be possession of the ball on the football field or winning a debate — he was unstoppable."
He studied in Rome, then Oxford, where he became possibly the first Catholic priest to earn a doctorate in the theology faculty since the Reformation. He was also the first Australian appointed to the Congregation of the Doctrine of the Faith.
As a young priest, Pell was given senior roles in Ballarat before becoming an auxiliary bishop in Melbourne, then archbishop in turn of Melbourne and Sydney, Australia's two most important dioceses. In Melbourne in 1996, he launched the first Australian protocol for handling abuse complaints, the Melbourne Response, infuriating the other bishops who were a few months away from introducing a national system. That protocol, Towards Healing, governed every diocese except Melbourne.
In Sydney, Pell survived the first serious threat to his career, a complaint that as a youth leader at a camp 40 years earlier (1961) he had abused a boy. Pell honorably stood aside immediately while a retired judge conducted an independent investigation. Although Pell always claimed thereafter that he had been completely exonerated, the judge in fact found both the complainant and respondent convincing and decided only that the complaint could not be established. Pell was soon given his red hat.
As archbishop in both cities, Pell seemed an irresistible force: combative, relentless, overbearing, determined to crush dissent and doubt inside the church, especially among the progressive members of the priesthood. His powerful personality allied with unstinting Vatican support — his conservatism and clerical authoritarianism was very much in the spirit of Pope John Paul II and Pope Benedict XVI — meant few inside the church had the energy or tenacity to resist him.
The cardinal opposed what he saw as dangerous moral relativism in society, providing an orthodox Catholic voice on social issues, refusing communion to gay Catholics and instructing Catholic politicians who supported abortion that they should not take Communion. He was a notable defender of Catholic education (in Australia Catholic schools get state funding). In Melbourne he rooted progressives out of seminary leadership, and in Sydney he supported the Australian Catholic University, founded a campus of the Univeristy of Notre Dame, strengthened university chaplaincy and revived the seminary.
His fierce energy and willingness to engage the media and politicians stood in stark contrast to many of his peers and predecessors among church leaders, whom many Catholics felt to be too timid. Timidity would never be a Pell failing.
In 2006, a Sydney priest publicly accused him of being autocratic and inflammatory, but Pell was unmoved by the complaints of those he steamrolled. Yet his peers seem to have noticed, for his fellow bishops never elected him to the highest position in the Australian church, president of the Australian Catholic Bishops' Conference.
Under Pell, the unpleasant practice flourished of delating "offenders" to Rome: reporting "innovations" or minor infractions, or theological dissent, such as questioning clerical celibacy. Bill Morris was removed as bishop of Toowoomba,* a Queensland diocese, for merely suggesting that women priests might be worth discussing. Progressive Australian Catholics wryly noted that authorities in Rome acted far more quickly and decisively against a priest who altered the Mass or advocated ending clerical celibacy than one who abused children
A gifted networker and, reportedly, a convivial companion, Pell established influential friends early in his career, such as Joseph Ratzinger (later Pope Benedict XVI) at the Congregation for the Doctrine of the Faith. His was much the most powerful Australian voice in Rome for the past 20 years, including — it is claimed — influencing episcopal appointments.
One of his achievements was bringing Pope Benedict to Australia for World Youth Day in 2008, featuring the biggest Mass in Australia's history, when more than 400,000 pilgrims joined the pope, Pell, 25 other cardinals, 420 bishops, and a 300-strong choir at a Sydney racecourse.
In 2014, Pope Francis appointed Pell to his Vatican "treasurer" role, a job for which his administrative skill and bulldog determination meant he was ideally equipped. The pope also named the cardinal as Oceania representative on the "group of eight" (now nine) cardinals to advise him on church reform.
It seemed his influence was still rising, but in fact it had passed its zenith, and some Catholics thought his removal from Australia to Rome followed his less than impressive testimony in 2013 to the Victorian Parliamentary Inquiry into how institutions handled sex abuse. He admitted a multitude of church failures and cover-ups, but none were his responsibility — a theme he was to amplify before the Royal Commission into Child Abuse, before whom he testified a number of times, and which has yet to release its final report.
(Both a parliamentary inquiry and especially a royal commission in Australia are high-level investigations with full judicial powers to compel answers.)
Not known for appearing empathetic
Evidence by victims' advocate Anthony Foster, two of whose daughters were repeatedly raped as young girls at a Catholic school, was particularly devastating. At the parliamentary inquiry, Foster spoke of Pell's "sociopathic lack of empathy" at a meeting arranged so the then-bishop could hear of their experience.
He said Pell was bullying and confrontational from the start. His wife and fellow advocate, Chrissie Foster, describe the encounter in her book Hell on the Way to Heaven. She had prepared a dossier of her varied church involvements but never had a chance to show it. The Fosters were shown into a cramped furniture storage room in the parish presbytery and given a small wooden bench for both of them to sit on. The only other seat was a throne-like red leather armchair in which Pell was stretched out intimidatingly.
When Anthony Foster told how Fr. Kevin O'Donnell repeatedly had raped Emma and Katie Foster, starting when each was 5 years old, Pell's response was: "I hope you can substantiate that in court."
As Anthony Foster began to outline reservations about the church's Melbourne Response protocol for abuse victims, Pell interjected: "If you don't like what we're doing, take us to court." When they showed him a picture of Emma (who later killed herself) after she had slashed her wrists, he said matter-of-factly, "Mmm, she's changed, hasn't she?"
But even this damaging account paled compared with Pell's own evidence to the Royal Commission, especially his final session in 2016, in which compassion and empathy for survivors were invisible. It seemed that everybody had let Pell down, those above him in the hierarchy, those below, those alongside, but he bore no blame for this conspiracy of silence. He had no particular responsibility to look after children. He adopted the usual hierarchy tactic of blaming the dead and the now-demented.
Pell had a tough time from a clearly skeptical senior counsel Gail Furness and the commission's chairman, Supreme Court Judge Peter McClellan. He amazingly managed to remain unaware of the pedophile cesspool in Ballarat, even while he served on the committee that repeatedly moved the worst offender, Gerard Ridsdale, from parish to parish. (Ridsdale is still in jail after abusing possibly hundreds of children.) Pell shocked observers by saying, "It's a sad story, but it was not of much interest to me." Similarly, when he was bishop and archbishop in Melbourne, he was apparently the victim of a conspiracy of silence in which those who should have told him what was happening concealed it from him — a claim robustly denied in evidence to the commission by the alleged conspirators.
It became evident that the official redress scheme Pell introduced for abuse victims, about which he so often boasted, was more a means of limiting damage to the church. Although the Melbourne Response protocol certainly introduced new avenues for victims, especially in cases where the alleged perpetrators were dead, it capped recompense at $AU50,000 ($40,000), while the national scheme, Towards Healing, had no cap. Church solicitors were told to "strenuously defend" cases where victims chose instead to go to court, even denying admissions the church had made to victims.
What all this blatantly showed the watching world was that Pell was first and foremost a company man: Protecting institutional church was always his overwhelming concern.
That of course does not mean he is a child abuser. He utterly rejected the allegations last month, saying he is completely innocent and that he finds the whole idea of sexual abuse abhorrent. He complained of relentless character assassination and said he welcomed the opportunity to clear his name.
Although unable on medical advice to return to Australia to face the Royal Commission last year, Pell has arrived in Melbourne — taking several days to return home and breaking his journey to avoid long flights.
This Wednesday the watching world — and it seems as though it is almost the entire world — will learn what charges have been brought against him, in the opening hearing. Supporters speculate that it may be impossible to get a fair trial, to find a jury not already influenced by reporting in mainstream and social media. He has certainly been the victim of some extraordinary bile, but these charges are surely not part of any witch hunt.
Journalist Tess Livingstone, who published a biography of Pell in 2004, concluded her book with a fanciful image of Pell standing on the balcony of St. Peter's in Rome, looking out at the massed faithful acclaiming his election as pontiff. Whatever the future holds for Cardinal Pell, that scenario now seems impossible.
[Barney Zwartz was religion editor of The Age in Melbourne from 2002 to 2013, and is now a senior fellow with the Centre for Public Christianity.]
*An earlier version of this article had the incorrect name of Bishop Bill Morris' diocese.
A version of this story appeared in the August 11-24, 2017 print issue under the headline: Cardinal Pell appears in court on abuse charges.