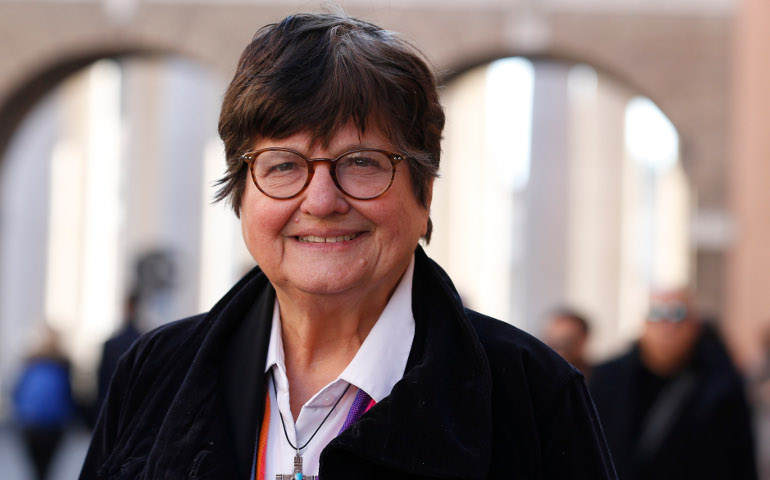 St. Joseph Sister Helen Prejean: "I remember thinking clearly, really clearly, 'The people are never going to get close to this. It's a secret ritual. I've been brought in as a witness, so I've got to tell a story.' " (CNS/Paul Haring)
On a sunny afternoon in March, a small crowd gathered in the tiny Pilgrim Chapel in Kansas City, eager to hear from St. Joseph Sr. Helen Prejean, one of the most prominent voices in the nation to speak out against the death penalty. The event, sponsored by Missourians for Alternatives to the Death Penalty, consisted of an invite-only, tight-knit network of people united through their mission.
From the minute Prejean entered the chapel, her presence enchanted the crowd. They knew they could count on Prejean to give her firsthand experience with the underbelly of the corrections system punctuated by tales of convicted murderers, death row and executions.
But instead of telling the crowd her own story, she introduced two men who were sentenced to death row and lived to tell the tale.
Joseph Amrine and Reggie Griffin are among the 350 people and counting who have been exonerated because of DNA evidence. As the men, who have a combined 40 years of sitting on death row, spoke of their trials reconnecting with friends and family, searching for suitable jobs and navigating technology, the crowd was captivated.
In that moment, Prejean elevated Amrine's and Griffin's voices to provide a glimpse into a world unknown to most of the public. As the men spoke of their lives of being wrongly accused with a death sentence lingering over them, they became human.
And that, people will tell you, is where Prejean's power lies.
"I can't say enough times the effects of [her] storytelling," said Karen Clifton, executive director of Catholic Mobilizing Network. Clifton cites Prejean's example as crucial to her organization, which collaborates with the U.S. Conference of Catholic Bishops and the Congregation of St. Joseph on death penalty and restorative justice issues.
Clifton's own involvement working to end the death penalty came directly from Prejean, who encouraged Clifton to visit death row and listen to the stories from families of the innocent and of the convicted. Eventually, the stories led Clifton to witness an execution.
"It's one of those things that once you've seen, you can't unsee, and so that's what really propelled me to get working in this and continue to work in it," Clifton said.