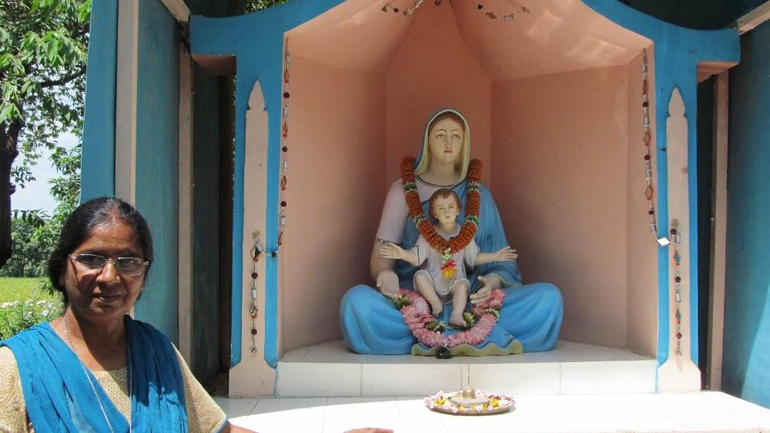 Sr. Pushpanjali Paul stands near a Marian grotto installed on her Sadhana Sanchar campus on the outskirts of Bhopal, Central Indian state of Madhya Pradesh. (Provided photo)
Bhopal, India — October 22, 2015
Many people in India, regardless of their religion, use a certain Catholic nun's hymns when they want to praise God. However, few know their author or her struggles to be able to compose them.
Over the past 26 years, Sr. Pushpanjali Paul has produced 15 volumes of audio cassettes and compact discs containing more than 300 hymns in Hindi, India's national language. These hymns are commonly used in Christian churches across northern India and at functions of different religions, too.
The 57-year-old nun is a member of the Missionary Congregation of Sisters, Servants of the Holy Spirit (SSpS), who are popularly known as Holy Spirit Sisters.
"People in Hindi-speaking areas, irrespective of their caste or religion, use her hymns to worship God," said Archbishop Emeritus Paschal Topno of Bhopal, one of her supporters and admirers. "But sadly no one really knows who wrote those inspiring hymns," he told Global Sisters Report.