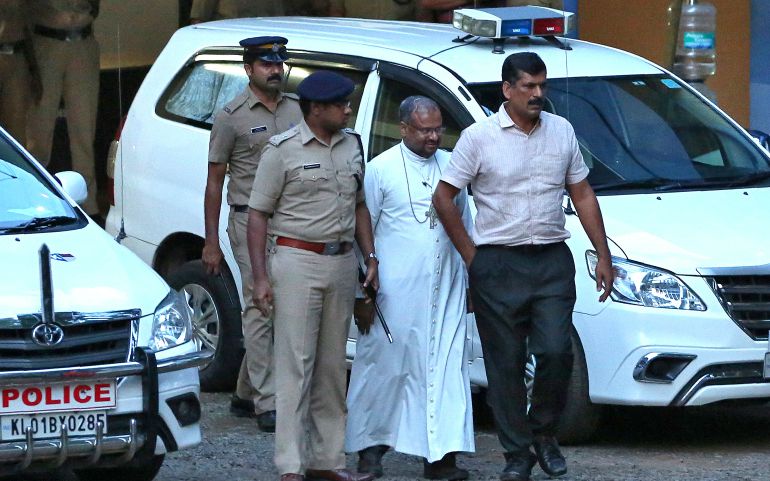 Bishop Franco Mulakkal of Jalandhar, India, is led away for questioning by police Sept. 19 on the outskirts of Cochin. (CNS/Reuters/Sivaram V)
New Delhi, India — September 21, 2018
Bishop Franco Mulakkal of Jalandhar was arrested by Kerala police Friday, accused of raping a nun multiple times between 2014 and 2016. He is the first Catholic bishop to be arrested in a sexual abuse case against a nun in India.
The 5 p.m. arrest occurred after 15 hours of police questioning spanning days at a high-tech interrogation cell in Thrippunithura, a suburb of Kochi, the commercial hub of Kerala.
The case emerged on June 28 when a member of the Missionaries of Jesus, a diocesan congregation under the Jalandhar Diocese, accused the prelate of subjecting her to rape and unnatural sex on 13 occasions over a two-year period at her convent in Kuravilangad, south of Kochi.
During the police interrogation, Mulakkal denied the charges, calling them "concocted." He said the nun was upset with him for advising the congregation's leaders to act on a married woman's complaint that the nun had had an affair with her husband.