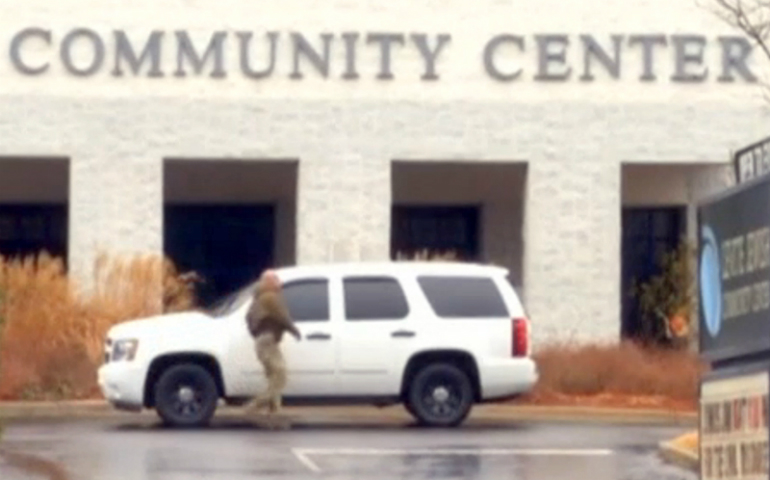 An officer responds to a bomb threat at the Levite Jewish Community Center in Birmingham, Ala. (Screenshot from video)
Enrollment has dropped at more than a quarter of Jewish Community Center preschools since a wave of threats against JCCs began in early January.
"I'm starting with the most difficult news, which is simply that more JCCs indicated something of a decline — but the majority have not," said David Posner of the Jewish Community Center Association of North America, sharing the results of the umbrella group's latest member survey.
The association's previous poll, taken last month after the third wave of threats, showed that only a handful of the 73 JCCs responding to questionnaires had more than two families withdraw from JCC preschools.
There have been seven waves of threats affecting 150 Jewish institutions in the U.S. and Canada this year, the majority of them JCCs. No threat has proved credible.
This second survey was taken March 8-10, before the latest round of threats on March 12 in which six centers, from Rochester, N.Y., to Vancouver, B.C., were targeted.
Of the 90 JCCs that took part in the second survey, 26 reported declines in their preschool rolls. In four of those 26, the decline was significant: 10 or more children.
"I would still say the results are heartening, but they do indicate some slippage," said Posner, a vice president at the JCC association.
Most JCCs operate preschools — which enjoy strong reputations and are open to Jews and non-Jews alike — but also run camps, after-school and fitness centers and other recreational, cultural and senior citizen programming.
The threats come at a time of rising incidents of anti-Semitism, as reported by the FBI and nonprofits that track hate crimes.
The second survey of JCCs, like the first, shows one outlier — in Orlando — where a shooter killed 49 people at a nightclub in June and where the JCC has received three bomb threats. Parents have removed dozens of children from the preschool.
Most JCCs have received one or two threats, but a handful have received three or more.
Answered by more than three-quarters of the 116 members of the JCC association, the latest survey also shows 70 percent reporting no change in their after-school programs and overall membership enrollment.
Most JCC leaders said it is too early to tell whether enrollment for preschool in the fall has been affected by the threats. That will likely depend, Posner said, on whether the person or people responsible for the calls is caught.
"It would be foolish to say we don't have concerns about what will be," he said, adding that a majority of JCCs reported unplanned increases in security costs.
Though a St. Louis man was charged on March 3 with threatening several JCCs, the threats — via telephone and email — have continued.