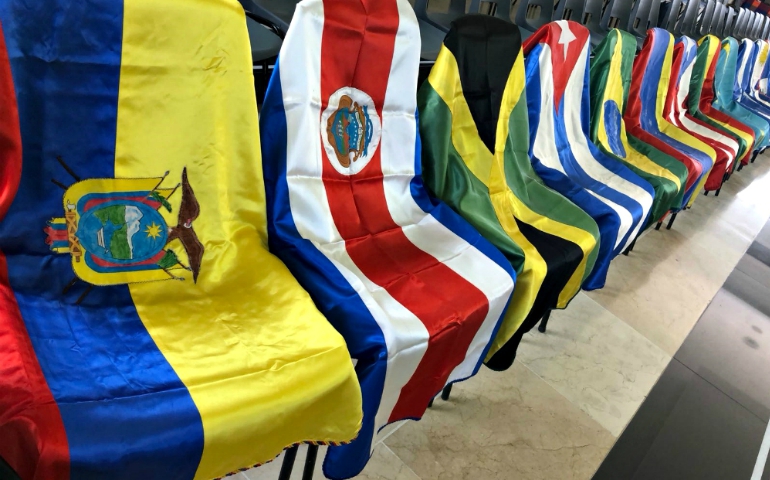 Flags from every Latin American country line the room during the Aug. 27-29 CLAR general assembly. Each country's conference sent leadership and delegates to revamp the organization's three-year plan. (GSR photo/Soli Salgado)
MEDELLÍN, COLOMBIA — August 30, 2018
As Latin American men and women religious met in Medellín, Colombia, in late August, the U.S. Catholic Church grappled with a report describing decades of concealed sexual abuse in Pennsylvania. But attendees of the two conferences there knew they were not immune to the scandals taking place in the neighboring continent: Chile recently became the first Latin American country to join the reckoning.
As one Colombian priest told Global Sisters Report, Chile is "the wick that has been lit and will continue to light the whole continent."
"Many had thought, 'Well, this isn't happening here, it only happens [in the U.S.],' but now it's understood that this is a problem connected to our universal hierarchal problems of the church," said Vincentian Fr. Guillermo Campuzano, a member of the Confederation of Latin American Religious (CLAR).
The timing of the news surrounding concealed sexual abuse in the church coincided with the Aug. 24-26 celebration in Medellín commemorating the 50th anniversary of a 1968 regional meeting of bishops in which CELAM, the Latin American bishops' conference, joined three other organizations calling the church to be closer to people who live in poverty: CLAR, the Medellín Archdiocese, and Caritas Latin America. All four groups reunited for the celebration.
Days later, CLAR at its general assembly called for a structural reformation of the church, "a new way to be a church," that would bring laypeople and women to the decision-making table, said Campuzano, who is on CLAR's team of theologians that accompanies the CLAR presidency.
But the organizers of the 50th anniversary event kept the focus of the keynote speeches, open dialogues and addresses on the milestone. Only on the last day was the subject alluded to.