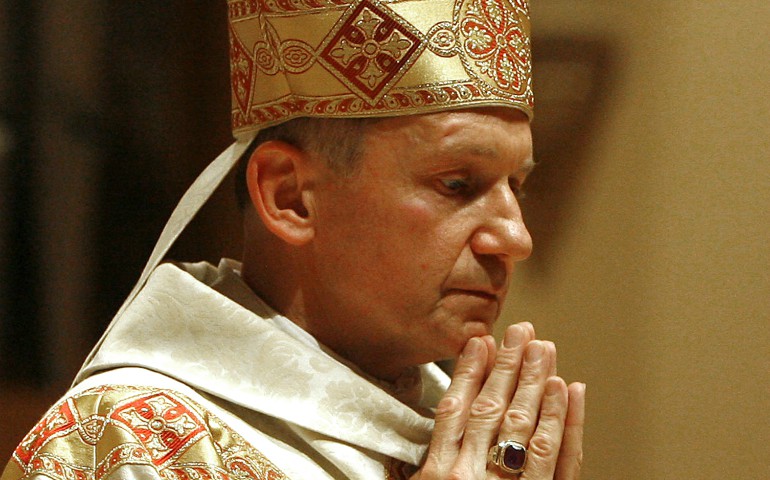 Bishop Thomas Paprocki of Springfield, Illinois, is pictured in a 2010 photo. (CNS/Karen Callaway, Catholic New World)
Although response from Catholic clergy has been muted in the wake of Springfield, Illinois, Bishop Thomas Paprocki's June 12 decree that prohibits Catholics in "same-sex 'marriage' " from receiving Communion, lay organizations have been vocal about their disdain for the decree.
The decree bars Catholics in same-sex marriages from receiving Communion as well as from receiving "ecclesiastical funeral rites," unless they show signs of repentance before death.
The decree also bans people in same-sex marriages from serving in liturgical ministries. The decree does state that any children "living with persons in a same-sex marriage" cannot be denied acceptance to Catholic schools or other programs.
On June 23, the diocese released a further statement after the considerable attention the decree received.
"These norms regarding same-sex 'Marriage' and related pastoral issues are necessary in light of changes in the law and in our culture regarding these issues," the statement reads. "Regarding the specific issue of funeral rites, people who had lived openly in same-sex marriage, like other manifest sinners that give public scandal, can receive ecclesiastical funeral rites if they have given some signs of repentance before their death."
The statement ends by saying that people experiencing "same-sex attraction" are welcome in the diocesan parishes "as we repent our sins and pray for God to keep us in His grace."
Paprocki's decree comes just as Pew Research released a survey showing that approval of same-sex marriage is growing "even among groups that had been skeptical." According to the study conducted "two years after the Supreme Court decision that required states to recognize same-sex marriages nationwide," 67 percent of Catholics surveyed are in favor of "allowing gays and lesbians to marry legally." Ten years ago, 40 percent of Catholics answered similarly. The study also showed that, for the first time, a majority of baby boomers are in favor of same-sex marriage and a majority of Republicans and Republican-leaning independents do not oppose same-sex marriage.
Few bishops respond, others silent
Most dioceses have stayed silent about Paprocki's decree — even those known for supporting LGBT ministries. Bishop John Stowe of Lexington, Kentucky, who spoke at LGBT organization New Ways Ministry's symposium in April, refused a request from NCR for comment.
The communications director at the Archdiocese of Newark, Jersey, said, "We don't comment on another bishop's statement or actions." Newark's archbishop, Cardinal Joseph Tobin, recently made news when the archdiocese's basilica offered a pilgrimage for Catholics identifying as LGBTQ and their families. Tobin welcomed the group by saying "I am your brother, as a disciple of Jesus. I am your brother, as a sinner who finds mercy with the Lord," according to a New York Times story.
Communications personnel at the Archdiocese of Chicago told NCR that "the Archdiocese of Chicago does not have the same policies as Springfield. We do not comment on policies of other dioceses." In the past, Cardinal Blase Cupich of Chicago has reached out to the LGBT community. Following the Pulse nightclub shooting, Cupich addressed a letter to the community offering support and hope. Cupich was one of a few prelates who publically addressed the shooting while also naming the LGBT community.
The most substantial response to the decree from a prelate came from Bishop Patrick McGrath of San Jose, California. McGrath issued a letter to his diocese June 29 addressing the recent "confusing" policies related to members of the LGBT community.
"I take this opportunity to assure you that the pastoral response in the Diocese of San Jose remains just that: compassionate and pastoral. We will not refuse sacraments or Christian burial to anyone who requests them in good faith," McGrath wrote.
Bishop Robert McElroy of San Diego told NCR that he agrees with the "approach" McGrath has taken.
"I think that is the appropriate policy that I would hope the priests would observe, especially in the times of funerals, but more broadly in the sense of regular pastoral action in support of men and women who are in all states of lives and who have all sorts of challenges," McElroy said. "Our fundamental stance has to be one of inclusion in the church, especially during a time of burial."
If the diocese puts limits on which sinners can have funerals, McElroy said, "we're going to have very few funerals in the Diocese of San Diego." He said he "hope[s] and believe[s]" that a similar stance is taken by most bishops in the U.S.
Progressive groups 'disappointed'
Fourteen progressive Catholic organizations have signed a letter addressed to Paprocki expressing they were "shocked and gravely disappointed" over the decree.
"Our nation is currently divided, and our politics turn more acrimonious by the day. ... In times of confusion, loss and grief, the Sacraments are especially valued for the strength and grace they provide to all who wish to avail themselves of them," the letter states.
Continuing, "We expect our Church, that place where we have sought refuge during crises and celebrated during successes, to rise above that animus. We ask that you rescind the recent Same Sex Marriage Policies Decree. The world needs less bitterness and more love. We want our Church to help lead in that direction."
The 14 organizations that signed the letter are: A Critical Mass; Call To Action; Catholics for Choice; Catholics for Choice Canada; CORPUS; DignityUSA; National Coalition of American Nuns; New Ways Ministry; RAPPORT; Roman Catholic Women Priests USA Action Network; Southeastern Pennsylvania Women's Ordination Conference; Voice of the Faithful New Jersey; Women's Alliance for Ethics, Theology and Ritual (WATER); and Women's Ordination Conference.
DignityUSA, a Catholic organization that "works for respect and justice for people of all sexual orientations, genders, and gender identities," released their own statement June 21.
In the statement, executive director Marianne Duddy-Burke draws similarities between the decree and the "appalling practice of denying Communion, funerals, and burial to people dying of AIDS at the height of the epidemic."
"Along with many other Catholic leaders, members, and theologians, DignityUSA strongly opposes withholding our Church's sacraments from anyone as punishment," Duddy-Burke said in the letter. "It is simply cruel and shameful to refuse burial or Communion to those who seek the grace and comfort that our Church offers at some of the most difficult moments of life."
New Ways Ministry and FutureChurch* offered similar sentiments and encouraged their members to write to Paprocki individually. The June 23 letter signed by New Ways Ministry executive director Francis DeBernardo called Paprocki's decree "one of the strongest negative reactions that I have witnessed in almost 25 years of ministry with the LGBT community in the Church." FutureChurch ​ — an organization which "seeks changes that will provide all Roman Catholics the opportunity to participate fully in Church life and leadership" — asked Paprocki in their June 27 letter "to rescind his harmful decree ... and calls on him to follow Pope Francis's lead in becoming more loving, accepting, and welcoming members of the Body of Christ.​"
Jesuit Fr. James Martin — who recently released a book titled Building a Bridge about building a relationship between the LGBT and Catholic communities — turned to Facebook June 22 to address the decree.
"If bishops ban members of same-sex marriages from receiving a Catholic funeral, they also have to be consistent. They must also ban divorced and remarried Catholics who have not received annulments; women who have, or men who father, a child out of wedlock; members of straight couples who are living together before marriage; and anyone using birth control," Martin wrote in the post.
"More basically, they must ban people who are not loving, not forgiving and not merciful, for these represent the teachings of Jesus Christ, the most fundamental of all church teachings. To focus only on LGBT people, without a similar focus on the moral and sexual behavior of straight people is, in the words of the Catechism, a 'sign of unjust discrimination.' "
Paprocki: Decree not 'blanket condemnation'
This is not the first time Paprocki has been vocal about the LGBT community.
In May 2013, Paprocki gave a speech on "Marriage, Same-sex relationships and the Catholic Church." The speech opens with Paprocki talking about the 2002 death of his former secretary, Mary Stachowicz. Paprocki explains that Stachowicz was murdered after she "urged her co-worker … to change his gay lifestyle." He compared her death to the one of Matthew Shepard, who was murdered in Laramie, Wyoming, for identifying as gay.
"Both murders were senseless and brutal, and I condemn them both unequivocally," Paprocki said. However, "Mary's murder was widely ignored by the media, despite the fact that she died as a martyr for her faith."
On Nov. 20, 2013, Paprocki hosted an "exorcism in reparation for the sin of same-sex marriage," the same day Illinois Gov. Pat Quinn legalized same-sex marriage in the state.
"I'm not saying that anyone involved in the redefinition of marriage is possessed by the devil, which, if that were the case, would require the remedy of a 'Major Exorcism,' " Paprocki said at the prayer service. "But all of us are certainly subject to the devil's evil influences and in need of protection and deliverance from evil."
Some said Paprocki showed particular insensitivity by releasing his latest decree June 12 — the anniversary of the 2016 Pulse nightclub shooting in Orlando, Florida, which targeted the lesbian, gay, bisexual and transgender (LGBT) community.
NCR contacted the diocese of Springfield to ask if the bishop wanted to respond to reactions against the decree. The diocese sent a copy of Paprocki's July 9 column in the diocesan newspaper, Catholic Times, saying that "explains everything."
Paprocki addressed Martin, DeBernardo and other naysayers both in his column and in an interview published by The Catholic World Report June 28. In the interview Paprocki states that he was surprised by the attention the decree received as it is "a rather straightforward application of existing Church teaching and canon law." He also said he has "received many supportive comments and assurances of prayer," including "positive reactions" from the priests in the diocese.
When the online news magazine asked about Martin's Facebook post, Paprocki said, "Father Martin gets a lot wrong in those remarks."
"Everyone is a sinner, but not everyone is living an immoral lifestyle. Since we are all sinners, we are all called to conversion and repentance. … Father Martin's comments do raise an important point with regard to other situations of grave sin and the reception of Holy Communion," Paprocki said.
"Speaking objectively, one can say, for example, that all those who have sexual relations outside of valid marriage, whether they are heterosexual or homosexual, should not receive Holy Communion unless they repent, go to confession and amend their lives. This includes the divorced and remarried without an annulment, as is well known from all the recent media attention on that issue."
Paprocki did want to clarify that the decree is not a "blanket condemnation of people who are gay and lesbian," saying that the letter does not focus on "LGBT people" but rather those in "so-called same-sex 'marriage.' "
"No one is ever denied the sacraments or Christian burial for simply having a homosexual orientation. Even someone who had entered into a same-sex 'marriage' can receive the sacraments and be given ecclesiastical funeral rites if they repent and renounce their 'marriage,' " said Paprocki.
[Kristen Whitney Daniels is a NCR Bertelsen intern. Her email address is kdaniels@ncronline.org. Follow her on Twitter: @KWhitneyDaniels.]
*Editor's Note: This paragraph was updated.