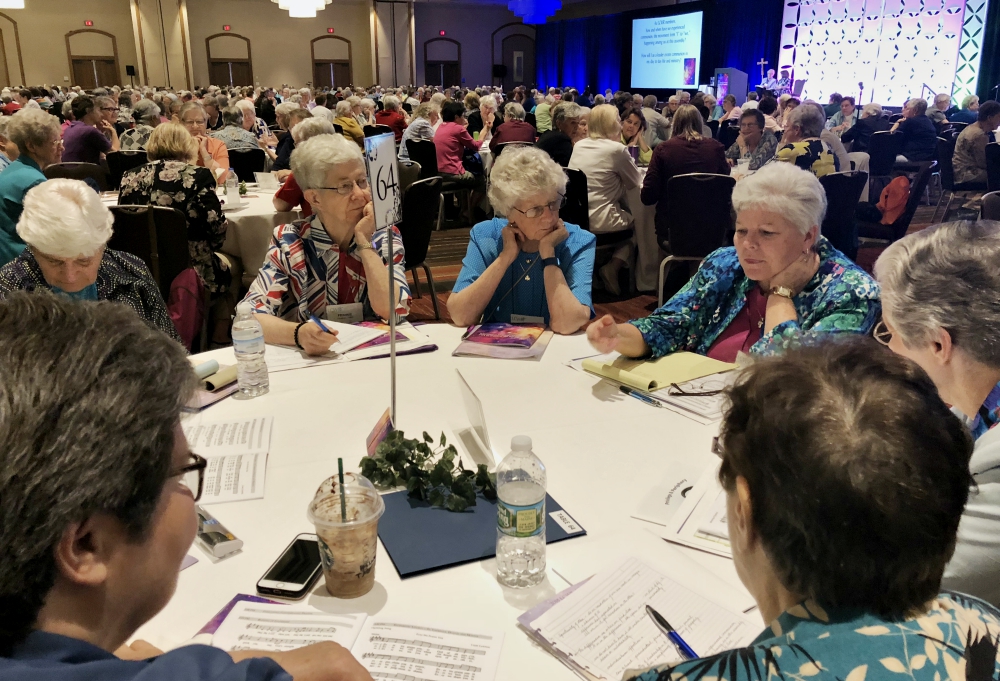 Sisters share their thoughts with the other sisters at their tables after a keynote speaker at the 2018 Leadership Conference of Women Religious annual assembly, held Aug. 7-10 in St. Louis. (GSR file photo)
Leadership in a global community requires seeing the connections between what might otherwise seem like disparate subjects, such as racism and climate change.
Likewise, it would be easy to look at the schedule for LCWR's upcoming assembly and see it as a collection of random parts: a keynote address on global religious life, sessions for strategic planning, a panel discussion on social justice, an election, and a leadership award.
But St. Joseph Sr. Carol Zinn, executive director of the Leadership Conference of Women Religious, said the Aug. 13-16 event in Scottsdale, Arizona, should be seen as a cohesive whole.
"We're trying to be faithful to the question of what does God need from religious life at this moment in time," Zinn said. "This is one conversation that's being entered through different doorways."
The theme for this year's annual event is "Imagining leadership in a global community." Sr. Pat Murray, executive director of International Union of Superiors General and a member of the Institute of the Blessed Virgin Mary, will give the keynote address on religious life internationally, and current LCWR president and Holy Cross Sr. Sharlet Wagner will address religious life at the national level in her presidential address.
There will also be sessions on the emergent planning process, in which LCWR members are working to discern and shape the future structure of LCWR. Members will also vote on the next president-elect; candidates are Sr. Elise García of the Adrian Dominicans and Sr. Marcia Ann Fiutko of the Franciscan Sisters of St. Joseph.