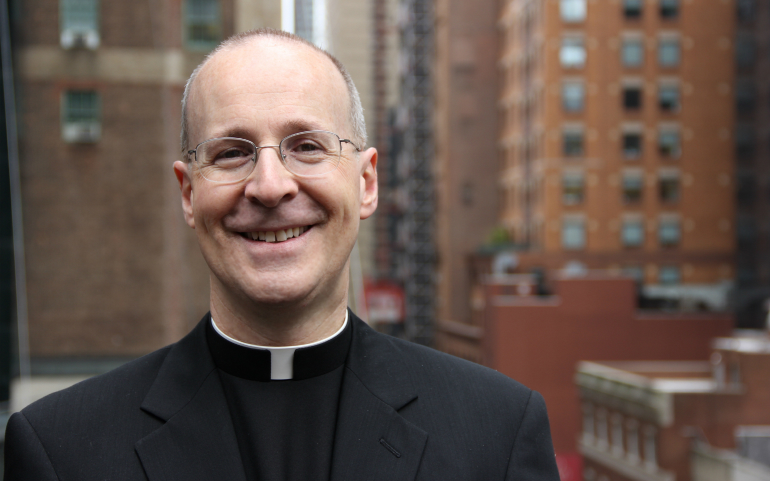 The Rev. James Martin, a Jesuit priest, is editor at large of America magazine and the author of many books. (Kerry Weber, courtesy of James Martin via Religion News Service)
A national Catholic advocacy group for lesbian, gay, bisexual and transgender (LGBT) issues will honor Jesuit Fr. James Martin for "his ministry of communication which has helped to expand the dialogue on LGBT issues in the Catholic Church," according to a press release from New Ways Ministry.
New Ways Ministry will present Martin, a writer and editor at large for America magazine, with its Bridge Building Award at a public ceremony Oct. 30.
Martin is the author and editor of numerous award-winning books including a New York Times bestseller, Jesus: A Pilgrimage.
In addition to his published media, Martin boasts a strong following on both Twitter and Facebook. In the past, Martin has used his social media platforms to discuss issues surrounding the LGBT community, specifically from a religious perspective.
Soon after the U.S. Supreme Court ruled in favor of legalizing gay marriage in June 2015, Martin posted about it on Facebook, writing about love for the LGBT community. The post went viral, attracting attention from both sides of the debate. More than a year later, people were still commenting on the post.
More recently Martin wrote and provided context about Pope Francis' comments on offering an apology to the LGBT community.
New Ways Ministry, which is sponsoring the award, is an organization focused on ministering to the LGBT Catholic community and advocates for justice and acceptance both in churches and civil communities, according to its website.
The Bridge Building Award, started in 1992, is given out periodically to recognize those who have made substantial contributions to the LGBT and Catholic communities. Past recipients of the award are: Fr. Charles Curran (1992), Bishop Thomas Gumbleton (1995), Religious Sister of Mercy Sr. Margaret Farley (2002), Mary Ellen and Casey Lopata (2005) and John J. McNeill (2009).
The award ceremony and reception is scheduled for Oct. 30 in Pikesville, Md. Click here for details.
[Kristen Whitney Daniels in an NCR Bertelsen editorial intern. Her email address is kdaniels@ncronline.org.]