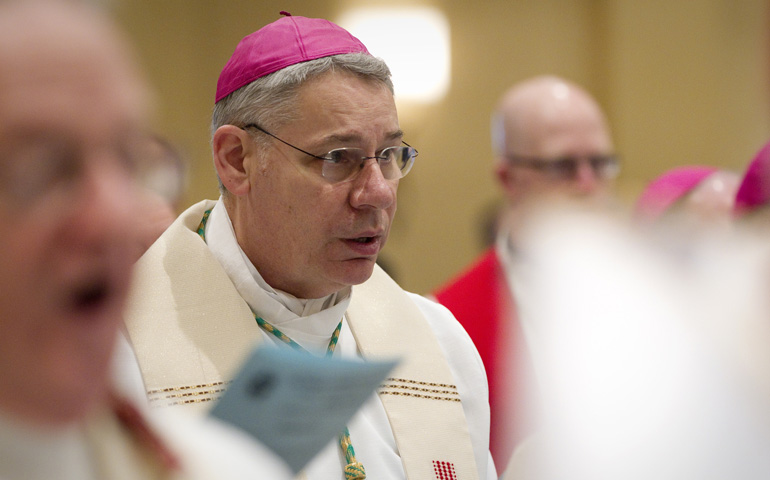 Bishop Robert Finn of Kansas City-St. Joseph, Mo., at a meeting of the U.S. Conference of Catholic Bishops in November 2012. (CNS/Nancy Phelan Wiechec)
A Canadian archbishop visited the Kansas City-St. Joseph, Mo., diocese last week on behalf of the Vatican to investigate the leadership of Bishop Robert Finn, the first Catholic prelate to be found criminally guilty of shielding a priest in the ongoing clergy sexual abuse crisis.
Ottawa, Ontario, Archbishop Terrence Prendergast visited the Midwestern diocese for several days last week, interviewing more than a dozen people about Finn's leadership, several of those interviewed told NCR.
According to those who spoke with Prendergast, the main question he asked was: "Do you think [Finn] is fit to be a leader?"
The communications officer for the Ottawa archdiocese, Sarah Du Broy, said the archdiocese did not a have comment as "the Archbishop considers it a private visit."
The director of the Kansas City diocese's communications office, Jack Smith, originally told NCR that no one in the diocese had heard of Prendergast's visit. Smith then wrote in an email to NCR later Monday that Finn had been aware that Prendergast was in Kansas City.
"He cooperated with the process and was obligated by the terms of the visitation not to speak of it to anyone, including his senior staff and communications director," Smith wrote.
Smith said Finn is currently in Rome for deacon ordinations of several of the diocese's seminarians studying at the Pontifical North American College. When asked Tuesday about NCR's report that Finn is under Vatican investigation, Vatican spokesman Jesuit Fr. Federico Lombardi said there was "no more response and no more reply" regarding the situation.
Prendergast, according to those who spoke to him, said he was visiting the diocese on behalf of the Vatican's Congregation for Bishops, which makes recommendations to the pope on the appointment of bishops around the world.
Finn, who has led the Kansas City diocese since 2005, has come under sustained criticism in the diocese, especially following his conviction in September 2012 of a misdemeanor count of failing to report suspected child abuse in the case of a now-former diocesan priest who was producing child pornography.
An investigation of a diocese by another bishop, known formally as a visitation, normally occurs when the pope or one of the Vatican's congregations have concerns about the leadership of the diocese.
A former chancellor of the Kansas City diocese also confirmed to NCR Monday the ongoing investigation, saying he had helped in an effort to have a Vatican review of Finn's leadership.
Jude Huntz, who served as the diocese's second-in-command from 2011 until last month, said he had given advice to several Kansas City-area Catholics who wanted to write to the Vatican's apostolic nuncio in Washington expressing concerns about Finn.
"I hope that there is a leadership change in the diocese of Kansas City St-Joseph," said Huntz, who now serves as the director of the Chicago archdiocese's Office for Peace and Justice. "And that's been my hope for quite some time."
---
Related: "Kansas City Catholics ask Pope Francis to investigate bishop," Feb. 18; "Letter calls upon Pope Francis to investigate Kansas City bishop," Aug. 25
---
Three people who said they spoke to Prendergast as part of the investigation independently confirmed details of the archbishop's visit but asked to remain anonymous because they had been told not to divulge details of their interviews.
Prendergast's assignment, one of the individuals said, "was to determine whether or not Bishop Finn is fit to be a leader ... whether he had the qualities of leadership to run a diocese."
According to that source, the archbishop said he was going to speak to both those who were supportive of Finn and those who had concerns.
"I didn't think he was fit to be a leader," the source said. "I told the archbishop I thought [Finn] was holy but didn't have the organizational skills for the diocese."
The second person said Prendergast took time to listen to all concerns that were expressed and was "very receptive."
"He just was so open to listen," the person said. "He was there to learn."
The individuals said Prendergast told them he was going to make a report of his findings and send it to the Congregation for Bishops for review.
"They may accept or reject whatever I suggest," Prendergast said, according to one of the individuals.
A third individual, a layman and longtime Kansas City parishioner, said he met with Prendergast "and a priest taking notes" for about 30 minutes at a residence in Overland Park, Kan., a suburb of Kansas City.
This person, who said he has already written to the Vatican's ambassador in Washington about Finn, told NCR: "[Prendergast and the priest] said they were there to evaluate and make a recommendation if there was a need to make a change in leadership" in the Kansas City diocese.
Finn and his diocese have been under scrutiny for several years, particularly surrounding the handling of sexual misconduct by Shawn Ratigan, a former priest who was found guilty in federal court in September 2013 of producing child pornography and sentenced to 50 years in jail. Ratigan was laicized in January.
In September 2012, Finn was found guilty in one Missouri county court of the misdemeanor count. Earlier, in November 2011, he made an agreement with prosecutors in another county to suspend misdemeanor charges as long as he agreed to give prosecutors there immediate oversight of the diocese's sexual abuse reporting procedures.
The Kansas City diocese has also been facing a number of lawsuits for sexual abuse claims and has made a number of large financial settlements in recent years. In 2012, the diocesan paper estimated the diocese had spent $1.39 million for the bishops' legal defense and almost $4 million for other claims.
The cumulative amount spent by the diocese on sexual abuse claims and defense is a "staggering figure," Huntz said. "[The Vatican] needs to see those numbers and recognize it for what it is."
Huntz also said that to offset expenses, the diocese had raised parish assessments, the money the diocese collects from parishes, with some "going up 33 percent." Huntz attributed higher operating costs to increased insurance payments.
"A parish can't afford those things," he said. "It's really hurting a lot of the parishes from a financial point of view."
Likewise, the number of Catholics in Kansas City has declined, Huntz said.
"Ten years ago ... when Bishop Finn came to Kansas City, the diocese had 165,000 Catholics," he said. "This past year, I submitted our official statistics to Rome, and we only had 128,000 Catholics. That's a 25 percent decline."
News of the Kansas City investigation follows reports last week that the investigation of a diocese in Paraguay led to that bishop's removal. Pope Francis removed Bishop Rogelio Livieres Plano of the diocese of Ciudad del Este on Sept. 25, following a visitation to that diocese by Spanish Cardinal Santos Abril y Castelló, archpriest of Rome's Basilica of St. Mary Major.
Huntz said the situation in the Kansas City diocese is "something everybody should care about."
"We are all united in the larger church, and to see a diocese go downhill like it has should make everybody concerned."
[Joshua J. McElwee is NCR Vatican correspondent. His email address is jmcelwee@ncronline.org. Follow him on Twitter: @joshjmac.]
A version of this story appeared in the Oct 10-23, 2014 print issue under the headline: Kansas City's Finn under Vatican investigation.