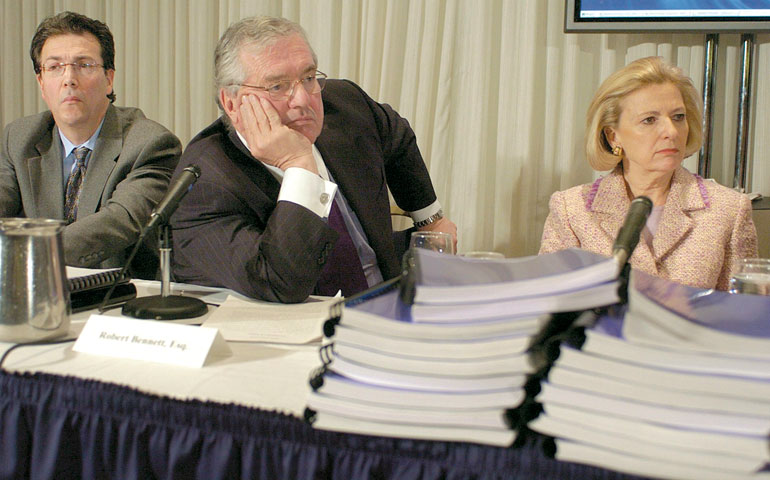 From left, Nicholas Cafardi, lawyer Robert Bennett and Judge Anne Burke listen to remarks at a National Review Board news conference in February 2004 in Washington, D.C. (Newscom/EPA/Mike Theiler)
Commissions set up by church officials to advise church officials on clergy sexual abuse have a checkered history. No one knows this better than Catholics who answered their bishops' call to serve but found themselves and their advice rejected or ignored.
The U.S. bishops named a 12-member blue-ribbon panel of lay advisers amid the firestorm of media coverage in 2002.
"A lot of American bishops would not want to see any of us of the original review board named to this [pontifical] commission," said Nicholas Cafardi, who served on the National Review Board from 2002 to 2004.
"The report we wrote in 2004 was pretty rough on the bishops," said Cafardi, a Duquesne University law professor, dean emeritus and canon lawyer. "If [the pope and the Vatican] want a credible board, they should have at least one American who has dealt with the realities. This is hardly something to claim credit for, but we had the largest crisis in terms of victims and perpetrators -- more than Ireland, Belgium and Australia -- because our country has the biggest church."
Illinois Supreme Court Justice Anne Burke, who also served on the original U.S. National Review Board, said the bishops resisted the board on many points, such as whether there would be audits of priest personnel files and who would do the audits. "I don't think they realized that this was a time bomb and the magnitude of what was left to come."
She also noted, "The bishops didn't honestly deal with each other."
Cafardi, Burke and several others were present in 2004 when Chicago Cardinal Francis George celebrated Mass for the review board, and then afterward told them, according to several review board members there, "You will be the downfall of the church." The archdiocese's spokesman later denied the cardinal said this.
In 2005, George would ignore the U.S. bishops' Charter for the Protection of Children and Young People by failing to remove an accused priest, Daniel McCormack, who was subsequently prosecuted and sent to prison. The archdiocese has settled lawsuits with at least five of about a dozen plaintiffs for more than $7 million.
In 2012, when Cafardi learned that the Vatican was planning a conference on clergy sex abuse, he tried to get invited. He wrote to the organizer, German Jesuit Fr. Hans Zollner. Vice rector of the Pontifical Gregorian University, Zollner has been named to the new Pontifical Commission for the Protection of Minors.
Cafardi sent Zollner a copy of his 2008 book, Before Dallas: The U.S. Bishops' Response to Clergy Sexual Abuse of Children, on the bishops' failure to abide by voluntary guidelines prior to the 2002 conference in Dallas, where they adopted the youth protection charter.
"I wrote to Fr. Zollner ... offering to cover my own expenses. I pointed out I was a graduate of Gregorian and had this experience. Zollner sent a nice letter but it was a typical Roman kiss-off, saying the schedule has been set," Cafardi said.
Bishops spurning the advice of their own oversight groups are sources of disillusionment for people like Cafardi and Burke.
Sharing their frustration is Lieve Halsberghe of Louvain, Belgium, a researcher for BishopAccountability.org, an advocacy organization for victims of clergy sex abuse. 2010 saw the churches in Belgium, Ireland, Austria, Germany and Italy engulfed in scandals as revelations about the extent of sexual abuse of children by Catholic priests became public. In Belgium, this led to a civil investigation and even a police raid on national church offices.
Lieve Halsberghe's aunt, Godelieve Halsberghe, was a magistrate who served on a church commission of inquiry into abuse cases. In 2010, the commission issued a report that contained testimony given by hundreds of people who had been sexually abused by priests.
On the commission from 2000 to 2008, Godelieve Halsberghe clashed with the hierarchy over their concealing information about offenders.
Most notoriously, Roger Vangheluwe resigned as bishop of Bruges in 2010 after admitting to abusing a nephew over a 15-year period, beginning when the boy was 5.
Lieve Halsberghe, a member of the Survivors Network of those Abused by Priests (SNAP) in Belgium, said that Cardinal Godfried Danneels, retired archbishop of Mechelen-Brussels, and his successor, Archbishop André-Joseph Léonard, allowed Vangheluwe to retire quietly and did not seek justice. They are still respected public figures, often in the media, "as if nothing ever happened," Halsberghe said.
All these men have caused so much harm to so many people -- and they are unpunished," she said.
For Burke, the overriding question is: "What is the church going to do with bishops who permit this behavior?" She cited the case of St. Paul-Minneapolis Archbishop John Nienstedt. Last year, the archdiocese's canon lawyer, Jennifer Haselberger, resigned and made public what she described as the archdiocese's "disregard" for canon and civil law in its handling of sex abuse allegations. In January, prosecutors announced they would not press criminal charges against the archdiocese for failure to report two cases prominent in documents Haselberger provided. One case involved a priest who was convicted of molesting a minor, and the other a priest accused of possessing child pornography.
"You can go around the world and see bishops who knew these things," said Burke. "If the state isn't going to charge these men with obstruction of justice, the church can still do it. They can implement penalties."
Watching the larger scandal unfold over a decade has hardened her opinions. "They are not going to defrock bishops. I don't think they have the capacity or desire. ... We live in a society of transparency; the church has lived for 2,000 years in secrecy."
Marie Collins, the Irish sex abuse survivor who is a member of Pope Francis' new commission, told The Associated Press that her top priority was for the Vatican to punish bishops who have covered up for priest abusers.
"There's no point in my mind of having gold-plated child-protection programs in place if there's no sanction for a bishop who decides to ignore them," Collins said. "The reason everyone is so angry is not because they have abusers in their ranks. Abusers are in every rank of society. It's because of the systemic cover-up."
"Putting Marie Collins on the commission was a brilliant decision," said Dominican Fr. Thomas Doyle, the American priest and canon lawyer who has become one of the church's harshest critics. "She is probably the only one with true credibility among the victims, who are clearly the most important people in this equation, not the bishops."
The highest-ranking churchman on the commission is Boston Cardinal Sean O'Malley. O'Malley, who has a long history in Hispanic ministry, has known Pope Francis for years, having stayed in Buenos Aires, Argentina, with then-Archbishop Jorge Bergoglio. One of eight on Francis' Council of Cardinals, he is a confidante of the pope and likely to wield influence on the new sex abuse commission.
His reputation is of a problem-solver, having served successively at three dioceses battered by abuse scandals -- Fall River, Mass., Palm Beach, Fla., and Boston. He has met individually with victims and led penitential services, and he arranged for Pope Benedict XVI to meet with abuse survivors on his 2008 trip to America.
However, O'Malley's reputation isn't as sterling among advocates for abuse victims, who question his transparency. They point out that he avoids the press and has refused to publish full lists of priests who served in his dioceses who have been credibly accused of abuse.
In Boston, O'Malley has withheld names of 70 accused religious order priests, "including some who have gone to prison," according BishopAccountability.org. In Fall River, he withheld names of perpetrators for 10 years, until 2002, by which time the priests could not be prosecuted because of statute of limitations law.
O'Malley's appointment "does not bring instant credibility to the effort," Doyle wrote in an essay on the NCR website. "Probably the only bishop on the planet with the authentic qualifications to serve, if the goal really is to help victims and help the church, is Bishop Geoffrey Robinson, retired auxiliary bishop of Sydney."
Robinson led the Australian bishops' committee that addressed sexual abuse by clergy. In 2008, he was touring the U.S. to promote his book Confronting Power and Sex in the Catholic Church: Reclaiming the Spirit of Jesus, when his bishops' conference issued a statement saying they found "doctrinal difficulties" with it.
Last June, Robinson launched an online petition in conjunction with the release of his latest book, For Christ's Sake: End Sexual Abuse in the Catholic Church ... for Good. The book and the petition called on the church hierarchy to confront the systemic causes of the abuse crisis, like moral immaturity and the celibate culture.
Doyle also wondered why Archbishop Diarmuid Martin of Dublin wasn't appointed. Martin "is one of the very few bishops who really get it," Doyle told NCR. "The Irish church has been brought to its knees by these scandals and Martin has done things that are meaningful. ... Why was Martin excluded?"
For Halsberghe, a policy to assist victims in countries where legal systems are weak and principled journalism rare should be a priority for the papal commission.
She has been researching a European missionary who was deported from an Africa country and sent back to his home country. "He was laicized, after a mutual decision of the hierarchy in the mission, his country and the Vatican," she said.
"The police were not notified (until I did it) and the alleged perpetrator is on the loose in his country of origin. The victims are being bluffed. Church officials tell them there are no treatment possibilities for them, that they are free to go to the police, in a country where everyone knows the corrupt police will run back to the bishop instantly."
"The only standard the pope should seek is justice," Halsberghe said.
Some question if Francis truly understands the scope of the sexual abuse crisis in the church. He rarely speaks about it, and when he does, abuse survivors don't like what they hear.
"The cases of abuse are awful because they leave profound wounds," Francis recently told Corriere della Sera, an Italian daily. He then said, "The Catholic church may be the only institution to have moved with transparency and responsibility. No one else has done more. Yet the church is the only one to be attacked."
That "was like a kick in the gut," said Monica Barrett of Milwaukee. Now 53, she was raped by a priest when she was in grade school.
"I don't think if you create a problem, worsen it by lying and systematic cover-up, and are then forced to respond to public outcry, that it means you should get credit for being transparent and responsible."
Barrett is one of 500 victims who have been in court for years, seeking restitution from the Milwaukee archdiocese, which is in the third year of grinding bankruptcy litigation with the plaintiffs.
"I would like to see some consistent, universal laws that apply to those within the church, to the abusers, the people who covered it up and knew about it and did nothing," Barrett wrote in an email to NCR.
The church's actions today, she said, can either re-victimize or promote healing. That is why, she said, the church must "treat survivors in a universally fair manner. Show them compassion. Compensate them equally. Treat them with respect and dignity rather than distrust and anger."
[Jason Berry was a co-producer of the recent Frontline documentary "Secrets of the Vatican" on PBS.]
A version of this story appeared in the April 11-24, 2014 print issue under the headline: Advisers saw advice spurned.