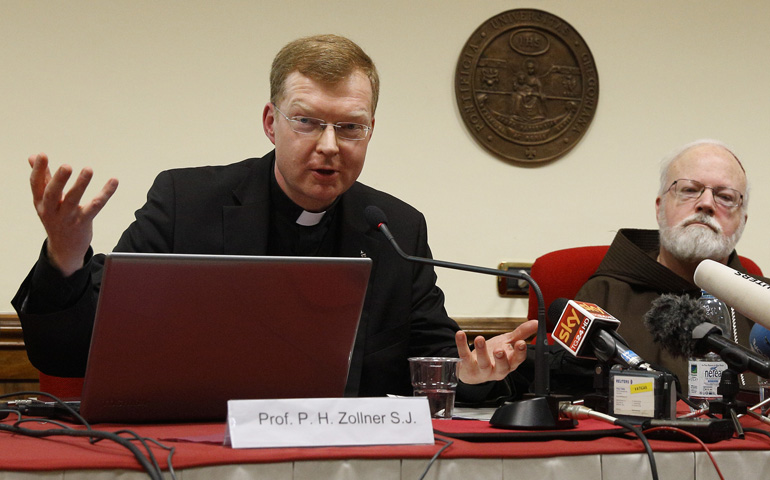 Jesuit Fr. Hans Zollner, left, and Cardinal Sean O'Malley at a news conference Monday launching the Center for Child Protection at the Pontifical Gregorian University in Rome. (CNS/Paul Haring)
A Vatican-connected academic institute that works to educate seminarians, priests and laypeople on preventing sexual abuse has moved operations from Germany to Rome in an effort to influence the church's work on the issue globally.
The Centre for Child Protection, an institute that was first opened in Munich in 2012 and conducts e-learning programs and interdisciplinary research on abuse prevention, is now located at the Jesuit-run Pontifical Gregorian University.
Announcing the move at a press conference Monday at the Gregorian, Boston Cardinal Sean O'Malley said the move was a "very important contribution" for the center and its staff "to be important players in the universal church."
O'Malley, who is leading the new papal commission preventing clergy sexual abuse, said while the center is not formally backed by the Vatican, he and several members of his commission are closely following its work and hoping it can be part of several new initiatives to "help make a difference" in preventing abuse.
The center's president, Jesuit Fr. Hans Zollner, said Monday that the institute wants to particularly focus of providing education on sexual abuse in parts of the world where there is little awareness or education on the issue.
Zollner said the center has partnered with dioceses and religious order provinces in Ghana, Kenya, India, Indonesia, Germany, Argentina and Ecuador. "We want to go there where there is very little" awareness, he said.
Karlijn Demasure, the center's executive director, said the institute primarily provides three outlets for its work: e-learning programs for people around the world, an in-person diploma course, and hosting and contributing to international conferences on the issue.
Zollner, who also serves on the papal sexual abuse commission, said an estimated 1,000 people had participated in the e-learning courses since the institute's opening. Demasure said the courses are currently available in four languages -- Italian, English, Spanish and German -- but they hope to expand to more soon.
The diploma course, Demasure said, will be semesterlong and will be offered to between 15 and 18 students at a time.
When NCR asked how often the breakdown in reporting sexual abuse does not occur with diocesan staff but with bishops who do not appropriately handle abusive priests, O'Malley said his hope was that "here in Rome, with so many seminarians and so many young priests studying here at the Gregorian, [the center] will make an impact."
The issue of accountability for bishops who do not report abusive priests, the cardinal said, is something the papal sexual abuse commission "is concerned about."
O'Malley said his commission is drafting recommendations for Pope Francis to consider new initiatives in providing accountability for bishops, including a training program for newly named bishops when they come to Rome to learn about how to lead their dioceses.
"Here in Rome, I think there are many opportunities to help enlighten our leadership in the church ... and I think it is something we will be doing," O'Malley said.
Asked why the academic center has not pursued relationships in countries that have most dealt with clergy sexual abuse -- namely, the United States and Australia -- Zollner said the center has not focused on those countries because those places "have enough resources" already.
The Centre for Child Protection was founded in January 2012 following an international conference at the Gregorian on clergy sexual abuse, "Towards Healing and Renewal."
Representatives from some 100 bishops' conferences and 30 religious orders attended that event, which the Vatican's Secretariat of State supported.
[Joshua J. McElwee is NCR Vatican correspondent. His email address is jmcelwee@ncronline.org. Follow him on Twitter: @joshjmac.]