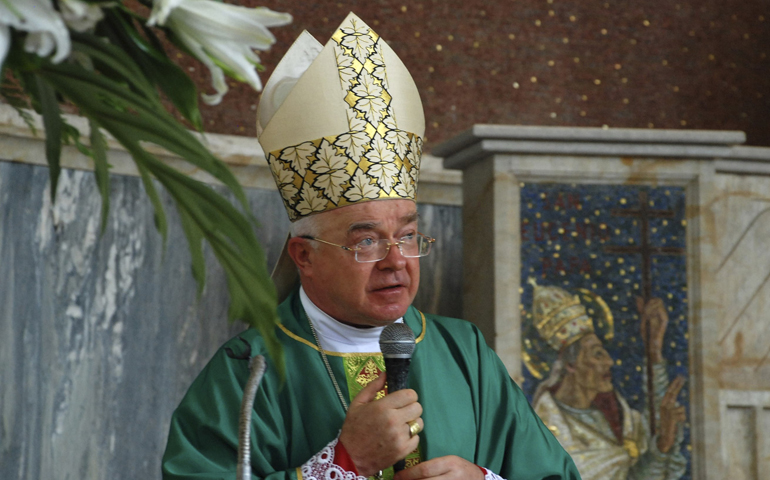 Archbishop Jozef Wesolowski in 2009 (CNS/Reuters/Diario Libre/Luis Gomez)
The Vatican's Congregation for the Doctrine of the Faith has ordered the laicization of an archbishop-ambassador accused of paying for sex with minors.
Józef Wesołowski, former apostolic nuncio to the Dominican Republic, will have two months to prepare an appeal to the ruling, which was announced in a brief statement from the Vatican on Friday.
The former nuncio, who the Vatican did not refer to as an archbishop in the statement, was removed from his post in August with little explanation. News accounts days afterward detailed allegations of paying for sex with minors and being connected to a Polish priest accused of sexually assaulting at least 14 underage boys.
Yet Friday's statement does not declare Wesołowski guilty of any specific crime. It states that the Vatican's doctrinal congregation has finished the first part of a canonical process against him and sentenced him to dismissal from the clerical state.
Criminal proceedings against the former nuncio, the statement continues, will continue after the conclusion of the appeal process.
Friday's statement also addresses recent news reports that Wesołowski has been at liberty in Rome since he was recalled from the Dominican Republic, saying the archbishop has had a "relative freedom of movement."
Continuing, the statement says: "Taking into account the sentence now pronounced by the dicastery ... there will be taken against the former nuncio all measures appropriate to the seriousness of the case."
The sentence against Wesołowski is thought to be the first such move taken against a papal ambassador for sexual abuse. But as the proceedings of the Vatican's doctrinal congregation are held under strict confidence, it is unknown exactly what charges were brought against the archbishop or how he responded to those charges.
Also unknown is how he will be treated or where he will live following the judgment.
Authorities in the Dominican Republic are investigating Wesołowski, who was appointed as nuncio to the country in 2008, but they have yet to announce any charges.
[Joshua J. McElwee is NCR national correspondent. His email address is jmcelwee@ncronline.org. Follow him on Twitter: @joshjmac. Catholic News Service contributed to this report.]