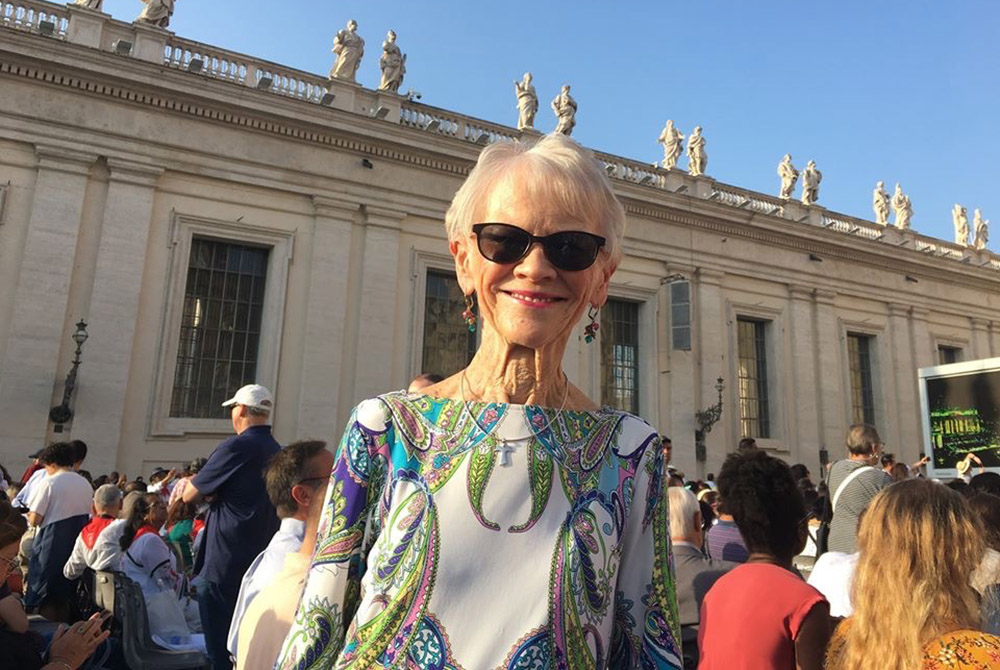 Corky Thompson on a pilgrimage to Rome (Provided photo)
This August, Corky Thompson planned to accompany her sister on a pilgrimage to Lourdes, France, and Fatima, Portugal. On April 22, Dynamic Catholic, the organization that sold her the pilgrimage, rescheduled the trip until 2021 due to the coronavirus pandemic.
Because of Thompson's age (80) and her sister's age (88), Thompson was uncomfortable rebooking a tour more than a year out. Dynamic Catholic offered the women three options. One option was to sign up for the rescheduled tour in 2021 with full credit, another was to transfer the credit to a different pilgrimage in 2021, and the last was to cancel their trip entirely, and forfeit each of their $500 nonrefundable deposits as well as $280 each in travel insurance.
Thompson and her sister, both living on fixed incomes, were unsatisfied with the options, and have begun an unsuccessful campaign to retrieve their respective $780.
The Catholic pilgrimage industry, like the rest of the travel industry, (which reportedly hit 50% unemployment) has been upended due to the coronavirus pandemic. One result is a debate over how Catholic values should inform tour companies' response to canceled pilgrimages.
When the pandemic disrupted the world's economy this spring, Deacon Ray Defendorf, who serves as director of travel ministry for Educational Opportunities Catholic Tours, said he and a few other colleagues were laid off from salaried positions, and put on commission-based employment. Defendorf has been involved with Education Opportunities for 35 years, previously serving the last six years as its national director.
"When this [coronavirus] hit, the bottom fell out of the travel industry," Defendorf said.
At least 12,000 people's pilgrimages with Educational Opportunities had to be canceled or postponed this year.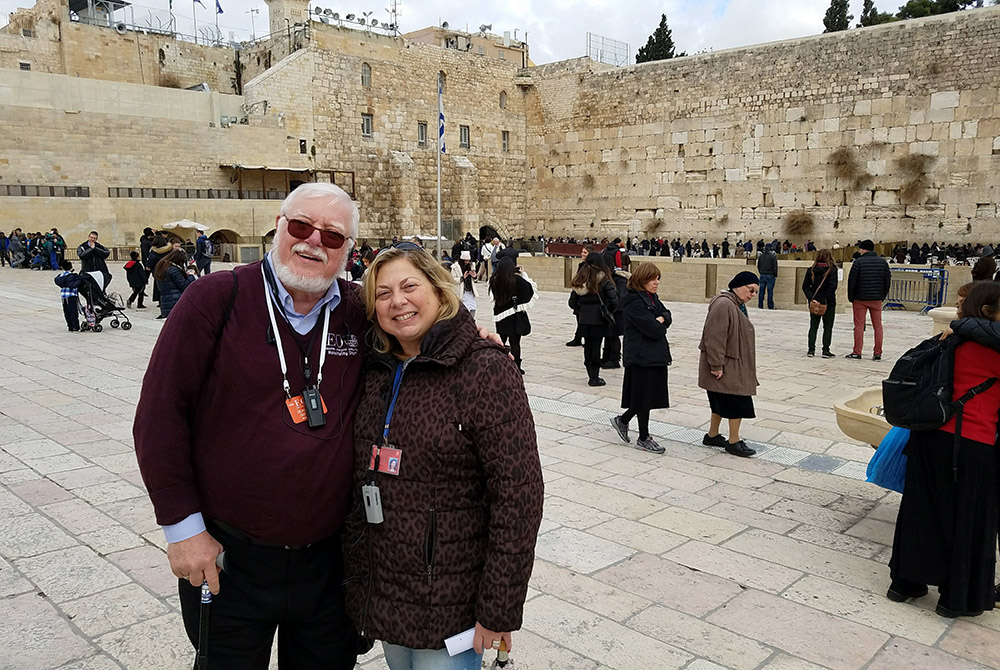 Deacon Ray Defendorf and Holy Land guide Rula Shuibeta pose at the Western Wall in Jerusalem. Shuibeta has guided several of the 25 pilgrimage groups that Defendorf has hosted over the past 35 years. (Courtesy of Ray Defendorf)
One pilgrimage rescheduled until 2022 is the Oberammergau Passion Play. The performance takes place every 10 years in the town of Oberammergau, Germany, and has been performed since the 17th century. Several pilgrimage packages throughout Europe that include the Passion play had to be canceled and rescheduled, and pilgrims were offered a few choices.
"In all options people would get a full refund. Their deposit was returned to them," Defendorf said. "It's a company based on very strict Christian standards."
Jim Adair, owner of The Catholic Tour Company, said that he has had to cancel at least 12 pilgrimages this year, each with 25-30 people registered. He's been in the business for the last 39 years, and said he's traveled with 140,000 people throughout his career.
"We had a substantial money loss for this year. But we are holding our own," Adair said.
Working to reschedule pilgrimages, including trips to Fatima and Our Lady of Guadalupe in Mexico, Adair said he has provided a full reimbursement to all people who had their trips canceled.
Adair said he doesn't ask for nonrefundable deposits on any pilgrimages.
"To me that would be un-businesslike. I guess I'm too Catholic, I don't do that," Adair said.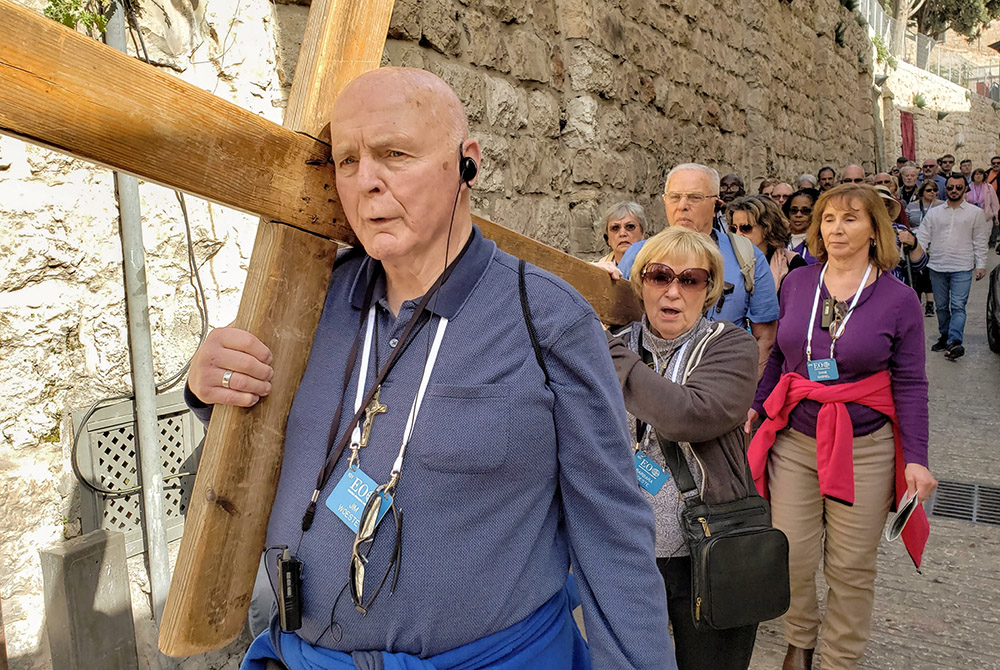 Deacon Jim and Barbara Woeste and Stephen and Diane Johnson carry a cross on the Via Dolorosa in Jerusalem. (Deacon Ray Defendorf)
Thompson has attempted to appeal to these same Catholic values in asking for a full refund from Dynamic Catholic.
In a May 6 email correspondence with Dynamic Catholic, obtained by NCR, Thompson wrote, "My sister [name removed] turns 89 on January 15, 2021 and I will be 81 at that time. We have both traveled and have understood that non-refundable deposits mean that if we cancel, the deposit is not refundable. We have never been in a situation where the company has cancelled and refused to refund us the money."
Thompson was told by Dynamic Catholic in a series of emails shared with NCR that the deposit she paid was given immediately to 206 Tours. A wholesale pilgrimage company, 206 Tours packages tours, then sells them to travel agents and organizations, including Dynamic Catholic. Thompson was told Dynamic Catholic didn't have her money anymore and couldn't refund her trip.
Patrick McKenna, business manager at 206 Tours, said in an email that the company is offering options to pilgrims of " 'postponed' not cancelled" tours. The options 206 Tours directly offered to pilgrims are similar to those stated by Dynamic Catholic — pilgrims can keep their full credit by transferring to a tour in 2021. However, if pilgrims do not want to reschedule, 206 Tours also is not refunding the company's $400 deposit to people who cannot commit to a future pilgrimage.
Both Dynamic Catholic and 206 Tours offer an option to "Cancel for Any Reason" upon signing up for the pilgrimage, and both organizations refund the security deposit to pilgrims who have bought that option for an additional cost.
"In this case, the refund comes from the insurance company," Claire Darnell, director of strategic execution at Dynamic Catholic, said in an email to NCR. "As has always been our practice, if a pilgrim chooses to cancel on their own, our standard terms and conditions apply."
"Dynamic Catholic shouldn't be making their decisions based on other tour companies. I think Dynamic Catholic should say 'This is our obligation. We're a Catholic company and should have a higher moral standard.' "
—Corky Thompson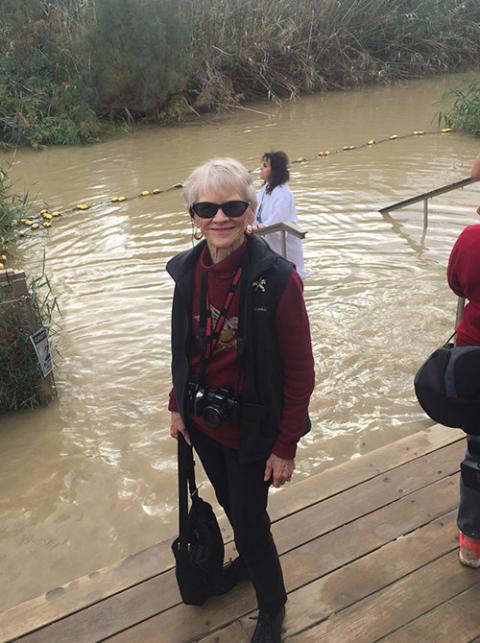 Corky Thompson on a pilgrimage to the Holy Land (Provided photo)
Thompson sees the situation differently.
"If they want to postpone the pilgrimage it's fine, but they canceled the trip in August 2020. It is not happening. And you can use any euphemism you want," Thompson said. "Dynamic Catholic shouldn't be making their decisions based on other tour companies. I think Dynamic Catholic should say 'This is our obligation. We're a Catholic company and should have a higher moral standard.' "
Thompson continued to request a refund, arguing that Dynamic Catholic (which in 2017 reported receiving nearly $14.5 million in donations and grants) should provide a refund even if the original deposit from 206 Tours was not available.
"That $500 deposit on my credit card is made to Dynamic Catholic, so they are responsible," Thompson said.
In a May 18 email to Thompson, a representative of Dynamic Catholic wrote that because more than 500 Catholics had their pilgrimages postponed, they did not feel it would be a sound stewardship of donor funds, nor be fair to make exceptions to their terms and conditions for some pilgrims and not others.
Earlier this year, a National Catholic Reporter investigation showed that on average, 80 cents out of every dollar of donor funds to Dynamic Catholic are funneled back into one of founder Matthew Kelly's for-profit companies.
Darnell did not respond to email questions from NCR about how donor funds are used, nor about Thompson's request for a refund. Rather, Darnell provided a statement. An excerpt reads:
"At Dynamic Catholic, we believe in the power of a pilgrimage to change someone's life and help them experience an encounter with Jesus. As a result, rather than choosing to cancel any of our pilgrimages, Dynamic Catholic has chosen to reschedule them. All pilgrimages have already been rescheduled."
In Thompson's case, pilgrimages have indeed strengthened her commitment to an active faith.
"They [pilgrimages] have continued to build my sense of what we need to do to build social justice for everybody," Thompson said.
Thompson made a final appeal to Dynamic Catholic in a letter she emailed and faxed to Matthew Kelly on May 25. "Returning the deposits to my sister and me would certainly show that Dynamic Catholic is striving to be the best version of itself as it follows Christ's dynamic teaching," Thompson's letter reads.
Thompson has not received a reply as of press time.
[Sophie Vodvarka is a freelance writer based in Chicago who covers travel, spirituality and current affairs. Follow her on Twitter: @SophieVodvarka.]
A version of this story appeared in the July 10-23, 2020 print issue under the headline: Catholic pilgrimage industry faces refund requests.