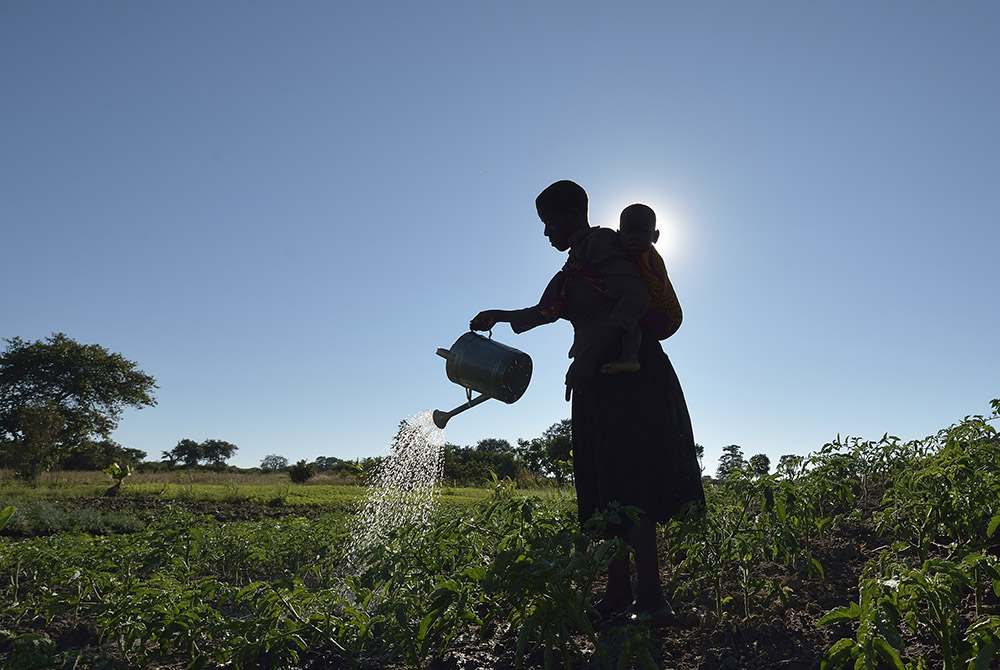 Rhoda Nyoni lleva a su espalda a su hijo Moisés mientras riega un huerto comunitario en Kayeleka Banda, Malawi. (Paul Jeffrey)
Nota del editor: Durante este Tiempo de la Creación el fotógrafo Paul Jeffrey nos lleva por el mundo "Enfocando la Creación" con su cámara y su fe. Inscríbase aquí para recibir sus reflexiones por correo electrónico cada lunes, miércoles y viernes desde el 31 de agosto hasta el 4 de octubre.
La Creación significa vida nueva, vez tras vez. Lo veo en esta imagen de Rhoda Nyoni, que lleva a su espalda a su hijo Moisés mientras riega un huerto comunitario en Kayeleka Banda, Malawi. Nyoni está embarazada, y un programa de la Iglesia trabaja con ella y otras mujeres de la aldea para que ellas y sus hijos reciban un buen apoyo nutricional y atención sanitaria.
No se puede separar el cuidado del planeta del cuidado de la salud y la dignidad de las personas y las familias. La agricultura sostenible y respetuosa con el medio ambiente contribuye al bienestar, tanto de quienes cultivan los alimentos como de quienes los consumen. Si buscamos el verdadero empoderamiento de las mujeres y la protección de los niños, tenemos que asumir compromisos personales, comunitarios y políticos para trabajar por un mundo saludable en el que las familias puedan prosperar.
La pandemia del coronavirus ha puesto al descubierto nuestra propia fragilidad y las desigualdades de nuestras sociedades. Sin embargo, ha resaltado también nuestra interdependencia, entre las personas y con los ecosistemas de la Tierra. Este Tiempo de la Creación nos da la oportunidad de renovar nuestra relación con toda la Creación, reflexionar sobre nuestro uso de los recursos finitos del planeta, rezar por nuestra sanación y la del mundo, y comprometernos con vivir en sintonía con la Tierra.
Sanar el planeta no es una vocación elitista que ignora temas como la justicia y la marginación. La doctrina social de la Iglesia deja claro que es una lucha. La "justicia ambiental" es un concepto amplio que nos desafía a encarnar en cada comunidad la abundancia de vida que los Evangelios nos prometen.
---
Para la reflexión y la acción:
Las pandemias, entre ellas el actual brote de coronavirus, ocurren cuando los sistemas naturales se desequilibran, a menudo por el consumo excesivo o el uso imprudente de los recursos naturales. Reflexione sobre su consumo de algo que la naturaleza nos brinda, como la madera, la energía, la carne o incluso el chocolate. ¿De dónde viene? ¿Se produce de manera sostenible? ¿Cómo podemos cambiar nuestros hábitos de consumo para ayudar a sanar la Tierra?
[Paul Jeffrey es co fundador de Life on Earth Pictures. Vive en el estado de Oregon, EEUU. Se puede seguirlo en Instagram.]
This story appears in the
Lens on Creation — Enfocando la Creación
feature series.
View the full series
.