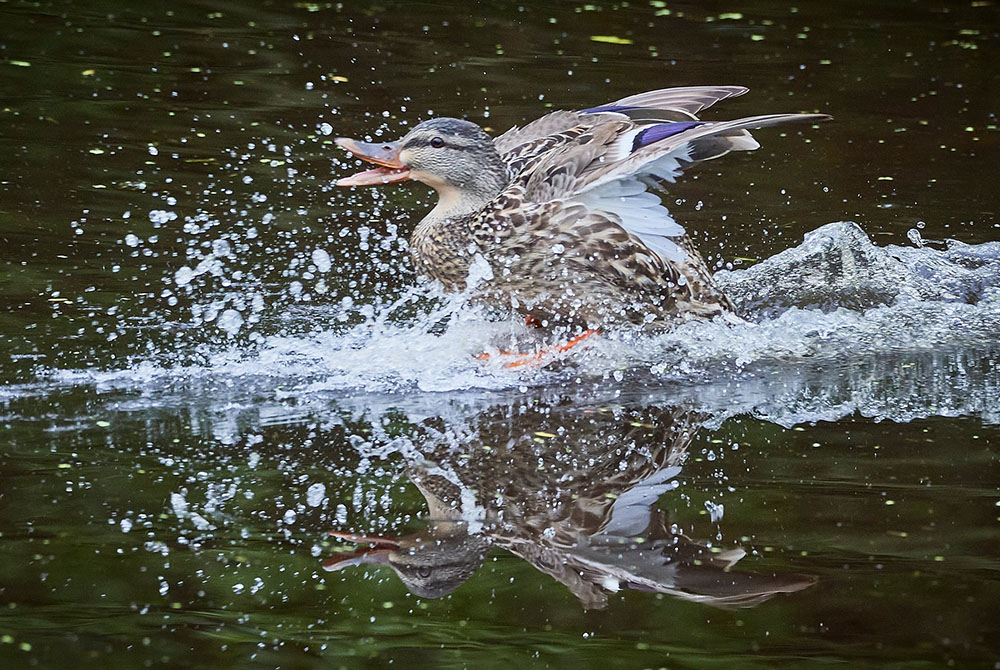 Un pato se da un chapuzón en un estanque en Oregón, recordándonos "la paz de las cosas salvajes." (Paul Jeffrey)
Nota del editor: Durante este Tiempo de la Creación el fotógrafo Paul Jeffrey nos lleva por el mundo "Enfocando la Creación" con su cámara y su fe. Inscríbase aquí para recibir sus reflexiones por correo electrónico cada lunes, miércoles y viernes desde el 31 de agosto hasta el 4 de octubre.
Hago el intento de no ver en los animales características humanas. Tienen una vida propia y no necesitan que proyecte sobre ellos mis sentimientos. Sin embargo, al ver esta foto de un pato retozando en un estanque de mi jardín, no puedo sino pensar que el pato está feliz. Quizás sea la forma de su pico, pero me parece que veo una sonrisa.
Wendell Berry concuerda con Dios en que la Creación es buena, y dice que puede salvarnos de la sensación de que la hayamos estropeado irrevocablemente. "Cuando la angustia por el mundo crece en mí", comienza su poema "La paz de las cosas salvajes", y se preocupa "por qué será de mi vida y de las vidas de mis hijos", encuentra consuelo, incluso esperanza, donde un pato "descansa con su belleza en el agua, y la garza real se alimenta". Encuentra gracia y libertad en "la paz de las cosas salvajes que no abruman sus vidas con la anticipación del dolor."
Me da miedo la crisis climática y me indignan las personas que la niegan. El debilitamiento de la normatividad ambiental, la indiferencia hacia los refugiados del cambio climático y la antipatía hacia la ciencia hacen que la "angustia por el mundo" se encone en mí. Sin embargo, la Creación cuyo deterioro lamento también alivia mi anticipación del dolor y me renueva la energía para luchar contra los codiciosos, para sanar el planeta.
Un pato risueño en el estanque, un abejorro ocupado con sus sacos cargados de polen, un ave haciendo juguetones malabares con la fruta de un arbusto, la rosa nativa que sigue apareciendo insolentemente donde yo no la quiero: la ventana hacia mi jardín me sana, si se lo permito, haciendo de mí un cuidador más eficaz de la asombrosa obra de Dios.
---
Para la reflexión y la acción:
En su encuentro con los indígenas amazónicos durante su visita al Perú en 2018, el Papa Francisco les dijo que su territorio, los lugares donde viven, es tierra santa. Los lugares donde vivimos son sagrados ante Dios, y somos sus cuidadores. ¿Qué puedes hacer, o qué puede hacer tu familia o tu comunidad de fe, para ayudar a restaurar un rincón descuidado de tu comunidad y celebrarlo como tierra santa?
[Paul Jeffrey es co fundador de Life on Earth Pictures. Vive en el estado de Oregon, EEUU. Se puede seguirlo en Instagram.]
This story appears in the
Lens on Creation — Enfocando la Creación
feature series.
View the full series
.