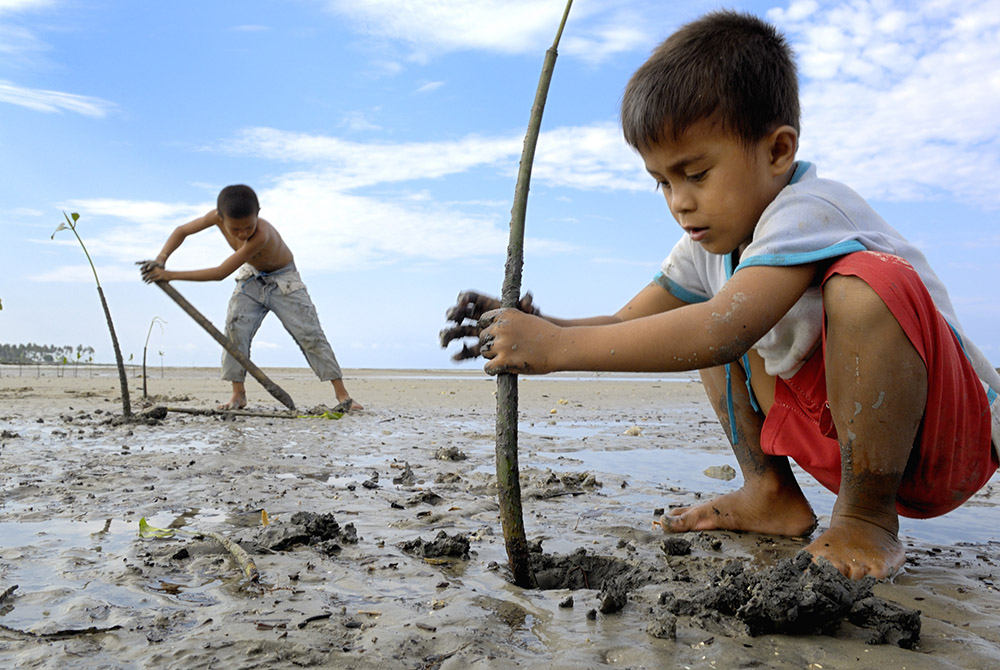 Jefrin Zendrato siembra un plantón de mangle en una playa devastada por un tsunami. (Paul Jeffrey)
Nota del editor: Durante este Tiempo de la Creación el fotógrafo Paul Jeffrey nos lleva por el mundo "Enfocando la Creación" con su cámara y su fe. Inscríbase aquí para recibir sus reflexiones por correo electrónico cada lunes, miércoles y viernes desde el 31 de agosto hasta el 4 de octubre.
Conocí a Jefrin Zendrato hace años, después de que un enorme tsunami arrasara su pueblo, Moawo, en la remota isla indonesia de Nias. Yo hacía un reportaje sobre las secuelas del desastre, y encontré al niño, a su hermano y a su padre sembrando plantones de mangle en una zona de playa vacía cerca de su casa. El tsunami había barrido la playa, sin encontrar ningún obstáculo, en su camino hacia el interior. Me explicaron que los manglares podrían amortiguar las olas gigantes en el futuro.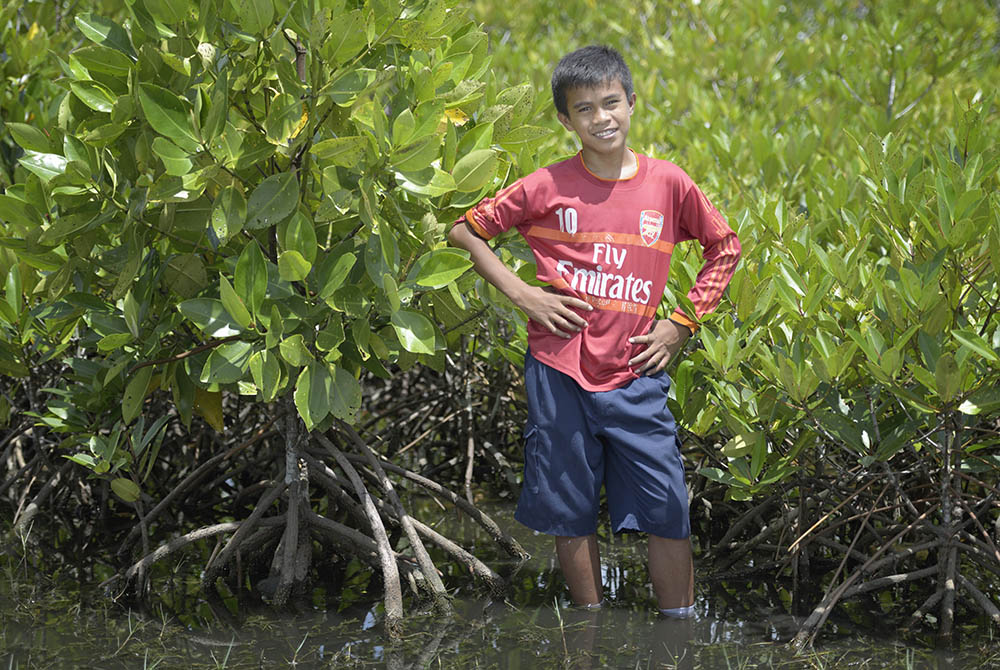 Años más tarde, Jefrin Zendrato, 13 años, muestra el bosque de manglar que ayudó a sembrar. (Paul Jeffrey)
Volví a Indonesia en 2014 para el décimo aniversario del tsunami. Cuando llegué a Nias, busqué a Jefrin. El niño pequeño ya tenía 13 años. No recordaba mi visita, pero él y su padre me acompañaron a la playa donde los había fotografiado clavando plantones en la arena. Ahora era un verdadero bosque de manglar. Me dijeron que los manglares no sólo han ayudado a proteger la costa de la erosión, sino que también han atraído a cangrejos y peces pequeños, ayudando a revitalizar la industria pesquera local. Gracias a los manglares, la gente se alimenta mejor y tiene mayores ingresos.
Podemos sanar la Tierra, y cuando lo hagamos, tendremos vida, y la tendremos en abundancia.
---
Para la reflexión y la acción:
Los manglares absorben grandes cantidades de dióxido de carbono, un gas de efecto invernadero, y lo convierten en turba en pantanos de la costa. Estos lugares ayudan a amortiguar las tormentas y son importantes áreas de reproducción de peces. En varios países, se destruyen manglares para construir casas y criaderos de camarones. Echa un vistazo a un mapa mundial de los manglares. ¿Dónde crecen? ¿Qué programas de certificación existen para ayudarte a determinar si los camarones u otros mariscos que compras no provienen de lugares donde se han destruido manglares?
[Paul Jeffrey es co fundador de Life on Earth Pictures. Vive en el estado de Oregon, EEUU. Se puede seguirlo en Instagram.]
This story appears in the
Lens on Creation — Enfocando la Creación
feature series.
View the full series
.