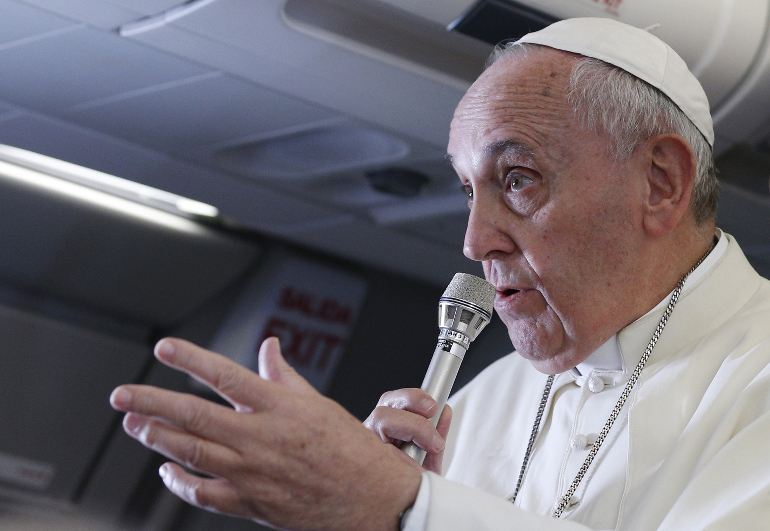 Pope Francis answers questions from journalists aboard his flight from Manila, Philippines, to Rome Jan. 19. (CNS photo/Paul Haring)
ABOARD THE PAPAL PLANE FROM MANILA — January 19, 2015
Pope Francis has obliquely but sharply criticized how financially stable nations lend aid to developing countries, saying they sometimes require concessions that strike echoes of 20th century dictatorships.
The pontiff has also made what appears to be an unprecedented statement that Catholics may have a moral responsibility to limit the number of their children, while reaffirming Pope Paul VI's ban on artificial means of birth control.
Francis' statement about development aid was a clarification of an earlier warning against what he called an "ideological colonization" of family life, made during a meeting with families in the Philippines last week. Speaking to media Monday, Francis recounted a story of a public education minister he knew who was offered money to construct new schools for the poor.
To receive the money, said Francis, the minister had to agree to use a course book with students that taught what the pontiff called "gender theory."
"This is the ideological colonization," said the pope. "It colonizes the people with an idea that changes, or wants to change, a mentality or a structure."
"It is not new, this," he continued. "The same was done by the dictators of the last century. They came with their own doctrine -- think of the Balilla [youth groups of Fascist Italy], think of the Hitler Youth."
"They colonized the people," he continued. "How much suffering -- peoples must not lose liberty."
"Every people has its own culture," said Francis. "But when imposed conditions come from the imperial colonizers, they seek to make [peoples] lose their own identity and make an homogeny."
Francis was speaking Monday in a nearly hour-long press conference aboard the papal plane traveling back to Rome from the Philippines. He was answering a question about remarks he made last Friday, in which he warned against such colonization in an apparent reference to efforts to legalize same-sex marriage and to use of contraception.
During the press conference the pope also confirmed details of his upcoming trip to the U.S. in September. For the second time in a week, Francis too reaffirmed Catholic teaching prohibiting the use of birth control.
Reaffirms prohibition on birth control
Francis said Pope Paul VI, whose 1968 encyclical Humanae Vitae outlined the contraceptive ban, was warning against a "Neo-Malthusianism, " a reference to a theories that suggested in the 1960s and '70s that exponential global population growth would lead to an irreversible world food crisis.
Citing the low rates of birth specifically in Italy and Spain, Francis said such Neo-Malthusianism "seeks to control humanity."
At the same time, however, Francis made a statement that seems without precedent for a pope, suggesting that parents may have a responsibility to limit the number of their children, saying: "This does not signify that the Christian must make children in series."
Telling the story of a woman he met in a parish in Rome several months ago who had given birth to seven children via Cesarean section and was pregnant with an eighth, Francis asked: "Does she want to leave the seven orphans?"
"This is to tempt God," he said, adding later: "That is an irresponsibility." Catholics, the pope said, should speak of "responsible parenthood."
"How do we do this?" Francis asked. "With dialogue. Each person with his pastor seeks how to do that responsible parenthood."
"God gives you methods to be responsible," he continued. "Some think that -- excuse the word -- that in order to be good Catholics we have to be like rabbits. No."
"This is clear and that is why in the church there are marriage groups, there are experts in this matter, there are pastors," Francis said. Using the term for a practice that follows church law, he continued: "I know so many, many licit ways that have helped this."
Francis was speaking about birth control in response to a question from a Filipino journalist. Use of contraception in the Philippines is a contentious issue, as the Philippine government only recently approved contraceptive access against forceful opposition from Catholic bishops.
The pope's responses regarding birth control and ideological colonization were part of a wide-ranging conference that touched on a number of other subjects, including: Corruption in church structures, the place of women in church leadership, and global mistreatment of the poor that the pontiff said could be likened to a new form of "state-sponsored terrorism."
'Ideological colonization'
Continuing to clarify his concept of "ideological colonization," Francis said he heard concerns about the matter from African bishops during last fall's Synod, who told him they often face difficult choices when presented with conditions of acceptance on much needed financial aid.
"I say to many that I have seen this," said the pope.
Francis compared such colonization to criticisms he has frequently made about the process of globalization -- saying that the homogenizing of peoples is "the globalization of the sphere -- [where] all the points are equidistant from the center."
"It is important to globalize but not like the sphere -- like the polyhedron," he continued. "Namely, that every people, every part, conserves its own identity without being ideologically colonized."
Francis on Monday also revealed more concrete plans for his trip to the U.S. in September, confirming reports that he is planning to visit Philadelphia, New York, and Washington but saying it is unlikely he will able to travel to the West Coast or to the U.S./Mexico border.
Mentioning his earlier announcement that he will canonize Franciscan Fr. Junipero Serra on the trip, an 18th century missionary in the Western U.S. and Mexico, Francis said: "I would like to go to California for the canonization ... but I think there is the problem of time. It requires two more days [to the trip]."
It is more likely, the pope said, that he will formalize the canonization during a liturgy at Washington's Basilica of the National Shrine of the Immaculate Conception. Francis said he might also host some sort of event to mark the occasion at the U.S. Capitol building, which contains a statue of the future saint.
Francis has been invited to address a joint session of Congress during his visit, which he is primarily making to attend the Sept. 22-27 World Meeting of Families in Philadelphia. The pontiff is also likely to address the United Nations in New York.
Francis also said on Monday he would have preferred to make a visit to the southern border of the U.S., but joked that he could not do so without visiting the Basilica of Our Lady of Guadalupe in Mexico City.
No visit to border on U.S. trip
"To enter the United States from the border of Mexico would be a beautiful thing, as a sign of brotherhood and of help to the immigrants," he said. "But you know that going to Mexico without going to visit the Madonna is a drama. A war could break out!"
"I think there will only be those three cities," he continued. "Later, there will be time to go to Mexico."
Speaking briefly of the role of women in the church, Francis said Monday that women bring new perspectives to church communities.
"When I say it is important that women be held in higher consideration in the church, it's not just to give them a function as the secretary of a dicastery," he said, referring to the general name for second-in-command positions of the different Vatican offices before adding: "But this can be OK."
"No, it's so that they may tell us how they feel and view reality," he continued. "Because women view things from a different richness, a larger one."
Addressing a question about corruption in the church, Francis recalled a time as a auxiliary bishop in Argentina when he was offered about $400,000 for use towards ministry for the poor -- under the condition that he accept the money under the table and allow the benefactors to keep half the sum.
With rather colorful language, the pontiff said: "In that moment I thought about what I would do: Either I insult them and give them a kick where the sun doesn't shine or I play the fool."
Emphasizing that he thinks of the church as a community of sinners, the pope continued: "Let's remember this: Sinners, yes; the corrupt, no; the corrupt, never."
"We must ask pardon for those Catholics, those Christians who scandalize with their corruption," said Francis. "It's a wound in the church, but there are so many saints, so many saints -- and sinner saints, but not corrupt [ones]."
On the Dalai Lama
Later in the press conference, Francis also rebutted news reports that he had refused to meet with the Dalai Lama while the Buddhist leader was in Rome late last year because the pope did not wish to harm relations between the Vatican and China.
While formal ties between the Holy See and the Asian country have been severed since 1951, Francis has said several times he would like to repair the relationship and would be willing to travel to China.
"I saw that some newspapers said I didn't receive him out of fear of China," said the pope. "That's not true."
The refusal to meet, said Francis, was due to a protocol of the Vatican's Secretariat of State that the pope does not meet "people at that level" when they are in Rome for conferences.
"The motive was not a refusal of a person, or fear of China," he said, mentioning that he also had not met with officials of the UN's Food and Agricultural Organization when they met in Rome last year.
More foreign trips planned
Francis also tentatively confirmed Monday that he is planning to visit three Latin American countries later this year -- Ecuador, Bolivia and Paraguay -- and two African countries: The Central African Republic and Uganda.
Saying he was speaking "hypothetically," the pope said he and organizers have to determine when would be best to go to Africa because of hot weather in the region during the summer and the continuing Ebola epidemic.
Francis also added that in 2016 he would like to travel to Chile, Argentina and Uruguay but said as yet no firm plans have been made for those visits. He added that he also wanted to visit Peru, but said he and organizers "don't know where to put it" in his schedule.
Announcement of all the trips led Jesuit Fr. Federico Lombardi, who was moderating the press conference, to interject with "everything is provisional" before joking: "We already have quite a precise and ample program of the travels of the next years."
Francis was visiting the Philippines Thursday-Sunday as the second trip in a two-part Asian voyage that saw him first visit Sri Lanka.
Speaking of his time in the Philippines, Francis said Monday that he was profoundly moved by an outdoor Mass he celebrated in Tacloban, an area of the country that was severely devastated by 2013's Typhoon Haiyan.
Francis celebrated the Mass amidst a tropical storm in the area, which was pouring rain on a crowd of some 300,000 and buffeting the area with 60 mile-an-hour winds.
To see the people there despite those conditions, said the pontiff, "I felt as though I was annihilated. I almost couldn't speak."
Francis also said he was struck by how many in the crowds -- which grew to an estimated record-breaking 6 million for an outdoor Mass with the pope in Manila on Sunday -- were holding up children above their heads to receive a papal blessing.
It was a gesture, said the pope, that "this is my treasure, this is my future, this is my love, for this one it's worth working, for this one it's worth suffering."
"It's the way they did this that struck me," he said. "The gesture of motherhood, of fatherhood, of enthusiasm, of joy."
[Joshua J. McElwee is NCR Vatican correspondent. His email address is jmcelwee@ncronline.org. Follow him on Twitter: @joshjmac.]
A version of this story appeared in the Jan 30-Feb 12, 2015 print issue under the headline: Francis outlines US trip itinerary; no border visit planned.