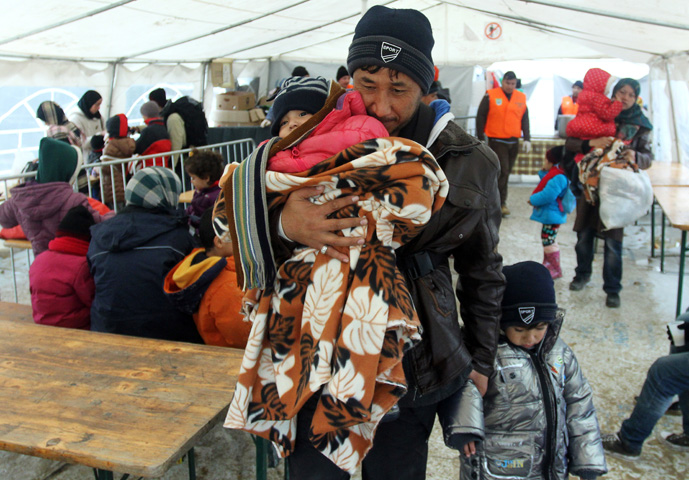 Migrants from Syria, Iraq and Afghanistan arrive at the transit and registration camp in the town of Presevo, southern Serbia, Nov. 24. (CNS/Djordje Savic, EPA)
The longstanding crisis of Syrian refugees fleeing the excruciating violence that has consumed their country collided in the streets of Paris with the security crisis posed by Islamist terrorists. No, that's not quite right. None of the terrorists was a refugee. Nearly all, if not all, were French or Belgian nationals and some second-generation immigrants from the Mideast. It was not in the world of facts, but in the world of fears, that the two crises collided.

Some 12 million Syrians have been displaced from their homes and more than 4.3 million have sought refuge, mostly in Turkey, Jordan and Lebanon, but also in Europe. More than a third are under the age of 12. Do the math. That comes to 1.5 million children.

This is a humanitarian crisis that should be inspiring telethons, social media fundraising campaigns, and clothing drives. Remember the earthquake in Haiti? The tsunami in Asia? Where is our compassion?

French President François Hollande has vowed to "respect the commitment" to welcome 30,000 refugees into his country over the next two years. Meanwhile, in the U.S., members of Congress, governors and Republicans running for president have chosen to ignore the facts and capitalize on the fears.

The House of Representatives voted 289-137 to further tighten the already formidable process that it takes for refugees from Syria and Iraq to find shelter in this country. Governors have said "not in my backyard" to the idea of giving refuge to any "huddled masses" from Mideast nations.

Instead of a contemporary "Operation Babylift," we have New Jersey Gov. Chris Christie, a Catholic, saying he would not take any Syrian refugees -- not even "orphans under age 5." The plight of the homeless, hungry, terrorized refugees has become a political talking point that, in a bizarre, twisted way, turns their dire straits against them.

Let's be clear: We're not talking about just Republicans here. Many Democrats, too, have opted to protect their own seats and financial wellsprings over protecting refugees. But let's also be honest: The most reprehensible language has come from Republican presidential candidates.

Ted Cruz only wants to admit Christian Syrians as refugees. Ben Carson compared Syrian refugees to "rabid dogs."

"That doesn't mean that you hate all dogs," Carson further explained.

But the worst of the worst is Donald Trump. He has not only called for a halt in the Syrian refugee programs, he has also called for surveillance inside mosques. He's spoken in favor of Muslim identification cards, a mandatory database to track Muslims, warrantless searches and even closing some mosques.

"It's all about management," he told an NBC News reporter. His repeated insistence that he saw thousands of Muslims in New Jersey cheering the destruction of the Twin Towers in September 2001 isn't just embarrassingly untrue, it is frightening.

Trump is appealing to the worst instincts of human fear and stupidity. If he has in fact ever read the First Amendment of the U.S. Constitution, which guarantees freedom of religion, he certainly does not understand it. He obviously has no understanding that religious bigotry has been a stain on American history from the anti-Catholic prejudices of the 19th and 20th centuries, to periodic anti-Semitism, to the Islamophobia of today.

On display is our collective ignorance of the teachings of Islam as it is preached in American mosques today and understood by most American Muslims.

According to the Muslim Sufi scholar Kabir Helminski, "The fundamental Quranic principle is that fighting is allowed only in self-defense, and it is only against those who actively fight against you. Indeed, Islam is a religion that seeks to maximize peace and reconciliation."

Better than Trump, listen to Cardinal André Vingt-Trois of Paris: "The idea that the authenticity of faith is demonstrated by rejecting a category of human beings is an aberration one must always guard against. In this time of troubled consciences, clearly affirming the unity of the human family rooted in the faith in the Creator is no doubt the best witness we can give."

The U.S. bishops, too, struck the right moral balance between security and helping refugees. We could cite many. Boston Cardinal Sean O'Malley's statement is typical: "Public officials face very difficult challenges in an obviously dangerous world today. ... The barbaric attacks in Paris, which demand a strong response and require policies that best prevent a possible recurrence, should not be used to efface the memory of Syrians and others from the Middle East and Africa who are desperately in need of shelter, support and safety."

The Islamic State group is trying to hijack Islam with its wanton violence and terror attacks, just like the Ku Klux Klan and German fascists in the 1930s and '40s tried to hijack Christianity. The overwhelming majority of Muslims reject the Islamic State, just as the majority of Christians reject the KKK; it does not represent their faith.

None of this is worthy of our American heritage and ideals. The majority of Christians and Muslims -- Americans all -- reject this hateful rhetoric and instead embrace the words inscribed on a plaque in the pedestal of the statue of Lady Liberty: "Give me your tired, your poor, your huddled masses yearning to breathe free."

Some of those "huddled masses" today are Syrians and peace-loving Muslims.
A version of this story appeared in the Dec 4-17, 2015 print issue under the headline: Fear of refugees is unworthy of American ideals.