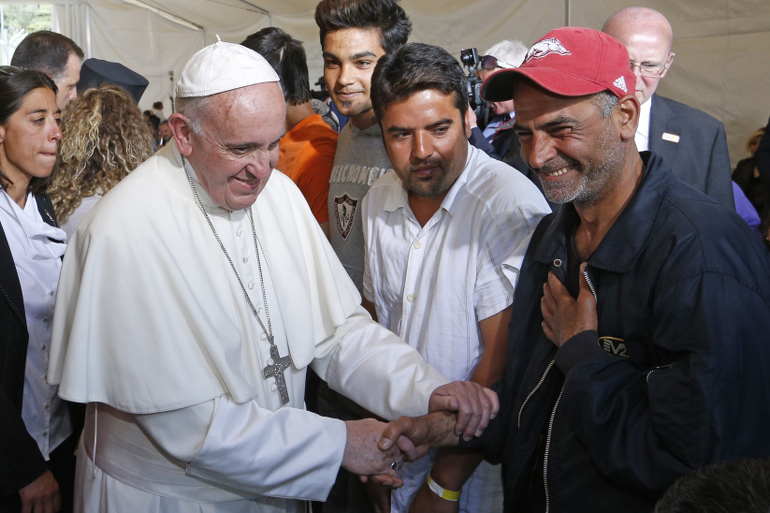 Pope Francis meets refugees at the Moria refugee camp on the island of Lesbos, Greece, April 16, 2016. (CNS photo/Paul Haring)
LESBOS, GREECE — April 16, 2016
Three major leaders of long-separated Christian churches -- Pope Francis, Ecumenical Patriarch Bartholomew, and Greek Orthodox Archbishop Ieronymos II -- converged on this small island Saturday, issuing a stark warning to Europe that the continent will be judged on how it treats the hundreds of thousands of refugees reaching these shores.
Arriving less than a month after the European Union began deporting refugees awaiting asylum hearings here back to nearby Turkey -- resulting in prison-like conditions in refugee camps as the migrants face legal processing -- the leaders appealed for the continent to remember Jesus' words on "the least of these."
They made their appeal after an intensely emotional visit with hundreds of the detained refugees, many of whom were bawling openly. One man collapsed at the pope's feet, shaking while he cried for a blessing. A woman pleaded for medical care for a daughter with bone cancer.
Several others grabbed Francis' arms, hands, feet -- whatever was nearest -- screaming out for some sort of help or prayer.
In a joint declaration signed during the visit, the leaders sharply proclaim: "We appeal to all followers of Christ to be mindful of the Lord's words, on which we will one day be judged."
Quoting Jesus' words in Matthew's Gospel, they state: "Assuredly, I say to you, inasmuch as you did it to one of the least of these my brethren, you did it to me."
In the declaration, signed at a center housing some 2,500 refugees -- where the walls had been whitewashed and the barbed wire removed for the high-level visit -- Francis, Bartholomew and Ieronymos say they had traveled together to demonstrate "profound concern" for the migrants' treatment.
"The tragedy of forced migration and displacement affects millions, and is fundamentally a crisis of humanity, calling for a response of solidarity, compassion, generosity and an immediate practical commitment of resources," they state.
"From Lesbos, we appeal to the international community to respond with courage," they continue. "We call upon all political leaders to employ every means to ensure that individuals and communities ... enjoy the fundamental right to live in peace and security."
The three leaders' joint trip to Europe's outer periphery, while described by the Vatican as "strictly humanitarian and ecumenical," appears as an almost unprecedented unified Christian push for politicians to do more in the face of the continuing refugee crisis.
The symbolism of the unified visit -- with Francis traveling east, Bartholomew traveling west, and Ieronymos welcoming them to his home country -- would have been nearly unimaginable even 15 years ago, when Pope John Paul II became the first pontiff to visit a Greek archbishop in more than a millennium.
Ieronymos, the archbishop of Athens and All Greece, pointed to the political dimension to the trip in remarks to refugees staying at the Moria camp, where the three leaders visited at mid-day Saturday.
The archbishop said that in seeing the eyes of children living there one can "immediately recognize ... the 'bankruptcy' of humanity and solidarity that Europe has shown these last few years."
In brief remarks to journalists aboard the papal plane from Rome, Francis said that this trip is different from those he normally takes abroad.
"This is a trip marked by sadness," said the pontiff. "We are going to meet the greatest humanitarian crisis since the Second World War."
"We will see many people who suffer and don't know where to go, who had to escape," he said, speaking also of the refugees who have died trying to reach Europe and adding: "We are going also to a cemetery, the sea."
Lesbos, six miles off the west coast of Turkey but about 150 miles off the east coast of mainland Greece, has become a key waypoint for refugees escaping violence or persecution in the Middle East. Of the more than a million migrants estimated to have traveled to the EU last year, about half have landed on the island's beaches.
The EU made an agreement with Turkey last month that all "irregular migrants" arriving in Greece from Turkey would be sent back. For every refugee returned, another refugee is theoretically supposed to be resettled from Turkey to the EU.
The agreement has been criticized by a number of human rights groups, who say refugees being returned to Turkey from Greece may not be adequately aware of their rights or the possibility of claiming asylum.
Refugees on Lesbos are being held in what are now essentially containment camps, behind walls and barbed wire fence.
Upon arriving at the Moria camp Saturday, Francis, Bartholomew and Ieronymos greeted about 150 children and minors gathered outside. The three leaders blessed many, with Francis taking some of the children's' faces into his hands and bobbing babies up and down.
The leaders then met about 250 adult refugees inside a makeshift tent built for the occasion. Francis and the two Orthodox leaders walked down a line of people, all three greeting individuals slowly.
Bartholomew often smiled broadly through his long, white beard. Francis repeatedly bowed with his hand over his heart in what appeared to be a gesture of humility and kindness towards the individual migrants.
One man collapsed at the pope's feet, bawling and shaking in emotion as he cried repeatedly: "Thanks God, thanks God, thanks God."
"Please father, bless me," he cried several times as Francis bowed for a blessing and tried to lift him from the ground.
Speaking to the refugees shortly after, Francis said simply: "I have wanted to be with you today. I want to tell you that you are not alone."
"I have come here with my brothers ... simply to be with you and to hear your stories," said the pope. "We have come to call the attention of the world to this grave humanitarian crisis and to plead for its resolution."
"As people of faith, we wish to join our voices to speak out on your behalf," said Francis. "We hope that the world will heed these scenes of tragic and indeed desperate need, and respond in a way worthy of our common humanity."
"God created mankind to be one family; when any of our brothers and sisters suffer, we are all affected," said the pontiff.
Bartholomew stated: "We promise that we shall never forget you. We shall never stop speaking for you. And we assure you that we will do everything to open the eyes and hearts of the world."
Francis' visit to Lesbos is unprecedented also in the velocity with which the trip was organized. The Vatican only confirmed the pontiff was considering a visit last week, after an invitation from governing Synod of the Greek Orthodox Church.
The pope is only spending four hours and fifty-five minutes on the island. Upon landing from Rome, he met privately with Greek Prime Minister Alexis Tsipras before heading about ten miles north to the Moria camp.
Meeting in a small room directly adjacent to the airport tarmac, Tsipras told Francis he was proud of the way in which the Greek people has welcomed refugees when they are still suffering under austerity measures imposed by international debt agreements.
"I am proud of this, particularly at a time when some of our partners -- even in the name of Christian Europe -- were erecting walls and fences to prevent defenseless people from seeking a better life," said the prime minister.
At the end of the visit Saturday, Francis spoke to members of Lesbos' wider community at one of the island's main ports and said he wanted to "renew my heartfelt plea for responsibility and solidarity in the face of this tragic situation."
"We must never forget ... that migrants, rather than simply being a statistic, are first of all persons who have faces, names and individual stories," said the pontiff. "Europe is the homeland of human rights, and whoever sets foot on European soil ought to sense this, and thus become more aware of the duty to respect and defend those rights."
"You, the residents of Lesbos, show that in these lands, the cradle of civilization, the heart of humanity continues to beat," said the pope. "A humanity that before all else recognizes others as brothers and sisters."
The pope and Orthodox leaders then offered a joint prayer for all the victims who have died at sea attempting to reach the island. The prayer ended:
Merciful God and Father of all,


wake us from the slumber of indifference,


open our eyes to their suffering,


and free us from the insensitivity


born of worldly comfort and self-centeredness.


Inspire us, as nations, communities and individuals,


o see that those who come to our shores are our brothers and sisters.
Updated April 18 to include video from Catholic News Service of Pope Francis and Patriarch Bartholomew meeting in Greece April 16 to show solidarity with migrants and refugees.
[Joshua J. McElwee is NCR Vatican correspondent. His email address is jmcelwee@ncronline.org. Follow him on Twitter: @joshjmac.]