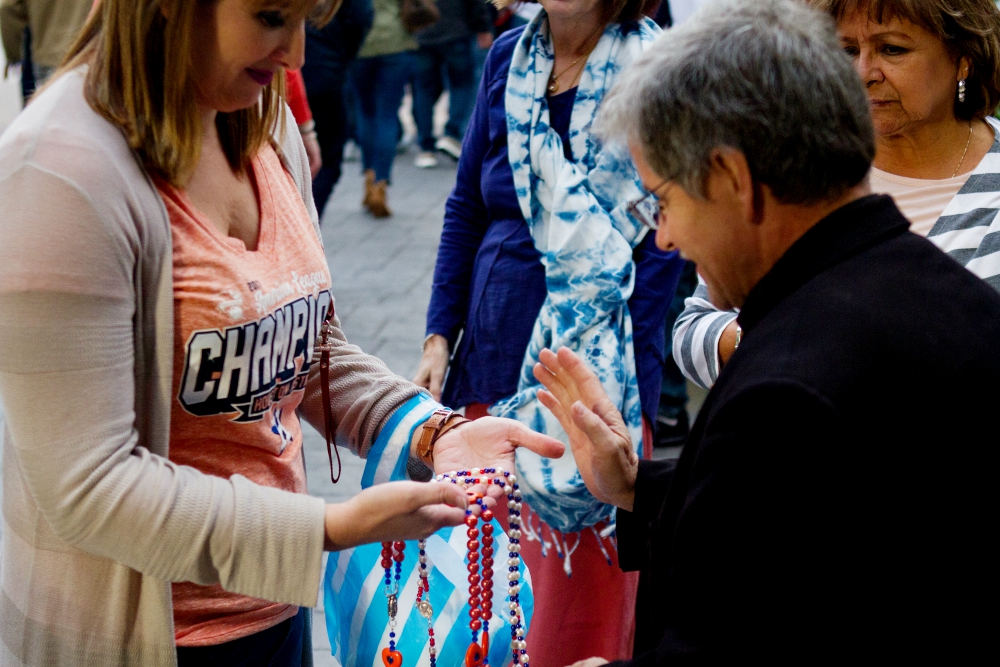 Fr. Paul Felix, pastor of Annunciation Catholic Church in Houston, blesses Tonya Killian's new rosaries Oct. 27 outside the parish, which sits across the street from Minute Maid Park where the Houston Astros hosted the Los Angeles Dodgers during the 2017 World Series. (CNS/Texas Catholic Herald/James Ramos)
Editor's note: The Field Hospital blog reports on parish and other grassroots efforts across the U.S. and Canada to accompany those on the margins. Pope Francis said he sees the church as a "field hospital" that labors "from the ground up" to "heal wounds."
---
The sainthood cause of Nicholas Black Elk was officially opened Oct. 21 at Holy Rosary Church in Pine Ridge, South Dakota, where the iconic Lakota Native American religious leader died in 1950. During his homily, Rapid City Bishop Robert Gruss urged Catholics to shun "isolated religious lives" and follow the example of Black Elk's lifelong outreach to others. A primary source of information on Black Elk is Black Elk Speaks by John Neihardt, first published in 1932. Only one Native American is on the list of Catholic saints — St. Kateri Tekakwitha (1656-80), a young Mohawk woman.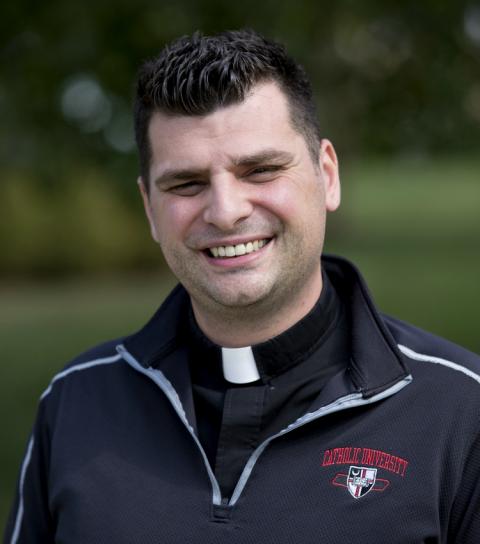 Anthony Federico, a seminarian from the Archdiocese of Hartford, Connecticut, is seen outside Theological College in Washington Oct. 25. (CNS/Tyler Orsburn)
Recently retired Dr. Romayne Gallagher was honored Oct. 27 for her life's work of "claiming the terminally ill, disabled, and dying members of our society as our own" and "normalizing the process of dying as a part of life instead of distancing ourselves from it and making it something medical." In addition to Gallagher, the Catholic Physicians' Guild in British Columbia, Canada, also recognized the efforts of Susan House, former executive director of the Catholic Health Association of British Columbia.
In Northern California, where wildfires consumed dozens of lives, hundreds of livelihoods, and thousands of homes last month, there is a "deathly quiet" in many neighborhoods such as Coffey Park, a devastated Santa Rosa subdivision. Catholic San Francisco assistant editor Valerie Schmalz reports on parishioner actions and reactions.