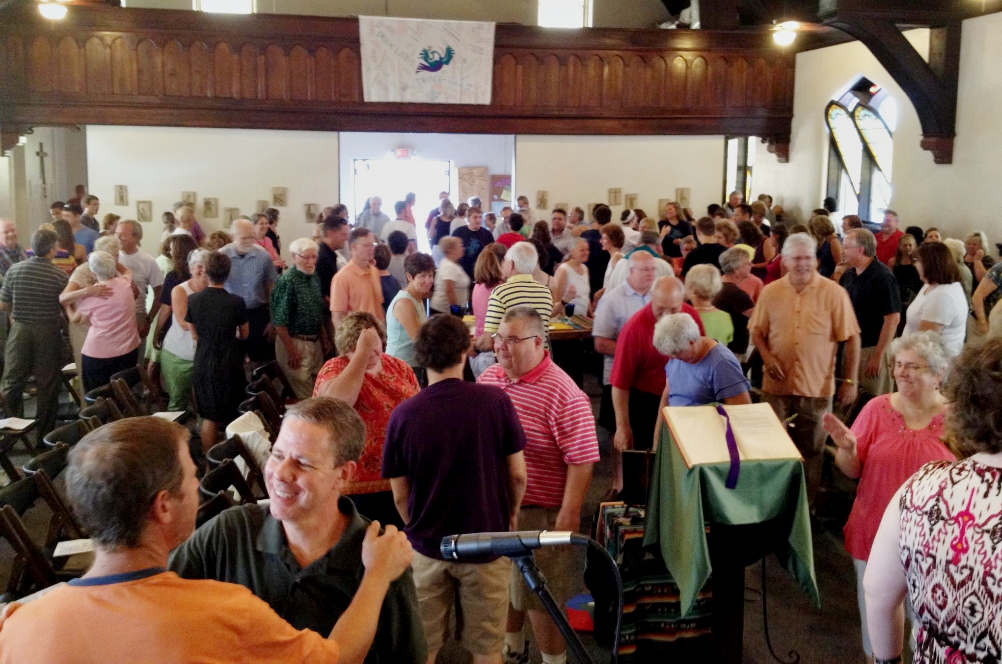 Parishioners of St. William Catholic Community in Louisville, Kentucky, share the sign of peace at a recent Mass. (Courtesy of St. William Catholic Community)
St. William Catholic Community, a nongeographic parish in Louisville, Kentucky, will host a "Convocation of the Faithful" Feb. 24, the last scheduled day of the Rome gathering of bishops' conference leaders from around the world to address the clerical sex abuse crisis.
According to organizers, the 1-5 p.m. event will be a prayerful "dialogue of equals" that will seek to:
"Bring to light the pain and suffering caused by the misuse of power facilitated by the current ecclesial structure and culture";
"Create a safe space to discern together a path toward healing and transformation";
"Empower all participants to freely speak their truth, share their wisdom and be respectfully heard";
Discuss how participants have been affected by the sexual abuse crisis, what church changes are needed, and what actions should be taken.
The St. Vincent de Paul Society is muscling up efforts to help released prisoners re-enter society. The Cincinnati Council is among St. Vincent de Paul Society groups spearheading a pilot project with financial help from the Catholic Campaign for Human Development. There are similar efforts taking place in Boston, Milwaukee, New Orleans and Orlando, Florida. Southwest Idaho's St. Vincent de Paul is also involved in helping the formerly incarcerated transition back into regular life.
Parish communities considering declaring themselves as places of sanctuary in solidarity with immigrants and refugees know it is a delicate question, regardless of how committed parishioners might be to supporting families and individuals unhinged from homeland, legal protection and resources. St. Thomas More Catholic Community in St. Paul, Minnesota, for example, invested five months of discussion and research before embracing sanctuary status.
In an essay titled "4 steps to becoming a Catholic sanctuary church," Melissa Walker addresses "a few things to consider before opening your parish to immigrants and refugees." Writing in U.S. Catholic magazine, Walker also suggests ways for parishes to protect undocumented immigrants.
St. Edward Parish in Keizer, Oregon, is being sued by the Salem-Keizer Public Schools after turning down a $1.75 million offer for 6-plus acres wanted for expansion of McNary High School. The lawsuit seeks to obtain the land via eminent domain, a procedure for government to expropriate private land for public use.
[Dan Morris-Young is NCR's West Coast correspondent.]
Editor's note: We can send you an email alert every time The Field Hospital is posted. Go to this page and follow directions: Email alert sign-up.