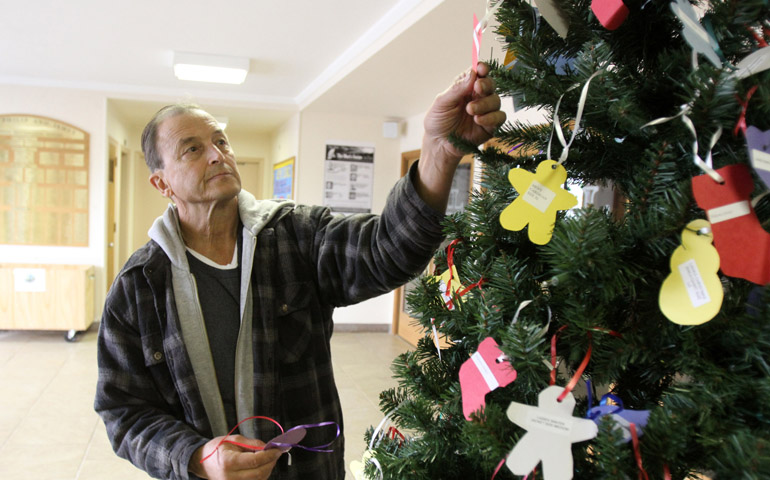 Parishioner Donald Sagristano selects paper ornaments from a Giving Tree at Sts. Philip & James Church in St. James, N.Y., Nov. 28. (CNS/Gregory A. Shemitz)
Washington — December 1, 2012
Should the Christmas shopping crowds, costs and commercialism be at odds with how one is trying to observe Advent and the celebration of the birth of Christ, there's a burgeoning world of alternative ways of gift-giving that are vying for attention.
Angel trees or giving trees set up in churches, schools or even restaurants and other commercial businesses around the country are an increasingly popular way to direct resources to needy individuals, usually children, in the local community.
About 500 Catholic organizations host sales of handicrafts from around the world through Catholic Relief Services and its partner, SERRV, a nonprofit fair trade and development organization, benefiting both the hosting church and impoverished craftspeople around the world.
Then there are alternative gift programs, in which one buys a gift that benefits someone in greater need, whether in a far-off land or at the social service program across town. In return, the buyer receives just a card about the donation to pass along to someone on their gift list.
If those options don't seem quite right, a movement started in the 1960s by Canadian Mennonites promotes the idea of a "Buy Nothing Christmas," encouraging simple handmade gifts, an "abundance swap" where gift-able items are traded, and ready-to-print coupons for baby-sitting, back massages or desserts. Its materials may be found at buynothingchristmas.org.
In Los Angeles, members of St. Paul the Apostle Parish have for more than a decade been able to write checks after Mass on the first Sunday of Advent to an assortment of local and national service organizations. Recipient organizations this year include Meals on Wheels, a tutoring program for homeless children and Homeboy Industries, which gives youths an alternative to gang involvement.
Claire Henning, pastoral associate at St. Paul, said parishioners who participate in what they call Inspired Alternative Christmas Gifts write checks directly to the organizations, so she couldn't report what the level of donations works out to be for the recipient charities.
She personally donates money to Homeboy Industries, she told Catholic News Service, and sends gift cards noting the donation in their name to several people.
"It's a great way to transition from giving gifts to nieces and nephews who are now grown up," Henning said. "That generation is very appreciative of that kind of outreach."
Such programs have caught on all around the country, with each parish creating its own options for gift-giving. But international organizations also offer an easy way to do it through their websites.
How about donating money in the name of the brother-who-has-everything to ensure a program for children with Down syndrome in Cuba can keep operating? Catholic Relief Services, the U.S. bishops' overseas relief and development agency, offers that as one of the alternative gifts one can support with a few clicks on its site.
Or maybe this is the year to buy -- in the name of that college-age niece who doesn't need clothes but wants to save the world -- a goat or a sheep for a struggling family in a developing country.
Save the Children and Heifer International are a few of the charities that would be happy to match your money with a family in need of a farm animal, knitting supplies or a clean cooking stove.
Save the Children and CRS also both offer sales of handicrafts made by the beneficiaries of their programs.
Courtney Lare, economic justice program officer at CRS, oversees CRS online direct sales and its Work of Human Hands consignment sales. She said about 500 parishes and other organizations hold such sales once a year or more.
Fair trade coffee and chocolate are the biggest sellers, she said. "And Haitian wall art, especially since the earthquake, is very popular, as are Christian goods like olive-wood ornaments and Nativities."
Handicrafts are provided through SERRV and include everything from inexpensive jewelry and Christmas ornaments to hand-knotted Tibetan rugs and other home decor.
Although the weak economy has meant the number of participating groups hasn't grown the last few years, Lare said sales are up. Sales range from about $600 for a first-time effort to the more than $40,000 a year that a parish in Ohio sells over a year, Lare said.
For charitable gifts that stay close to home, the angel tree or giving tree model is popular. For these, names of needy people and suggestions for gifts they could use are handed out in late November or early December, with the information often written on angel-shaped ornaments. The gifts are returned to the church or a service agency, where volunteers distribute them to the recipients.
The angel trees benefiting a program run by Catholic Social Services of Baldwin County, Ala., are all over the county, said Colleen McNorton, Catholic Social Services director.
A local online newspaper, the Mullet Wrapper, advertised angel trees being hosted by restaurants in Gulf Shores and Orange Beach, for example.
"Usually they're in churches, sometimes in schools," McNorton said. "Oh, and the Grand Hotel in Point Clear."
The range of locations will help the program give gifts to 5,200 Baldwin County children this year, she said. The population of Baldwin County, which is in the Mobile Archdiocese, is about 186,000.
Families in need of help getting gifts for children register with Catholic Social Services, which screens for financial need, she said.
A squadron of more than 150 volunteers, along with the agency's staff of 12, does the sorting and matching donations with requests, McNorton told CNS.
"It's a well-oiled machine," she said of the operation based in a house-sized "Christmas building." "It reminds me of a Santa's workshop from a Christmas movie. The only thing missing is Santa's workbench."
And in a nod to the age of online shopping, the Archdiocese of Washington this year will provide gifts for about 490 children who receive services from Catholic Charities, many through an online arrangement that works like a gift registry.
Jackie Ogg, outreach director, said the children who receive gifts are in various Catholic Charities programs, such as refugee resettlement, the Kennedy Institute for people with developmental disabilities and low-income housing.