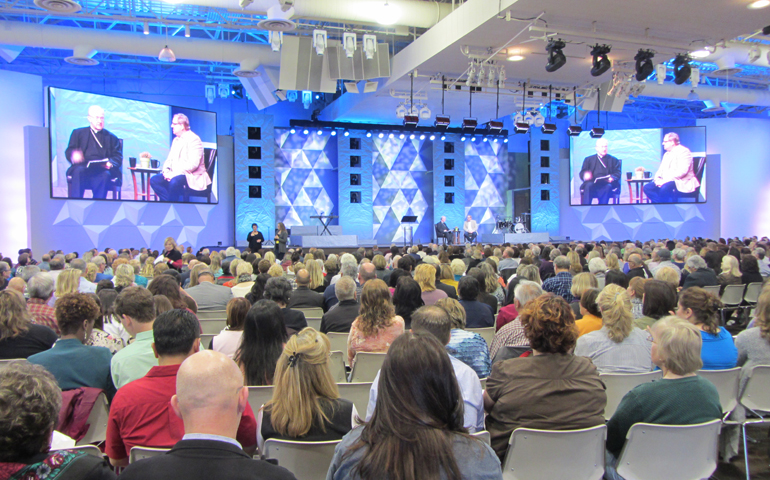 Bishop Kevin Vann of Orange County and Rick Warren of Saddleback Church welcome more than 3,000 attendees to the Gathering on Mental Health and the Church on Friday at Saddleback Church. (Megan Sweas)
Lake Forest, Calif. — March 31, 2014
When Deacon Tom Lambert speaks about his experience parenting a child with mental illness in parishes around the country, people come up to him after Mass crying with stories of their own to share.
"It was the first time they felt comfortable enough to tell that story," he said, addressing The Gathering on Mental Health and the Church on Friday* at Saddleback Church.
Nearly a year after the suicide of Saddleback pastor Rick Warren's son, the evangelical megachurch, the Catholic diocese of Orange, and the National Alliance on Mental Illness (NAMI) partnered to break Christians' silence on mental health issues through the daylong conference. About 3,300 evangelical Christians and Catholics attended the gathering, and more than 6,000 watched live online, according to a news release about the event.
As pastor of one of the largest churches in the country, Warren grieved the loss of his son, Matthew, in public. "Kay and I have always known that someday we would be spokespeople for mental illness because God never wastes a hurt," Warren said.
But he and his wife had hoped Matthew would have led their church's mental health ministry. Before he died, they didn't discuss his illness beyond the church. "It was Matthew's story to tell," Warren said.
When their son's suicide became news, they found many people related to their story. One in four adults experiences mental illness in a given year, according to NAMI.
"I want to write a book called, 'I'm not OK, you're not OK, but that's OK because God's OK,' " Warren said to applause in the opening plenary. The idea that everyone is broken resonated with the audience, which included people with mental illness and their families as well as church workers to whom people turn in times of need.
The conference made mental health Saddleback Church's seventh "signature issue," following initiatives such as Warren's "purpose-driven" philosophy and Saddleback's AIDS ministries.
"This is something we want to be famous for. Whether any other church does it or not, we're going to do it," Warren said. He said he also hopes other churches will follow their lead as a "teaching church."
At the time of Matthew's death, Bishop Kevin Vann reached out to Warren to offer his condolence as a pastor. The collaboration between Saddleback and the Catholic diocese was a natural outgrowth of their friendship, the two religious leaders said.
The Catholic church also has a long tradition of working on health issues, including mental illness. "We a lot of times work within our own network with Catholic Charities or our hospitals to do our best as we can. We just don't talk about it a lot," Vann said. "This is a chance to reflect on 'this is what we do' [and] 'this is what we can do together better.' "
During panel discussions and smaller workshops, participants at the conference learned how to respond when somebody complains of depression or calls into the church threatening to commit suicide. Medical professionals explained bipolar illness and told the audience that treatment must include medication and therapy in addition to spiritual support.
The average person does not know where to turn when struggling with mental illness, said Alba Ramiro, community outreach coordinator for Catholic Charities of Orange County. Ramiro worked in a parish for 33 years, and she said people would call in and ask for the pastor. If they wanted to speak about personal issues, she would try to point them to resources like counseling, as well.
Now at Catholic Charities, she wants to make sure the Hispanic community in particular is aware of the resources available to them. This will take education, Ramiro said. "Not everybody understands that it's a mental health issue."
Members of Our Lady Queen of the Angels parish could relate to the testimonial of a Filipino man whose family didn't discuss his attempted suicide because of their shame-based Asian culture. The same phenomenon plays out within Latino and Irish cultures as well, the parishioners and their pastor said.
Fr. Kerry Beaulieu added that even the idea of sharing personal testimonials, a common element of Saddleback Church, seems to scare people at Catholic parishes.
But having an open conversation about mental illness is exactly what the church needs, Lambert said. Working through the Chicago archdiocese and the National Catholic Partnership on Disability, he and his wife, Rita, have been working on outreach and advocacy on mental health issues for more than 25 years. When they met Vann on Saddleback Church's patio, she thanked him. The event was "a model for the rest of the church," she said.
*An earlier version of this story named the incorrect day.
[Megan Sweas is a freelance journalist based in Los Angeles.]
A version of this story appeared in the April 11-24, 2014 print issue under the headline: 'God never wastes a hurt'.