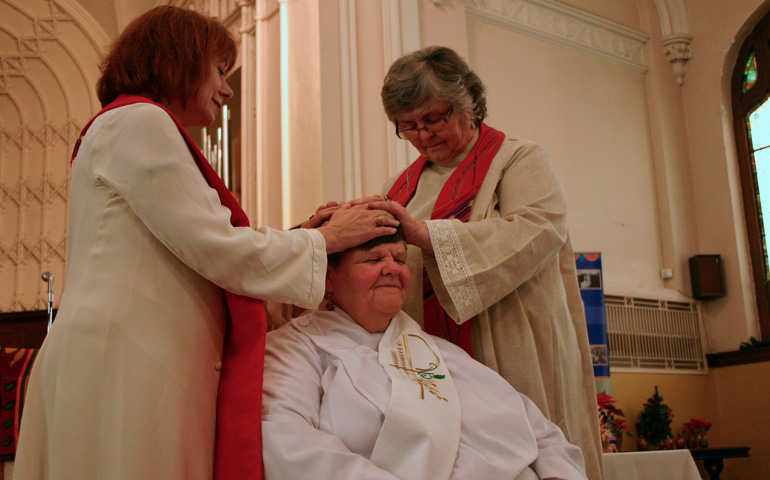 Women priests Janice Sevre-Duszynska, left, and Dotty Shugrue, right, bless Georgia Walker on Saturday at St. Mark Hope and Peace Lutheran Church in Kansas City, Mo. (Dawn Cherie Araujo)
Kansas City, Mo. — January 6, 2015
Three days before her ordination as Kansas City's first woman priest, Georgia Walker sat in the storefront office of Journey to New Life, the organization she co-founded in 2013 to help people in the city re-enter civilian life after incarceration.
Looking out on Troost Avenue, a street long considered the line in Kansas City's racial divide, Walker pondered the line she was about to cross. Having previously been arrested and tried in federal court for protesting nuclear weapons, Walker is no stranger to controversy. Yet, she said she was somewhat surprised by the celebrity incurred by her decision to be ordained by the Association of Roman Catholic Women Priests.
"I'm getting a lot more attention than I would have preferred," Walker said with a laugh, referencing the stories about her that had appeared in the local media -- and the more than 2,000 emails she received since.
Some of the attention was good, she said, like getting phone calls and emails from women who wanted to know how they too could become women priests.
"But I'm also getting hate mail -- the kind of mail that says I'm going to burn in hell," Walker said. "So, in a way, I'm sort of humbled by the role that I'm playing in this moment."
By tradition, the Roman Catholic church has ordained only men to the priesthood. This tradition was reaffirmed in 1976 by the Congregation for the Doctrine of the Faith and in 1994 by Pope John Paul II.
The Vatican in 2007 issued a decree saying the attempted ordination of women would result in automatic excommunication for the woman and the priest trying to ordain her. This was codified in canon law in 2010, when "the attempted ordination of women" was added to the church's list of "grave crimes."
The Roman Catholic Womenpriests movement, a global group of which the Association of Roman Catholic Women Priests is a part, began in 2002 with the ordination of seven women on a boat on the Danube River by a Brazilian priest ordained as an Independent Catholic bishop.
Women in the association have rejected the excommunications, saying on their website that they are "loyal members of the church" and "serve our beloved church in a renewed priestly ministry."
Still, the ordination of women priests remains controversial. Walker says the majority of members at her parish, St. James, probably support women's ordination in theory; however, many are worried that her ordination will "endanger" the parish.
A group of women at St. James asked to meet with her so they could better understand why she had decided to "upset the apple cart," as Walker put it. Walker also said Fr. Charles Rowe, the vicar general of the Kansas City-St. Joseph diocese, asked her to meet with him, telling her it was not too late for her to change her mind.
The two were unable to schedule a meeting, though Walker sent Rowe an email outlining her reasons for going through with the ordination.
The diocese did not respond to requests for comment, though -- to Walker's knowledge -- the bishop did not issue a warning to dissuade anyone from attending the ceremony, which Association of Roman Catholic Women Priests representatives say has happened in other parts of the country.
Thus, on Saturday, more than 100 people came to Walker's ordination ceremony at St. Mark Hope and Peace Lutheran Church. Bridget Mary Meehan served as presiding bishop and gave the homily, telling attendees that Catholic women needed to be ordained so the church could begin to heal.
"I believe that on a deep, spiritual, mystical level, women priests are beginning a healing process of centuries-old misogyny in which spiritual power was exclusively invested in men," she said.
"In order to be equals in our church at this moment in history, we need to open all positions to women, including ordination as an issue of justice. Women priests are a holy shakeup whose time has come," she continued, to applause.
The Association of Roman Catholic Women Priests counts 32 priests and 16 deacons across the United States, Canada and South America. The association ordains not only women, but also men who could not otherwise be ordained, and most of the priests pastor inclusive communities that meet once or several times a month.
A number of them continue attending their parish churches if they're allowed to do so. Walker says she plans to retain her membership at St. James, but as a newly ordained woman priest, she would like to expand her current ministry at Journey to New Life by offering sacraments to people in prison.
"You know, there are people hungering for the kind of thing that Catholics take for granted, which is reconciliation through so-called confession and feeling like God still loves them," she said.
There's nothing particularly novel in this ministry, Walker said, but traditionally, ordained priests are overburdened and simply cannot meet all the needs of their communities. The priest at her own church, she offered as an example, serves two parishes -- one in the suburbs and one in midtown Kansas City.
She would also like to start an inclusive community with Saturday liturgies.
Walker's ordination came on the heels of an invitation from the Vatican for Catholic women to share what their lives are like via video or photo. Speaking to National Catholic Reporter, Meehan, lamenting the invitation's presentation, said she thought it was a sincere effort by Pope Francis to address institutional sexism in the church.
"I love our new pope; I think he's fabulous," she said. "He says that inequality is the root of social sin. Amen, right on. But the elephant in the church's living room is the gender justice that is women's ordination. And I think he's starting to make the connection right now."
Meehan said not only did Francis appoint five women to the International Theological Commission, but he also said there needed to be more such appointments.
In the meantime, Dotty Shugrue, a woman priest from Connecticut who served as mistress of ceremony for Georgia Walker's ordination, said women and other excluded groups -- gays, lesbians, divorced and remarried Catholics -- need to take action for equal recognition in the church. They cannot, she said, wait for the church to make the first move.
"We've been waiting 2,000 years," she said. "It's our church, and we're claiming it."
[Dawn Cherie Araujo is a staff writer for Global Sisters Report, a project of National Catholic Reporter. Her email address in daraujo@ncronline.org. Follow her on Twitter @dawn_cherie.]
A version of this story appeared in the Jan 16-29, 2015 print issue under the headline: Local fame comes with ordination.