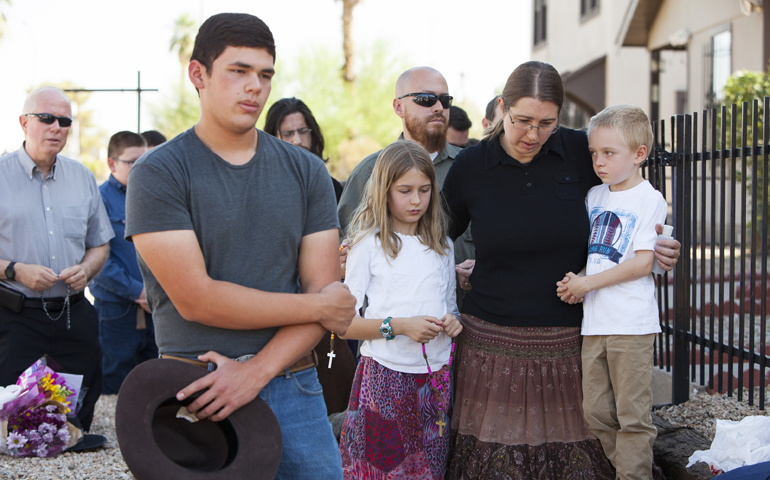 Parishioners, including Jennifer Gustke, right, and her children, pray the rosary June 12 near Mater Misericordiae (Mother of Mercy) Mission in Phoenix the morning after a priest was killed and another critically injured during an attack at the mission's rectory the night before. (CNS/Nancy Wiechec)
Police in Phoenix have arrested a suspect in the violent assault on a downtown church that took the life of one priest and left a second priest critically injured.
According to an AP story, a man identified as Gary Michael Moran, 54, was being held on suspicion of first-degree murder, burglary and armed robbery, among others charges, police said Monday.
The attack the night of June 11 left Fr. Kenneth Walker, 28, dead and Fr. Joseph Terra, 56, critically injured. Walker died of a gunshot wound at the hospital. AP said Terra was taken out of intensive care Saturday and is expected to make a full recovery.
Police planned to hold a news conference Monday afternoon to release more details on the suspect. Earlier that morning, a funeral Mass was celebrated for Walker at St. Catherine of Siena Church in downtown Phoenix.
The attack stunned and saddened the Phoenix diocese, parishioners and the community at large.
"We ask that people offer prayers for both priests, the religious community, their families and the parish," the diocese said in a statement June 12.
The priests, members of the Priestly Fraternity of St. Peter, served at Mater Misericordiae (Mother of Mercy) Mission, where they were attacked during a nighttime burglary.
Walker was pronounced dead at the hospital. A police spokesman described Terra's injuries as severe and said that it appeared he was beaten by intruders.
At a news conference at the Phoenix Police Department the morning of June 12, Police Chief Daniel Garcia asked the community for assistance in solving the crime. He remained tight-lipped about the attack and would not comment as to whether the shooting took place in the church itself or the rectory.
Terra made the 911 call, Phoenix police say, shortly after 9:30 p.m. June 11.
"We have an extensive investigation underway as of last night," Garcia said. "The Phoenix Police Department will exhaust its resources to bring to justice the individuals who have committed this crime."
"Our city lost a young priest," said Mayor Greg Stanton. "Although we don't know who did this, be assured that our very capable police department is working around the clock."
Fr. Fred Adamson, the diocese's vicar general and moderator of the curia, also spoke at the news conference. Phoenix Bishop Thomas Olmsted was in New Orleans for the U.S. bishops' spring general assembly June 11-13.
The vicar general said Terra administered last rites to Walker in spite of his own suffering.
"[The two priests] have been there four years and felt it was a safe place to live," Adamson said when asked whether there were security problems with the church being close to the state Capitol grounds.
Terra is "a pretty strong man -- he's not afraid of anybody -- and if anyone came in there and asked him, he would give them the shirt off his back. That's the type of priest he is -- a real servant of God," Adamson said.
Both priests were known for their stalwart efforts on behalf of the unborn. Olmsted, in comments he made in New Orleans, said the two priests often participated in prayer vigils at abortion clinics.
"Every time that I went to pray during the '40 Days for Life' at the abortion places, [Walker] was there with Father Terra," he said, calling them "faithful priests, joyfully serving their people."
Walker, a priest since 2012, was parochial vicar at Mater Misericordiae. Terra, a priest since 1989, was the pastor. Both were ordained for the Priestly Fraternity of St. Peter. The order is dedicated to celebrating the Mass in the extraordinary form, commonly known as the Tridentine rite.
"They loved their people. It couldn't be something they provoked," Olmsted said of the attack. "There has to be some other reason this violence happened."
Despite the tragedy, the bishop offered words of hope. "We need to keep in mind that we're people of hope, because death is not the last word, ever."
Bart Tesoriero, a Mater Misericordiae parishioner, is a longtime technician with Radio Family Rosary and recently recorded a number of radio programs with Walker.
"I am really saddened," Tesoriero told The Catholic Sun, Phoenix's diocesan newspaper. "Father Walker was a very pure young man who was devoted to his priesthood. He was a beautiful person."
Catholics were quick to react to the news of the attack on social media. "Horrible!" one woman posted on Facebook. "Our place of peace so horribly violated. Lord be with us all."
Crosier Fr. Robert Rossi, presided at a noon Mass at the diocesan pastoral center June 12. A group of staff members had gathered before the Mass for a rosary on behalf of the two victims.
"We're gathering at this table with great sadness," Rossi said. "It's a tragedy for our church and for our friends."
He told diocesan staff the Gospel selection for the day's Mass -- Chapter 5, Verses 20-26 of St. Matthew's Gospel -- was particularly poignant in light of the attack because it mentioned murder and pointed to the importance of about being reconciled.
"Jesus called us to ask where does anger take root," Rossi said. "The person who pulled the trigger must have been a very angry person and that anger built up. It's a wake-up call for all of us."
Members of Mater Misericordiae, many of the women wearing chapel veils, crowded into the Ss. Simon and Jude Cathedral for a prayer vigil June 12.
Clarissa Quiring, who moved to the Phoenix area in December and joined Mater Misericordiae, attended the prayer vigil.
"They are men of profound prayer, with a deep respect for the Eucharist," Quiring said of the two priests. "They understand that the Eucharist is central to the spiritual life and to our life in general."
In his homily, Fr. John Lankeit, cathedral rector, described the two priests as "courageous."
He, too, referred to how Terra, though badly beaten in the attack, administered last rites to Walker.
"In that moment facing darkness, he brought a soul into the hands of Jesus. He needs our prayers," Lankeit said. "He has our admiration."
[Joyce Coronel is interim managing editor at The Catholic Sun, newspaper of the Phoenix diocese. Lindsay Wantland in Phoenix and Peter Finney in New Orleans contributed to this story.]